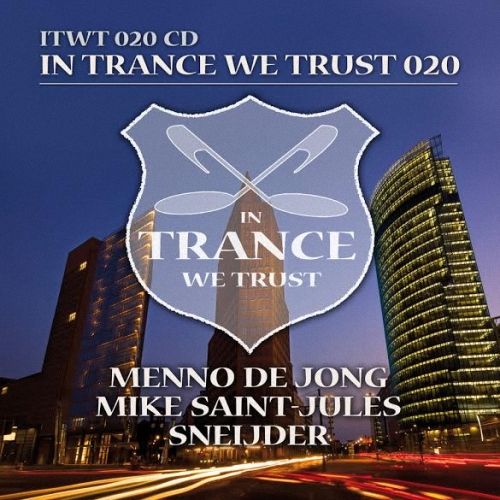 In Trance We Trust 20
Label: Black Hole Recordings | Release Date: May 26, 2014
Buy On iTunes | Beatport
With over 600 single releases and 19 mix compilations, In Trance We Trust possesses a sonic arsenal that has brought listeners worldwide the very best the genre has to offer. The label returns with the celebration of the 20th installment of its
In Trance We Trust
mix compilation by placing it in the trusting hands of not one but three master curators: Menno de Jong, Mike Saint-Jules, and Sneijder. With each mixer bringing forth their unique style, this trance trilogy is a precise representation of the genre's emotive qualities and adaptability to stand the test of time while remaining true to its core. With names like Aly & Fila, Giuseppe Ottaviani, Arctic Moon, Arnej, and brand new tracks from the three trance stalwarts,
In Trance We Trust 20
is a staple for every trance addict's collection.
Dutch mainstay, Menno de Jong, is back after a short hiatus and kicks off CD1 with fresh material as well as current trance hits. Menno's collaboration with Adam Ellis entitled "Solicitude", John Newalls's "Grand Central", and the Aly and Fila remix of Luke Bond's smash hit "On Fire" opens
ITWT20
with an evocative selection. Here's an exclusive EDMT preview of John Newall's "Grand Central" off of Menno de Jong's mix.
New York native, Mike Saint-Jules is responsible for hits like "Solarflame" and taking CD2 of
ITWT20
into hyper-drive with his mixture of atmospheric melodies and big room breakdowns. From the pitch perfect plucks of "Space Renegade" to the elating peaks of "Lost Highway" by DoubleV, Saint-Jules continues the journey with throttling force. Listen to the EDMT exclusive clip of DoubleV's "Lost Highway" taken from Saint-Jules's mix.
Strongly representing Ireland alongside trance stars such as John O' Callaghan and Bryan Kearney, Sneijder closes out the triple disc compilation with explosive domination. The acid waves of "Next Level" with Bryan Kearney and recent releases by Sneijder himself such as "Remember Me" completes the 
In Trance We Trust
package, and the winning combo of tech trance and uplifting brings the trance adventure to a proper close.
Check out the tracklist below and don't forget to pre-order on iTunes or the official release on May 26th.
Tracklist:
ITWT 020 Mixed by Menno de Jong
01. Naian vs. Seventh Meridian – Patriot
02. Adam Nickey – Perfect Destiny (Allende Remix)
03. Liquid Soul – Nirvana (Activa Remix)
04. Menno de Jong, Stereojackers vs. Mark Loverush & Shelley Harland – Connected (Kaimo K Bangin Mix)
05. Gal Abutbul & Tim Briggs – Revert
06. Aly & Fila ft. Sue McLaren – Where To Now (Will Atkinson Gold Mix)
07. Luke Bond ft. Roxanne Emery – On Fire (Aly & Fila Remix)
08. Menno de Jong – Any Other Day (Mac & Monday Remix)
09. Kamaya Painters – Endless Wave (Kinetica 2014 Rework)
10. Menno de Jong ft. Noire Lee – Creatures Of The Night (Adam Ellis Remix)
11. John Newall – Grand Central
12. Arctic Moon – Starlight In The Dark
13. Menno de Jong & Adam Ellis – Solicitude
14. Dart Rayne & Yura Moonlight ft. Katty Heath – Stole The Sun (Allen & Envy Remix)
15. Johan Ekman – Rocking
16. John Askew – Shine
17. Darren Porter – Terraforming
18. Andain – Beautiful Things (Fady & Mina Remix)
ITWT 020 Mixed by Mike Saint-Jules
01. Christian Drost – Space In Time (Mike Saint-Jules Intro Edit)
02. Tomac – The Quest
03. Luke Terry Feat. Silskin – I Will Rise (Mike Saint-Jules Dark Moon Mix)
04. Mike Saint-Jules Feat. Sandel – Broken Turn
05. Starr – Santiago
06. Alex Wackii – Gravity
07. Mike Saint-Jules – The Final Frontier
08. Danilo Ercole – Future Fuel
09. Arnej – The Burrow
10. Richard Durand – Morning Light
11. Eco & Mike Saint-Jules – Azure
12. Mike Saint-Jules – Space Renegade
13. Anske – Antigravity
14. Choopie and Shmuel – Sunrising
15. Inge Bergmann – Oblivion
16. DoubleV – Lost Highway
17. Ali Wilson & Chris North – Tech Effect (Tech Effected Mix)
18. C-Systems – Aeneas
19. New World – Depth
20. Mike Saint-Jules – Point of Origin (Outro)
ITWT 020 Mixed by Sneijder
01. Tangle – The Night
02. Sneijder – Remember Me
03. Mark Eteson – Aventus (Temple One Remix)
04. Chris Metcalfe – High Altitude
05. Lee Osborne – One Way
06. Ben Gold ft. The Glass Child – Fall With Me (Sneijder Remix)
07. ReOrder – Seven Colours
08. Will Atkinson – Isolator
09. Steven Brooks – Beta Motion
10. Aly & Fila ft. Tricia McTeague – Speed Of Sound (Sneijder Remix)
11. Maria Healy – Atlantis Calling
12. Giuseppe Ottaviani & Marc van Linden – Until Monday (Sneijder Remix)
13. Nick Callaghan & Craig Meichan – Rectify
14. Stephane Badey – Cronos
15. Sneijder & Bryan Kearney – Next Level
16. Sam Jones & Will Rees – Fire Drill