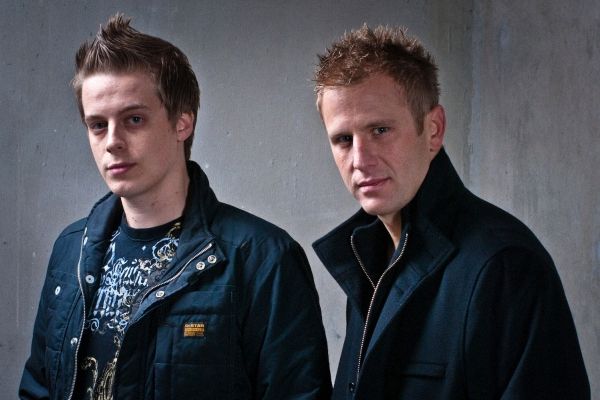 After smashing their set a few days prior at Electric Zoo in Mexico, we had a chance to catch up with the Tritonal boys on their next tour stop in Portland, Oregon. Between a twenty-stop tour schedule, just wrapping up their fiftieth Episode of Tritonia, and releasing a music video for their latest single 'Colors,' there couldn't be a more exciting time for Chad and David.
I linked up with the progressive duo in the basement greenroom of Portland's historic Roseland Theater. The COLORS Tour was sharing the venue that night with the Danny Brown tour, which put the dance acts on the main stage of the venues upper level and the hip-hop acts downstairs. This also meant that both tours were sharing the same greenroom area, which made for an interesting dynamic as DJs and tour managers hustled, bustled, and intermingled with all of Danny Brown's power-circle.
When Tritonal sat down in the interview room, their supporting act and 'Colors' collaborator, Paris Blohm, was already comfortably settled across the room snacking on beef jerky with a sly grin on his face. After giving their young gun a bit of flack for his stylish pants, Tritonal opened up about their early years as a duo, their transition from trance to a more progressive sound, and their latest chart-topping track.

Establishing themselves in the city of Austin, Texas, Tritonal's early years saw a large separation from the city's bustling music scene; as Austin acts as a large musical hub for almost any genre other than dance music. But it is this exact separation which acted as a catalyst for their success. David goes on to explain, "I think it's really inspiring when no ones doing it there, we felt like we were the only ones taking the bull by the horns and trying to do what we could there, although with Chad and I, we didn't really need the support from the scene, in order to continue to do what we wanted to do."
Because of this, their early years were filled with turning down local gigs in place of a headstrong-production mentality and vaulting international ambitions. They spent all their time in the studio producing tracks, and would only take offers to play gigs if they were big enough to warrant the time and energy investment. Chad went on to strongly suggest turning down the cheesy biweekly and monthly club gigs, as they will only slow down their beeline career path. The reason being, as Chad explained, that local markets are filled with shady people who all have their own agendas, who all play their own game-of-thrones so to say. Essentially, it all boils down to how you have to "Treat your home market like you would treat any other market."
The reason behind this philosophy is simple, when looking into the grand scheme of things. Purposing the question, Chad asks, "There's nothin special about watching you tonight, if I can see you next week or next month. Why do I want to come? And, I just saw you, and you played this same type set. It's not cool. [That's why] You got to treat your home market like you treat every other market."
Their lofty goals and vaulting ambition that they spoke of tunnel-visioned down to getting booked at the larger venues: Ibiza, Ministry of Sound, Moscow, Gatecrasher, etc. That being said, their first step would be getting signed to major labels such as Anjuna, Armada, Flashover and Blackhole. As Tritonal was strictly trance at the time, all those labels were a means to get to an end, which ultimately was to get to where trance was across the world. Each international gig would add on to the next, as David explains, "It does make a good statement on our profile because you'll have other promoters would be like "Oh we want to book you because you've had a lot of gigs overseas", and all that."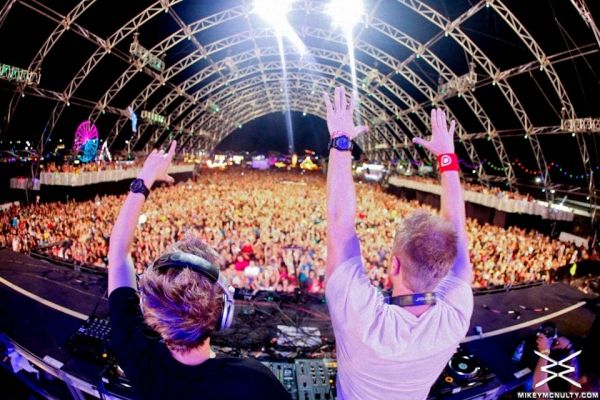 But all-in-all, Chad broke it down and explained that basically the "Bigger your track, the bigger your stage" will be. This happened after getting their first international gig in Hawaii shortly after a booking agent had heard a tune that Chad and Dave put together. "He booked us because he loved the track and we knew right then that one song was all we needed, and now we're playing some gig overseas. So we really started to understand that tracks define."
And now it would seem that that one track is 'Colors.' The track itself, which has reached peak positions across the Beatport progressive charts, has come to truly define Tritonal's sound of today. But the transition from trance to progressive wasn't always warmly received by the Tritonian population. But because Tritonal has always been on top of, not only their social media game, but also general fan interaction, they met the argument head on. When asked about facing the debate with their fans, Chad remarked, "We didn't shy away from the conversation, or shy away from telling people why or what we felt. Or like just legitimately arguing with them, we didn't, and I'm glad we didn't because they knew where we stood, and they knew we were genuinely taking an approach. And not just fucking skirting the issue. Yeah, it's hard to maintain, but its like, we love it and I mean, look, our fans are the reason we do what we do, and so maintaining gratitude and humility around that is super important. Regardless of how much money you're getting paid or how big of stages your playing."
And 'Colors' is a BIG track, meant for some pretty BIG stages. Chad laughed it off about the whole process, saying it took months and months from start to finish. With Paris' sideline input, the final consensus came down to a total of nine months in the works. While the melody seems to have come together relatively quickly, the engineering took them the longest, along with the arrangement. Originally, Tritonal intended the track to have a second verse, as Sterling's vocals were so uplifting and perfect that it would be hard to find unessential sections to omit. Chad speaks about the rareness of the vocal, saying, "When we all heard that vocal, we knew it was a special one. We wanted to spend the extra time to make it right. . .We kind of reverse engineered the song. We had a melody to begin with, but it wasn't the one on the drop. But hands down to Sterling, that vocal is super inspiring, he's amazing."
After discussing their track for a while, we moved on to discussing a tour that David describes as, "[it] seems to have started yesterday." Now on the back half of the tour, Chad gives a nod to Paris, saying how well Paris has been doing on such a chaotic tour. As a retort, Paris claims that it is different touring with somebody else, as its his first time doing that. "It's different, you guys have yourself. It's weird just being by yourself the whole time. It gets boring, which is probably why I just make friends in all different markets. But it's good to have somebody to go with you."
But after doing the collaboration of 'Colors' between Paris and Tritonal, it was only natural for the duo to bring the young kid on tour. After signing a track by Paris to their label,'Colors' topping charts, and then preparing 'Colors' to get radio play, it just seemed like a logical step to drag the kid along. In fact, they all seemed surprised that 'Colors' was getting radio play by this time, since they had already done all the homework necessary to prep it for airtime, yet it seems to be taking a lot longer.
After briefly discussing their upcoming Metamorphic 3 EP, the boys had to hit the decks.
Check out the newly released music video for 'Colors' and be sure to catch them on their COLORS Tour.