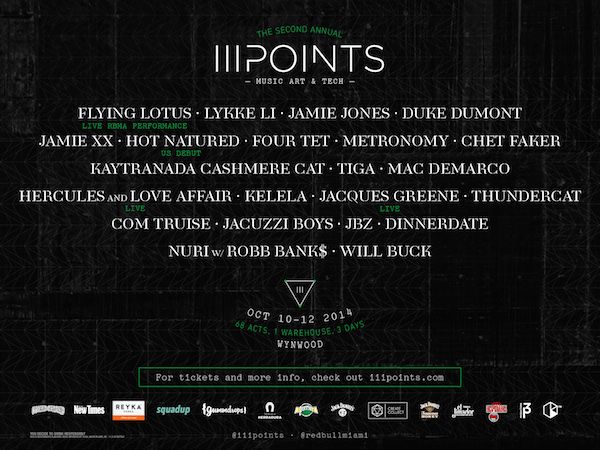 The second annual IIIPoints Music Festival is back in Miami's illustrious Wynwood neighborhood this year and the lineup is assuredly marvelous. Taking place across three days, from October 10-12, the festival boasts performances by Hot Creations label boss Jamie Jones, Duke Dumont, Flying Lotus, Future Classic favorite Chet Faker, Kaytranada, Cashmere Cat, and the first U.S performance of supergroup Hot Natured (Jamie Jones & Lee Foss), among others.
Of particular interest is that the III(3) Points Festival is much different from a more traditional festival that simply takes place in one pop-up location. III Points takes on the vibes and feel of the local Wynwood neighborhood -a culturally diverse, hipster-esque, artsy part of the already vibrant Miami landscape- by hosting the acts in a myriad of local bars and clubs and other venues. It's similar to the Amsterdam Dance Event, but much more intimate and culturally vibrant since the festival is contained to such a small neighborhood.

In total, 35 venues are included in this unique event, all of which play host to something more than just the music, with art decorations, beer gardens, and even a roller skating rink tucked away somewhere. Without a doubt, III Points Festival is one of the most unique festivals on U.S shores this year. While the immense hustle and bustle of something like EDC or Ultra is a huge part of our industry, unique, intimate festivals such as this (that features some of the hottest names in house music at that) are the lifeblood and soul of the scene. Grab your tickets from the link above, and we'll see you in Miami.