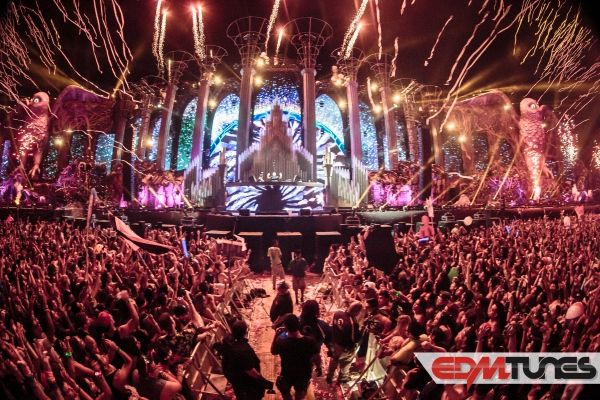 EDC Vegas 2014 is over and we still can't get enough of the beautiful music that originated from the motor speedway. It's been a good 7 days since the closing sets and we've gone through each and every one of the artists' sets to gather some information on the tracks that were played. With over 31.5 hours of music and 60+ sets, it is difficult for fans who weren't at EDC to get a feel for the musical essence of the festival. Likewise, with so much music to overwhelm the senses, it got to the point where all of the songs started to sound the same for the 130,000 headliners in attendance. We feel your pain, and have put together the "Soundtrack for EDC Vegas 2014," which compiles tunes from the Top 10 Most Shazamed list and the tunes that appeared the most in artist's sets via 1001 tracklists. Get used to these tracks… this won't be the last time you'll be hearing em.
1. Bastille – Pompeii (Audien Remix)
Audien's remix of Pompeii is making a strong case for 2014's song of the year and EDC Vegas was the absolute perfect platform to showcase it at. "Pompeii" has a type of careless energy about it that allows the listener to detach themselves from reality and lose themselves in their imagination. The progression of the song plays into this feeling and makes it seem as if time is standing still. If there's a song to get lost in the desert to, it's Pompeii. Unfortunately, Nate did not perform at EDC this year… man would it have brought the house down had he dropped this remix himself. Oh wells, maybe next time.
2. TJR & Vinai – Bounce Generation
There are two types of headliners who flock to the Las Vegas Motor Speedway; those who like "Pompeii" and those who like "Bounce Generation." TJR & Vinai's new festival anthem took the desert by storm and has cemented itself as the successor to "Animals." If you were to combine the hard-hitting trap sound of "Animals" and combine it with the melbourne style of "#Selfie," you would be left with Bounce Generation. Good luck getting this song out of your head for the next six months.
3. The Chainsmokers – #Selfie (Botnek Remix)
Well, well, speak of the selfie. It would be redundant to say that people are tired of "#Selfie" since everyone else has already talked about it at length, but that means there's more room for the remix to thrive. The Botnek remix acts as a defiance to the original by speaking out against the very topic that is being parodied, and does so with a heart-thumping trap beat that inevitably led to sweaty selfies in the unforgiving sun.
4. Dillon Francis & DJ Snake – Get Low
It was no-brainer that this song was going to make a cameo on the list. This middle eastern themed trap anthem has captured the hearts of hundreds of thousands of young ravers and has set off untold amounts of twerk sessions. You will be hard pressed to find a song that better suits the more risque side of Sin City than "Get Low."
5. RL Grime & What So Not – Tell Me
RL Grime and What So Not's tune "Tell Me" is the kind of song that gets the people going with it's deep brass ensemble and break beat sound. What makes it a real stand out production is the fact that it was released as a free download originally through both artists' Soundclouds, and a few months later both found themselves playing at EDC Vegas' circuitGROUNDS and cosmicMEADOWS respectively. Not too shabby for a free download.
6. Calvin Harris – Summer
It wasn't a question as to whether or not you would hear "Summer" at EDC Vegas, it was a question of how many times. The answer was often. From the original to R3hab and Ummet Ozcan's version to Diplo & Grandtheft's trap version, "Summer" was out in full force as the summer solstice passed beneath the electric sky. Before we file requests to shelve this song for the rest of the…season, let's transport back in time to Calvin Harris' jaw-breaking set.
7. Deorro & Jtrick – Rambo (Hardwell Edit)
It's a surprise to see the world's #1 DJ this far down the list when it comes to soundtracks, but his edit of "Rambo" is an excellent choice nonetheless. This is by far one of the years' biggest festival anthems, with its ginormous sound carrying well over a large crowd and its uptempo beat sending fans into a frenzy. This is your textbook definition of absolute festival banger (we hate using this to describe any track, but it's quite accurate in this case).
8. DJ Snake & Lil Jon – Turn Down For What
Yup, this is still insanely popular. There is almost nothing to say about this song, it is virtually everywhere. The term turn down for what has already made it's way into our vernacular, and it's only fitting that it finds itself on the soundtrack.
9. We Come, We Rave, We Love – Axwell /\ Ingrosso
One of the biggest headlines leading into EDC Vegas was Axwell /\ Ingrosso and they did not disappoint, throwing down one of the best sets of the weekend (no surprise there, they have some experience playing festivals together). The highlight of their set was "We Come, We Rave, We Love" and for many, it is THE song of EDC.
10. R3hab & Deorro – Flashlight
If you've never heard of this song before, click the play button below and listen for 30 seconds. Yeah, this song. This is a huge crowd favorite that goes largely unknown by name but is immediately recognizable by sound. Carrying the signature Spinnin' Records sound, "Flashlight" has been blowing up dance floors for months after making its mark at Ultra Music Festival, and it established itself once again as one of the biggest songs on the biggest stages.
11. Jack Eye Jones – Far East (Blasterjaxx Remix)
We saved this song for the end because it is perfect for when the sun starts to go down; it's dark, mid-tempo energy is absolute ideal for when the lights begin to fill the night air and people are in need of a second wind. We didn't expect this remix to be played so often during the 3 days, but we're not complaining about it one bit.
12. Mercer & DJ Snake – Lunatic
The aptly named "Lunatic" deserves a place on the list because you simply can't ignore it… no matter what you do. The sound this tune generates seems to have the ability to travel farther and bore itself into every listener's mind. It's strung out sound is perfect for twerking on the dance floor and getting generally ratchet, something we saw a lot of as this song ripped through the speakers.
13. Bingo Players – Knock You Out
"Knock You Out" is one of the last songs that Paul Bäumer made with Bingo Players, and it is quite possibly the best one, right up there with "Cry (Just A Little)." Its intense progressive melody pulses through listeners' bodies and posses them to dance to their heart's content. I have long been saying that this is the song of the summer, and it is a perfect fit for the high energy that is the embodiment of EDC Vegas.
14. Tommy Trash – Lord of the Trance
Last year around this time when we were seeing Tommy Trash's name floating around, it was for his monster hit "Reload" with Sebastian Ingrosso. Now, it is time for "Lord of the Trance" to take it's place in summer playlists everywhere. This song kicks off with a progressive trance body that builds into a type of Dutch house/American trap/electro conglomerate that, as you can tell, is not easy to describe. Whatever the genre may be, the result will always be the same: bitches love the "Lord of the Trance."
15. Henry Fong – Stand Up
Henry Fong rounds out our list with his massive track "Stand Up." While receiving critical claim before EDC Vegas, this song was brought into the limelight throughout the whole weekend and shone as bright as the glimmering stars above. The big horns rang throughout the desert over the weekend and helped to not only establish Henry Fong as a rising star, but also solidifying "Stand Up" as this summer's anthem.