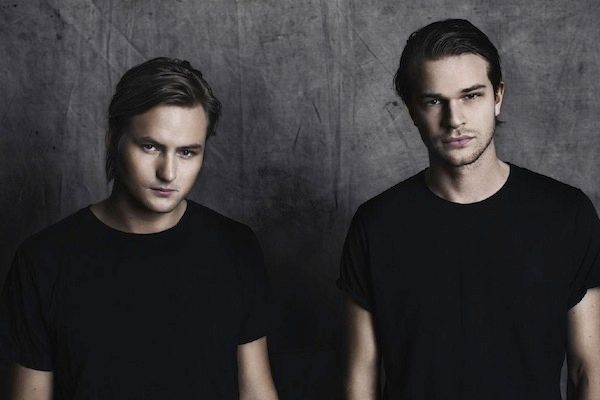 Most EDM fans are well aware of the impressive pedigree of electronic producers that have come from Sweden. Yet, even with the massive industry growth across the globe, the small Scandinavian country continues to deliver some of the most exciting new acts in the scene. Take Nause as an example, the duo consisting of childhood friends Jacob Criborn and Leo Scheja, who honed their house music skills in their hometown of Stockholm.
We had a chance to sit down with Nause during their tour stop at Chicago's The Mid last month, where they were opening for fellow Swedish performers Rebecca & Fiona. For a group just starting to make waves in the US, these guys are intensely beloved by their hometown fans, and are quick to express their gratitude for the impact that music culture has had on their own growth. Yet, they're even quicker to remind you that they are still their own artists with their own vision, and it's this independent spirit that has allowed them to make a name for themselves among the masses. Take a listen to any of their massive singles, and you'll get it right away. Or, better yet, catch them live; I can speak from experience that it'll make an instant fan out of you.
We're excited to see you guys here in the U.S. now.
We're excited too, it's been a long time coming. This is the place to be. We've been coming back and forth for a while, but this is the first major tour we've had. Actually, we missed our first show in December because it was bad weather. So now we're finally here in Chicago. And the build up for tonight has been amazing so far.
On your tour, you've made stops in many U.S. cities, but Chicago has such a deep, rich history with house music. Do you have any different expectations as you go from city to city?
What you immediately feel is when the weather gets nice, people are so happy. Like back in Sweden, music is such a big thing back home. I'm guessing because people get happier with the weather, you start to get that vibe and it adds to the feel. There's a lot of cities in the U.S., some are more relaxed and others are more hectic, but you can tell that people everywhere really love the music.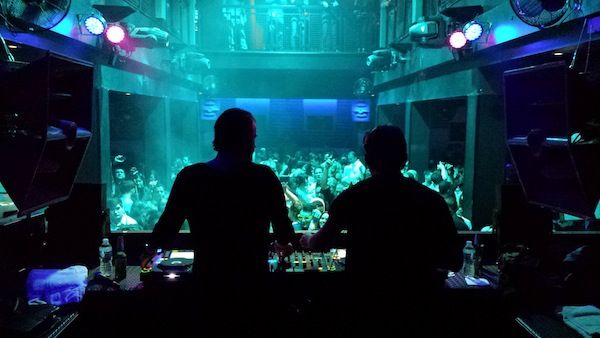 You guys are childhood friends from Stockholm. What was the moment when you guys decided to start making music together?
We were always into music when we were younger and Leo's from a musical family. My father played the piano as well. I think we've always been into music, but not just house music. It was when we were like 13 or 14 when we started to listen to this electro house music thing. We had the same interests and started to listen the same tracks, and thought we wanted to try this as well. So we downloaded a music program and started to do some stuff and send it back and forth to each other.

We have to give credit to all the bigger Swedish acts, because the scene in Sweden has always been kind of at the forefront, at least in Europe. Esepcially John Dahlback I remember, we started listening to his stuff and that was kind of mind blowing for us. We thought, "Yea, we can do that to." It's fun when you get into it and you can find different paths in music that you didn't know existed. When we started to make this music, that's when we knew it was what we wanted to do. And of course, we've known each other since we were one. Our mothers are best friends. It was fun having your best friend wanting to do the same thing.
What was growing up in the Swedish house music culture like?
When we started, it wasn't the thing like nowadays where everyone is a DJ or producer, because it blew up so fast. When we started, it was almost weird doing music on your computer, so for us, it was not a thing of being like everybody else. I played the piano for a while as a kid and Jacob played guitar, and for me, I didn't want to be in a band, I didn't want to just play piano. I wanted to do everything, and everything from scratch was something new.
Let's talk about the "Heartbeats" series that aired in Sweden, because it's hard for the U.S. crowd to find that.
We're honest in that series. We weren't thinking about the documentaries that have been done before that are only parties and good shows and glamor. Us, Adrian Lux and Albin Myers, and everyone who worked on the project was like "Yea, we want to do an honest show." So, we show the bad stuff, the bad shows that everybody has, and the good shows, and how that got us through everything.

So it was kind of cool because it was so honest. And I know it's hard to get that here. We got a lot of recognition in Sweden and people were actually interested.
You guys have such an intense home base in Sweden.
It's weird because its such a small country in terms of population. The thing is the scene in Sweden is growing like it is over here, but maybe started a bit before. The people have been on it and the club and electronic music thing for awhile, when it's been hip-hop over here. Now it's more the same, but Europe was a different club scene from over here. When you go out, you want to hear groovier stuff more than rap or R&B or hip-hop or whatever. Sweden is a good country to live in, but the people are very conscious about the music scene and aware of it.
As Swedish Artists, do you feel any expectation for the kind of music you need to make?
No, we don't because it's so individual, what you create. We always like to do what we want to do, so we don't feel the pressure on us. It's so cliché to say, but if you want to be an artist, you have to do what you feel like. If you want to make it, you can try to do what's in right now and Google "How to make a hit." But if you want to really do what you like, it's hard to replicate an artist. Even if it sounds like something else, it's still you and you can still support that yourself. If you just follow a trend, it'll get noticed and nobody will care. The biggest tip I could give anybody is do exactly what you feel like, because I'm guessing that's how people make music that's never been done before.

It's a bigger competition right now than it was several years ago because everyone has a computer, so everybody can make music if they want.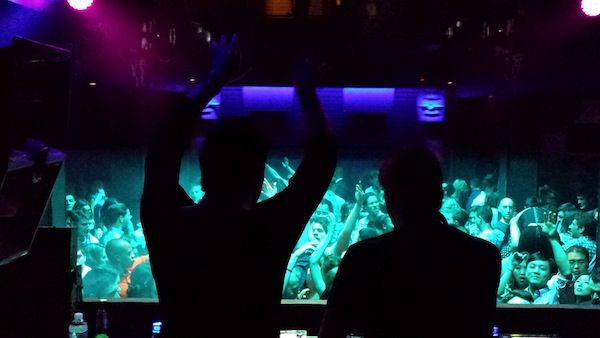 That's an interesting point. The scene has grown so much that there's a lot of opportunity, but there's also a lot more competition to get the time, get the plays. Do you guys feel like the growth of the scene has been more helpful or made it more difficult?
It's helpful in the fact that people actually start listening to the genre we're in. Then again, I don't really care if it gets to the commercial level that everyone will listen to it. We started out not caring about that, and just made music that actually spoke to us, so for us, it's not about that.
But still, it's helped us. We're here in the U.S. Four or five years ago we wouldn't be here because the scene was so small. So I mean, the hype around EDM has helped everybody in this genre, and then again, it gets to the point where everybody thinks they are a DJ or producer and there's so much white noise. Everybody uploads stuff to the internet and suddenly people don't care because everybody does it. So it's harder for someone right now I think to get noticed than it was for us. I'm pretty grateful because I think it's a music evolution, music is evolving to the point where nowadays every Pop or R&B artist uses electronic elements. But in 4 years, it might be totally different too, like this might be the peak of it. I'm not sure. But its fun being here right now, being a part of it.
Let's talk about your single "Head over Heels." It has a bit of different feel from a lot of your other work. Tell us about how this track in particular came to be and what inspired it.
For us, it wasn't like, "Now we've got to make a single." We had a really good instrumental track, but if this was going to be a Nause track, we needed to have a good vocal in it. So we sent it to our management and label, and one week after that we got a result from a Norwegian guy named Kurt Nilsen, and we really liked the lyrics and the vocals.

Kurt Nilsen won World Idol over Kelly Clarkson like 10 years ago, and we've watched him for ten years, and all of a sudden, he sends us the vocals for the track. For us, it was mind-blowing. We listened to it once, we listened to it twice, and both of us were like, "Man this is good."
The music video for that track was very unique. What was the inspiration there?
His [Jacob] cousin came up with the idea, and we were like, we want to do this. In the beginning, it was more a PR thing, but then it actually turned into a music video. So we shot the video in Oslo, Norway and Stockholm.

The fun part for us was giving back. We said to our fans, be there at whatever time and our cab's going to pick you up and drive you wherever you want for as long as the song is playing. So for 4 minutes and 55 seconds, you can go wherever you want. If you want to go to the biggest night clubs in Stockholm, we put everybody on the guest list and we'll drop you off. So be yourself, but be good, and we're going to film everything. It was an amazing idea and super fun for the people that actually stood there waiting. It was such bad weather, but it was beautiful. The video turned out amazing. It's always fun to get everyone involved and I think people appreciated that.
You guys obviously have a lot of hometown pride. What are some things people should do if they visit Sweden?
You have to go to Stockholm. We both grew up in Stockholm. I'd recommend going in the summer because it's really beautiful, and you'll have your mind blown for sure. I think we need to record a Nause tour guide. But we don't know shit about Stockholm [laughs]. Like, you see beautiful buildings – "What's that? I'm not sure. I think I've been there." I like this place to grab some food, it's called McDonalds [laughs]. No, but you'd have to go to Old Town, which is basically where Stockholm started with castles and it's beautiful. And we have amazing food in Sweden. We have meatballs.
Meatballs will come back up in a second, but I first want to ask about where you make home base. You see a lot of international artists starting to stay in the U.S. in places like New York or LA. Has that ever been something you've thought about doing?
We've been to New York a few times, and LA for a couple weeks. They are so big, it's a bit different. I love the fact that in Stockholm, you have everything in walking distance. And nowadays, it's so easy to travel. We're DJs, not a rock band. We have our computers, USBs and headphones, and we can jump on a plane.

But, we love it, it's something different over here of course. It's just hard imagining home being someplace else. And Sweden has universal healthcare, too [laughs]. Our friend actually hit her head the first night we were in Miami and she went into the hospital and they charged her like $2000.
Now that you've been in the U.S. for a while, I want to play a little game. I'm going to give you a topic and you tell me if you're experience with it has been better in Sweden or in the U.S.
Oh, awesome. Sounds fun.
First place I need to start is with girls.
Sweden. Swedish girls are fucking amazing in every way. The girls over here are a bit crazy to me. That's not bad, but it's different.
Food?
Sweden for sure. We were just talking about this earlier today, like our favorite cuisine. First is Italian, then Swedish, then Asian. I'm not even sure what American food is. It's everything based from Europe, so I'm not sure, but we have some weird stuff back home that's amazing and it's too bad that people here don't get that.
TV?
I'm pretty split on that question because Sweden has less commercials. It's commercials every fucking two minutes over here. But, we have like 5 channels that are big. So we're going to go with U.S. on that.
Traveling across the country?
You don't have to remove your shoes or your liquids in Sweden [laughs]. Getting by in Europe is a lot easier because of the European Union. Every city here feels very similar, like you have a downtown and grid systems. There are different vibes everywhere, though. LA is so big and you have to drive anywhere. But here in Chicago, we really like this place. It's cool being able to go around and see all these places.
And finally, meatballs?
American meatballs are weird. They're too big and you only get like one. I want like 15 smaller ones. A Swedish meatball is with mashed potatoes, lingenberry and brown sauce. Fuck, that's good. I want that right now. You can't bring that up [laughs].