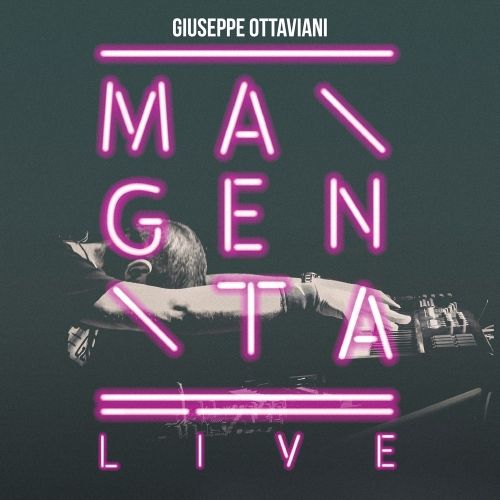 Giuseppe Ottaviani – Magenta Live!
Label: Black Hole Recordings | Release Date: June 23, 2014
Pre-Order on iTunes
Whoever lays claim to the supposition that electronic music lacks a true "live performance" capability has yet to see Italian trance maestro Giuseppe Ottaviani at work behind the decks & keyboard. In order to take this experience to a greater proportion of audiences worldwide, Giuseppe packed up his studio equipment last spring and transported it halfway around the world to Argentina to utilize and rely upon during his live show in Mandarine on April 12th in support of his sophomore studio album Magenta. The result? Magenta Live!, a seamless merging of club land-led vibes with the inescapable over-reaching aura of a live concert experience…sparking what could possibly become the next wave of the worldwide electronic music expansion.
The live set recorded album features specifically purpose-built live versions of the many chart-smashes from Ottaviani's sophomore album, meaningfully designed by Giuseppe himself in order to create a well-oiled and seamless club-worthy experience relying upon true musicianship in the tracks' live version deliveries. Bear sonic witness to one of the inaugural voyages into the new era of producer-led DJ shows, in which very well may be the next possibility of raveolution for the masses. Supported by an impressive set of trance forefathers such as Ferry Corsten and Aly & Fila, and quintessential vocalists including Eric Lumiere, Audrey Gallagher, Linnea Schössow, Lo-Fi Sugar, and Vitamin B, the double disc release is packed with a star-studded lineup brooding with high quality finesse and craftsmanship on the heels of Giuseppe's gilded and impressive resume.
Fans can keep up to date with latest news and developments leading up to the album projects' June 23rd release utilizing the social media hashtag, #MAGENTALIVE, including give-away prizes and exclusive social media activities. Until then, check out the tracklist below.
Tracklist:
Disc 1. Live From Buenos Aires
01. Love Will Bring It All Around (with Eric Lumiere)
02. Nothing Wrong (featuring Faith)
03. Passion
04. Walk This World With Me (featuring Audrey Gallagher)
05. Rush (featuring Lo-Fi Sugar)
06. Magenta (with Ferry Corsten)
07. Feel The Music
08. Liverpool
09. In This Together (with Alana Aldea)
10. Illusion (featuring Stephen Pickup)
11. Stars (featuring Linnea Schössow)
12. Cold Flame
13. Brilliant People (with Aly & Fila)
14. Waiting On Someday (featuring Vitamin B)
Disc 2. Love
01. Love Will Bring It All Around (with Eric Lumiere) (Live Mix) (5:21)
02. Nothing Wrong (featuring Faith) (Live Dub Mix) (5:07)
03. Passion (4:41)
04. Walk This World With Me (featuring Audrey Gallagher) (Live Mix) (5:14)
05. Rush (featuring Lo-Fi Sugar) (Live Mix) (5:40)
06. Magenta (with Ferry Corsten) (Live Mix) (5:20)
07. Feel The Music (Live Mix) (5:23)
08. Liverpool (5:37)
09. In This Together (with Alana Aldea) (Club Mix) (5:10)
10. Illusion (featuring Stephen Pickup) (Live Mix) (5:20)
11. Stars (featuring Linnea Schössow) (Live Mix) (5:47)
12. Cold Flame (Live Mix) (5:05)
13. Brilliant People (with Aly & Fila) (Live Mix) (5:24)
14. Waiting On Someday (featuring Vitamin B) (OnAir Album Mix Edit) (5:21)