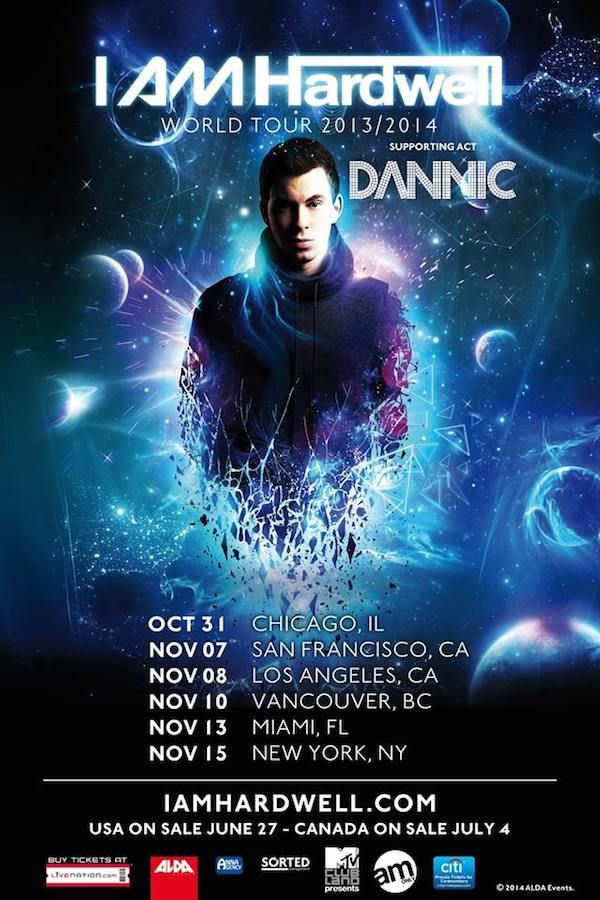 Purchase 'I AM HARDEWLL' Tickets
When you have been voted the world's #1 DJ….which way can you possibly go after that? For Robbert van de Corput, aka Hardwell, the answer is simple: you keep doing the same exact thing that got you to the top in the first place. Hardwell's life drastically changed on two different occasions in 2013: March 16th, the date of his famous and groundbreaking Ultra Music Festival set, and again on October 19th, when the DJ Mag Top 100 DJs results were aired. Many people link the two events together, and they should, because within that hour at the beginning of the year, he showed the world what he was capable of, which was a lot. Now with multiple "I AM HARDWELL" tours under his belt, many mainstage appearances throughout the year and a booming record label, you can't help but wonder, and we asked: what more can you do?
"In the beginning [when I was voted #1] I felt the pressure with what I was going to do next year, what is the next step?" Hardwell told us. "There is no higher thing to do, so you stay in the same position or go down. I was worried for a month or so, but I'm so privileged right now and I'm just going to enjoy this moment. Maybe I would be #1 again this year or maybe not, but I really enjoyed it and if I'm number #60 this year, for example, I'm still going to enjoy it because I'm in it for the music."
It's obvious that he cares deeply about the songs he makes and are associated with, even so much as creating a yearly compilation album with tracks from artists off of his label, Revealed Recordings. Embarking on a massive 6 stop arena tour doesn't hurt your #1 status very much either…! During EDC week, members of the press had the opportunity to get together to celebrate the release of the 'Revealed Volume 5' compilation.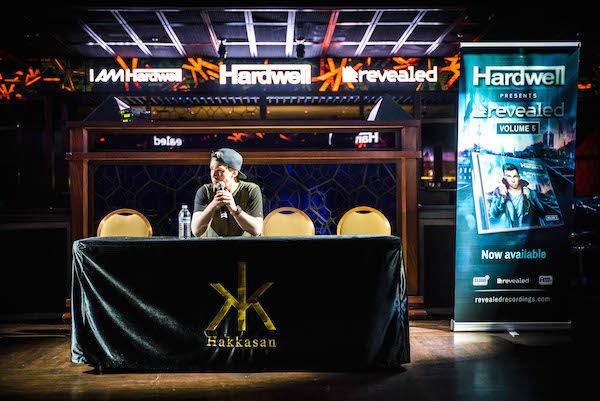 "One of the reasons why we do these compilation albums is because my label focuses on DJ music: proper festival DJ music," he said. "Our tracks are made for other DJs, not for the radio or for crossover."
Hardwell went on to further explain that when fans ask to hear artists' sets again, it's hard for them to find the music, so these compilations help them relive the experiences they had when they first heard the music live.
"We release a CD once a year with all the music that I and the other DJs on my label play in our sets at the festivals and what people know us for," he said. "I think it's a great way to give exposure on the label for a different audience."
Hardwell feels at home when he's talking to us, as he should, we're in the Vegas nightclub Hakkasan: The #1 voted North American club, also, according to DJ Mag. He has had a residency here for over a year and he shares it with his long-time friend and mentor, Tiesto. From a young age and with a style that's all his own, Hardwell has been able to shape 
Revealed Recordings
the exact way he wants to.
"Revealed helped me develop my own style, and working with all these new artists is inspiring," he said. "It [Revealed] has changed my career because I always A&R'd my own sound, I never had a big A&R to tell me how my record should sound and which focus I should work with. The whole creative process, I did it myself, and I think that was a perfect outlet for me."
After taking over Times Square (no big deal) to reveal a new leg of the North American "I AM HARDWELL" tour, he will be back on the road on October 31st. But he won't be taking it easy anytime before that. He has a historic B2B set with Tiesto coming up at Tomorrowland and will be making numerous appearances all over the world at various festivals. It's just another day in the life of the #1 DJ….who isn't slowing down any time soon. Buy tickets to his massive arena tour HERE.
Photo Cred: Rukes