With Summer all but here, the dance music world turns its attention towards two things: festivals and Ibiza. And while many of us here in the states are more than familiar with the plethora of festivals, Ibiza still remains the land of mystery for many. What exactly goes on there? What are some stories from the legendary Spanish town? Who can we go to in order to answer these burning questions? Well, how about one of the most veteran DJs to grace the island in recent years: Jack Eye Jones. We sat down with the Scottish DJ/ Producer to talk Ibiza, trends in dance music,  some of his own goals and upcoming releases, and a tale of an attempt to throw Pete Tong into a pool gone awry. Be sure to check out the man's new track, "Far East," as well as the Blasterjaxx remix. But let's get to the good parts already. Sit back, and enjoy a good story from one of Ibiza's most prominent DJs.
Ibiza is your main stomping ground for the Summer, and you've been going there for quite a while. How did you get started there?
I have a lot of support from a crazy Scottish bar called Kilties, which is one of the most craziest places I have ever played, if you haven't been it's like Coyote Ugly but with dance music with buckfast. Buckfast is a wine that has about 30% caffeine, and you can't get a drink without a vodka shot.  The venue  just happens to be owned by Cafe Mambo, the most famous sunset location cafe in the world, where the likes of Tiësto, Avicii, Guetta play to the sunset before they do a club here in Ibiza. I get a lot of support from them. In showing support back for them, I came over and played a special set for the owners for new year.
How was Ibiza different back when you started compared to how it is now?
There is a lot of rules from the police for noise control, I think they take it well too far. Even last night the police were at my door as I had music on outside, and it wasn't even loud. I think the superclubs are taking far too much money off punters and filling well beyond capacity.  I love coming out off season, especially in the winter. There are lots of flights now and hopefully there will be more in the future, thanks British Airways!
What are some interesting moments/ moments that stick out in your head from over the years 
There is a load but I'll stick to ones I can repeat, ahh yea there was this one where my bodyguard was going to throw Pete Tong in the pool at Pikes just because he thought it would be funny.
So story goes, hey there's Pete Tong, lying there reading a book. He walks over to where Pete is lying reading a book in peace. He calmly takes the book from him, folds the page he's reading, and lays it down. Pete rightly so questions this interruption to his book, and stands up and says, "yea can I help you"

"Yea I've betted my mates that I can chuck you in the pool."
They go head to head to each other and start walking towards the pool but both in a domineering and masterful but not gay way. Pete then says 'Say that again,"

"I've betted my mates that…."
Well before he got the rest of his sentence out, Pete had grabbed my bodyguard, took him off his feet and chucked him in with his clothes phone, and everything. As he is falling backwards in to the pool, all you hear from my bodyguard is 'LEGEND!!!'.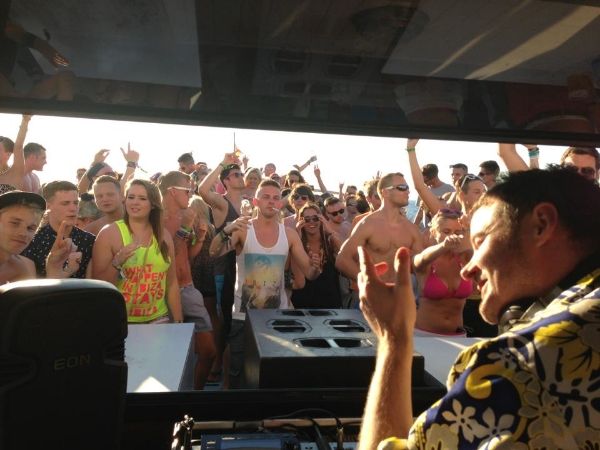 How has your DJing style changed over the years? Have you always been a DJ that brings in a lot of unique edits/ mash ups?
Yea I love adding edits and different parts to tracks that shouldn't be there, or just stopping it and playing some Bob Marley. Everyday is a school day, so I'm always learning, always trying to be different. It was all about traktor when I got back in to it, but had problems now and again with the setup and configuration problems, so binned it and use CDJs without controllers, find it safer. Maybe one day I'll get back in to my 1210's really need to get them over to Ibiza, suppose that's a road trip with my collection.
How do you think DJing/ dance music has evolved over the years that you've been around? What are some big difference, good and bad, that you've seen develop?
Tiësto is a great example of evolution in the scene, that you can see him leave one genre enter another and then another as the demand changes. So many people get stuck on one genre and think that's the world. I think it all comes back round, all different genre's come back. Like in my sets I'll use a lot of acapellas from the 80's and 90's.
What do you think of the American EDM trend that's taken over the world the past couple of years? Was it expected for you? Has it changed how you approach DJing or your selection of styles/genres?
Yea made me decide I need to tour USA and show you all how we really party in Glasgow, other than that I think it's great it's another territory that we can all have fun in.
Where's your favorite place to play in Ibiza? What makes it so special?
Has to be Cafe Mambo, it's unlike any venue in the world.
You've begun to focus more on production, how's that going?
I'm still doing my mashups which is great for getting big artists to support you and know who you are, rather than with original productions, which can be difficult. I'm feeling a lot more confident with my productions though since Tiësto and Blasterjaxx have picked on some of my tracks and remixed them, gives me a lot of encouragement to go forward. Hopefully I'll get to work with some more brilliant producers in the future, Eric Prydz is top of my list, just finished a remix of "Everyday," not sent it to him yet, have a sax on it and a kinda Deorro drop.
#Lovely
Who have been your influences over the years, whether it is for your DJing or your runs into the production sphere? Who/ what do you listen to in your spare time?
Tiësto is my main influence, the guy's a god. In my spare time, unwinding time with the Eric Prydz podcast is another level, and if I'm wanting something funky, then believe it or not it's Boy George.
What are you most excited about for the remainder of 2014? Gigs, new releases, tours?
Main stage at Creamfields is the one I'm looking forward to most, there is some others that are up there but I can't announce yet. Releases, I'm looking forward most to a track being released called "Rainbows." It has an amazing female vocal from this 17 year old girl, and I have a sexy violin that carries the drop just the way I want it as well as a real guitar, that's so funky. I played it at the Arches in Glasgow with a girl who was in Soul2Soul who played the violin over it, I was very nervous playing it live for first time especially in the Arches, it's a crazy venue, but it worked and I can't wait for it to be released.