Bingo Players is
officially
back… and as strong as ever. After losing member Paul Bäumer to cancer last year, the fate of one of dance music's most dynamic duos was left up in the air. Now, after a brief hiatus, Bingo Players have exploded back on to the scene with the blazing new single "Knock You Out." EDMTunes had the opportunity to speak with Bingo Players' Maarten Hoogstraten before his set at Create Nightclub in Los Angeles on June 30th. Hoogstraten delivered an exciting and impressively varied performance, opening with Bingo Players' classic "Rattle," which amped up the crowd like we've never seen before. From there Hoogstraten dropped hits from Hysteria Records label mates like Tommy Trash, and expertly delivered all the favorite Bingo Players hits. But before that, the group's remaining member spoke to us candidly about continuing the legacy that he and his partner created, and where fans can expect Bingo Players to go from here.
You recently released "Knock You Out" to great critical and commercial acclaim. This is the first single you've released on your own since Paul's passing. How much of a hand did Paul have in the creation of the track?
Maarten: We actually made the track together. We almost started the track like a year ago, or something. And basically, it's a song [by] both of us. When he passed, I had to do a few tweaks to the track but most of the track we did together. Yeah, it's a special record to me because its one of the last tracks we worked together on for such a long time. Always gives me chills whenever I play it.
Is there any other material that Paul helped create that is unreleased and are there any plans to release it?
Maarten: Yes, we have like maybe 20 or 30 concepts laying around. They still have to be finished so I have to do that on my own, but I have a lot ideas we worked on together and I'm picking out the best ones and finishing them in the next couple of months.
"Knock You Out" features very empowering and inspiring lyrics and vocals. Instead of emphasizing partying or love, "Knock You Out" seems to promote overcoming adversity. What inspired you guys to create a track promoting this message and is there any specific cause or adversity it refers to?
Maarten: Well, actually to be honest, Sia wrote the track, the vocals. So when we heard the vocal, like a demo, we were like "this is amazing." We got really excited about it because, like you said, it's something different than "party, get your hands up, blah blah." We heard the vocal and we instantly loved it and we built a track around it. We were going back and forth with ideas we had and she had and it worked out really well. Yeah, it's a bit creepy because it fits what happened last year [with Paul]. It was not unintentionally written about that but it really strikes a cord right now.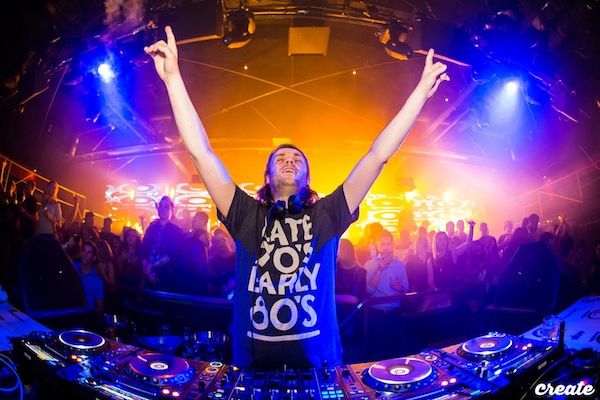 The Knock You Out Remix EP released less than two weeks ago and features an incredibly varied sound and style with each remix, what can you tell us about some of the artists on the EP and the sound they came up with?
Maarten: It's great. I asked Hardwell, he's a pretty good friend of mine, and he said "yeah, of course I wanna remix it." It was a great honor that he did it and he made something really different out of it, and I loved it. But also there's Gorgon City, who makes more deep, with Flaxo who's more trap, Champion did more, like, drum and bass. I think it's important to cater to all the different genres and everybody did an amazing job.
So far, Bingo Players have had an incredibly dynamic sound and almost a roller coaster of a career, from your quick rise to recognition to Paul's passing and the hiatus you took after that and finally coming back strong with "Knock You Out." Fans are constantly anticipating when they can hear more Bingo Players and what it will sound like. Can you give us a hint at what's coming next for you: another single or an album in the works, possibly?
Maarten: No album, only working on singles right now. I'm currently working on a few concepts Paul and I were working on. Most of the time they're more melodic, so its not like really hard club bangers, because we were moving away from the really hard stuff and trying to do more melodic stuff. I can tell you that probably around August you'll hear your first remix of a new track. It's gonna be cool but still have to work on it, you know.
Collaborations have become a regular occurrence in EDM, and I've noticed that Bingo Players haven't really collaborated with any other DJs.
Maarten: No we never did a collaboration, actually. It's really hard to collaborate, we always had problems working with other artists, not that we couldn't find the right vibe, but we have our own vision of music and it was really hard to combine it with other artists'. We tried, but somehow it never worked out, I don't know why. We like to keep things in our control and release it on our own.
It could be said that you and Paul were your own collaboration. But now that you're a solo act have you found more of a desire to collaborate or have you found that having a second artist working on a track is important to Bingo Players' sound?
Maarten: Maybe, I don't know. It's really hard to tell. Right now I'm fine doing stuff on my own and continuing the music like I did with Paul, because I know how he thought. He was always the guy giving me ideas, like when I'm producing I can hear him talking to me somehow, when I have to decide on certain parts of a song, I'm always thinking "what would Paul say, what would he do?" I learned so much from him and I'm continuing to use that knowledge and not really thinking about bringing somebody else on board.
When everything happened with Paul and you took your hiatus, fans wondered if Bingo Players would return with a singular or plural name, especially because it presents a weird grammatical issue. Fans then praised your decision to remain plural after Paul's passing. Was there ever any question in your mind about doing so?
Maarten: No, it was always if I do it, it will be Bingo Players and nothing else, otherwise I would stop and maybe do something by myself, but Paul and I talked before he passed about continuing and he told me "If you can find the power to do it, and you want to do it, please do so. If you can't, don't do it." So I was thinking about it for a long time and I took some time off to think about it, but I wanted to continue what we built and to continue the music. I think that's one of the most important things and Paul lives on through the music so for me, it was eventually a no brainer. Just keep it Bingo Players or stop using that name and do something different.