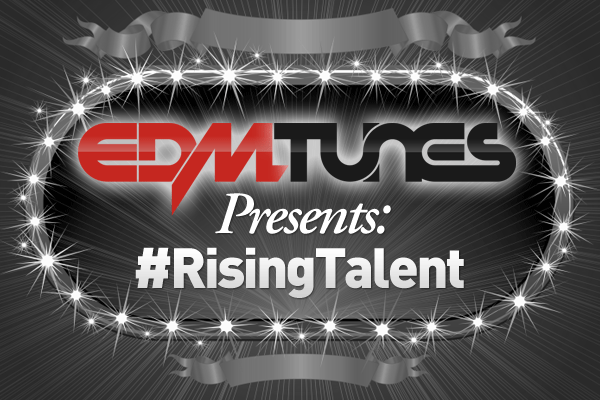 Each and every day, we get close to 50 track submissions from artists and producers all over the globe. As a blog and a connoisseur of quality music, we make it a priority to use our social outlets as an avenue for up-and-coming producers to get their names recognized. With the abundance of tracks sent to us from every part of the world on a day-to-day basis, it's definitely not an easy task picking out the great from the good. But with our love and passion for dance music, we will continue to strive for only the highest quality of music.

This week's artists have been carefully selected, having undergone a thorough critique process of their work. Originality, diversity and production quality are just a few of the factors calculated into the decision of determining what tunes resonate best with the listener. Our team here at EDMTunes pride ourselves on discovering new and undiscovered talent every week. We are constantly looking for the underground gems of electronic dance music and want to support those who truly deserve the recognition. We advise our producers to continue to submit their tunes to possibly be featured on this segment of our weekly #RisingTalent series.
For those who don't know, we have created an exciting fan-based contest out of this weekly series! Select your favorite artist from the list below and tweet the following:
Hey @edmtunes! @[insert artist's twitter name] is the next big #RisingTalent of 2014!
The artist with their named tagged the most over the course of the next 5 days will have their tune reposted on our edmtunes, edmtunesx and EDMT Team soundcloud account. Remember, you must use the #RisingTalent hashtag! Spams or repeated tweets will be ignored. Feel free to hashtag other #RisingTalent(s) that you discover on Soundcloud throughout the week so we could scope out some talents to showcase!
1) BeatBakers
Hussein and Ibrahim of BeatBakers are brothers from Cairo, Egypt who started producing music a year and a half ago. They do not consider themselves bound to one genre and, in fact, love listening to all styles of music to provide themselves a broad inspiration base. Some of their favorite artists are Zedd, Cazzette and Avicii. This graceful remix features the breathtaking vocals of Jasmine Thompson. The goal with all their music is to create timeless pieces and they do an excellent job striving for that here.
Chaka Khan – Ain't Nobody (Jasmine Thompson Cover)(BeatBakers Remix) | Download

2) Jeff Hue
After Tiesto released his tech house remix of 'All Of Me' by John Legend, many listeners felt it was one of the best, if not the best, remix of the gorgeous original. However, Singapore-based producer Jeff Hue is giving the house heavyweight a run for his money with this spot-on progressive remix with an uplifting lead chord progression. Jeff graduated with a degree in business, but shortly after decided that he wanted to pursue music since it had been his lifelong dream. He is currently enrolled at Lasalle College of the Arts where he is studying music. He aims to refine his craft each and everyday and this remix shows that, at 23 years old, he is heading in the right direction.
John Legend – All Of Me (Jeff Hue Remix) | Download

3) Loge 21
Loge 21 consists of two French cousins who hail from Dijon in Eastern France. They recently cooked up a hot future house record with electro stylings to keep the energy high. If you're trying to groove till the sun rises, Loge 21 has got you covered. This duo is committed to making music as their career in life and seem to have quite a few tracks simmering that will be released later this year. Until then, enjoy some great future house.
Loge 21 – Blow | Download

4) Blazen and Yung Jase
Young bedroom producer Blazen teams up with his friend Yung Jase on this massive festival trap edit of Henry Fong and Reece Low's powerful record, 'Slapjack'. Interestingly enough, this is Blazen's first ever trap edit as he usually experiments with big room, hardstyle and trance. Luckily for Blazen and Yung Jase, the trap rendition even received the stamp of approval from Henry Fong. This tune is packed with endless energy that will have the crowds jumping all summer.
Henry Fong & Reece Low – Slapjack (Blazen X Yung Jase Festival Trap Edit) | Download

5) Cizz
Australian producer Cizz is no stranger to our #RisingTalent series as he was previously featured in Volume 6. This laid-back chilled house tune is reminiscent of Deadmau5′ progression style and has a certain tone to it that allows it to always be fresh. Whether you're stressed from work or school or need to get through work or school, this original will be the perfect tune to add to your daily playlist.
Cizz – New Beginnings | Download

6) Daun Giventi
Insomniac Discovery Project winner Daun Giventi is from San Francisco, California and at only 22 years old, he has already established an impressive repertoire. Although he primarily produces trance and progressive house, his mission is to be one of the most versatile producers in the industry and he has been efficiently making that goal come true. Giventi aims to not just be a producer, but also a storyteller through his music. Some of his influences are Adventure Club, Above & Beyond and Audien. This drum and bass remix of Porter's 'Sad Machine' is done to a tee and will take the listener on an uplifting journey.
Porter Robinson – Sad Machine (Daun Giventi Drumstep Remix) | Download

7) Didrick
Swedish artist Didrick is the full package. He's a musician, producer and DJ. His extensive background in music has enabled him to produce practically any genre from hip-hop to metal to indie-rock. In 2013, Didrick's talents went internationally recognized as he locked up an official remix of 'I Could Be The One' by Avicii and Nicky Romero. In 2014, he has debuted his first original record, 'A Part of You', which has great radio crossover appeal. Male and female vocals soar over each other throughout this fun pop progressive tune. Didrick has extraordinary potential to truly explode in 2014.
Didrick – A Part Of You