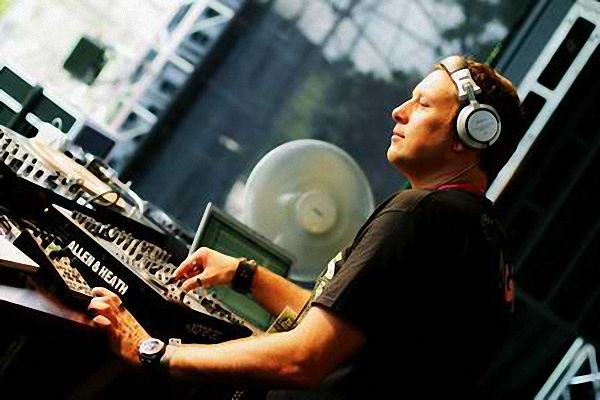 The intro for Umek's globally syndicated radio show,
Behind the Iron Curtain
, welcomes listeners to "tear down the Iron Curtain and take a look at what Umek has to offer". At first glance, one may surmise that the title choice is a reference to the days of Slovenia, Umek's home country, under Soviet control. But, when you delve deeper into the evolution of Umek's artistry and listen to the profuse history of his work that spans 21 years and counting, you begin to understand that "tearing down the Iron Curtain" is more than just a historical allusion. It's the embodiment of his artistic process and key to his formidable longevity in the rapidly changing world of dance music. Throughout the course of his career, Umek has continuously torn down the iron curtain of limitations and boundaries, not allowing the rigid lines of industry and trends to dictate his aesthetic. Rather, it's his insatiable taste for quality and availability of technology in any given moment that guides the principles of his production and the tailoring of his DJ sets.
In a recent in depth interview with EDMTunes, Umek made that point very clear when asked how he adapts his music to the changing tastes of the public. He explained that, "I play the kind of music that I think is good, not what the audience thinks is good. If I'd listen to the audience, then I would still be playing banging techno from the late 90's. Obviously I'm not playing the same music as I did 10 or 20 years ago. The transition happened completely naturally and my sound still changes today, as I'm not prone to stay in the comfort zone. I am curious by nature, and I like to try new and different approaches in the studio, as well as behind the mixer. Rather than to the taste of the audience, I adjust my style to what's happening around me by using new production tools, sounds, interactions, and collaborations with other artists."
His drive to branch out into different forms coupled with his adaptation to new technologies has curated an impressively varied catalogue ranging from hard tech to experimentation with industrial to the broader strokes of tech house. The stark stylistic differences heard in a track like "Darvaren" from the Urtoxen E.P.'s A-side from 1998 and "Posing As Me" from 2006 tell that story of curious exploration of sound which feels like a natural progression as opposed to a forced alignment to current trends. He reminisced about how "earlier productions weren't even developed tracks in today's sense. At the time, [he] basically produced loops and used those records as tools to build the story with them, working on three or four decks simultaneously, changing tracks quickly and playing only a minute or two of the loop." He recalls "working in an analogue studio with heaps of hard synths and recording everything in one take. Sometimes [he] had to call in a couple of friends, so that they would press switches and knobs, as [he] did not have enough hands to do that on [his] own." Now, with the portability of a laptop and ease of modern day programs to "pimp every little sound with surgical precision", Umek produces with more textural complexity while still infusing his "fingerprint energetic sound".
A2 "Darvaren" Urtoxen EP
"Posing As Me" Posing As Me EP
To provide himself a platform to release his own productions and help talented up and comers, Umek started his own record label, 1605 Music Therapy, which has recently passed the 6 year mark since its inception. Representing Umek's birthday (May 16), 1605's "policy is simple: : we focus on good music, no matter who produced it, be it a known or totally anonymous producer and we specifically focus on artists from our home region and Eastern Bloc, though artists from all over the world contribute to the 1605 sound." A deeply involved label boss, Umek has circumvented the control of larger labels for him and others with 1605, developing a unique sound that stands for quality. With the help of accomplished producers such as Mike Vale, Heartik, Groovebox, Sebastien Leger, Uto Karem, Stefano Noferini, and many more, the momentum of 1605 continues to blaze a path with its releases providing dance floors with techno and tech house gold.
From handpicking tracks for 1605 or Behind the Iron Curtain radio show to producing outside the box to how he forms his DJ sets, Umek is steadfast in his resolve to be his own taste maker and influence even with the current EDM explosion in the US. The only thing that has changed for Umek has been the increase of bookings in the US market which apparently "f*cks with his biorhythm" due to fighting constant jetlag and slight aerophobia. Despite the pains of constant travel, Umek has played some of the biggest festival stages in the US such as the EDC Las Vegas main stage in 2013 even when his sound is ahead of the wave by at least another year. Not succumbing to that wave, Umek's formula of going with his intuition has paid off as his continued success in the new U.S. market is marked by accolades such as the IDMA win in the best of Techno/Tech House Category this year.
The recognition during WMC/MMC was a great triumph for Umek, but mostly a "nice kick of motivation to work even harder in the future". He's been doing just that in 2014 with recent releases on Spinnin' such as the latest "Burnfire" with Jay Colin, a remix with Mike Vale of Chris Lake's "Helium" out on Ultra Records, a forthcoming remix of Mason's "Exceeder" coming out on Armada, and a sample pack out on Loopmasters. Umek also has a track coming out featuring Waka Flocka as he has been "drawing inspiration from [the] era" of hip house and working with more vocals in the past few months. In regards to the new track, "Waka Flocka added something else to this and to top it all, there's also Trisha with her singing. The result is a mash up of hip-house with a contemporary electronic sound. The base is an electronic club sound, female vocals take it in the pop direction and Waka adds the retro feel to the whole thing. It's hard to explain this in words, so you'll just have to wait to listen and make an opinion for yourself. It's not decided yet where and when it will be released, but I will be playing it in the sets of my next American tour for sure." Within the flurry of current and future releases, the exciting news of a brand new long player was revealed in the interview. Apparently, conditions for the new LP are in negotiations with a couple of big labels and "hopefully it will be released soon". Although we have to wait a little longer for the official release of the new LP, listen to Umek's latest track "Burnfire" below.
If you're looking to tear down your iron curtain and expand your musical horizon into the realm of techno/tech house, check out Umek this summer as he hits all the major European festivals, accompanying Carl Cox during his Revolution residency at Space Ibiza, and playing EDC Las Vegas again this year. He will also be embarking on a major American tour during the fall so this is a great chance to experience some serious technical ability and skilled set construction up close. Find out what unwavering dedication to quality sounds like and check out Umek's personal website for up to date news and radio show schedule as well as 1605 Music Therapy for the latest label releases!