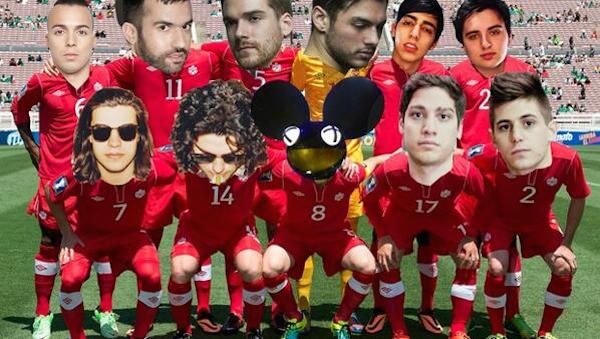 Happy Canada Day, Eh! To celebrate Great White North's 147th birthday, I felt like it was my duty as the lone Canuck at EDMTunes to introduce (or reintroduce) you to 13 rising Canadian artists in honour of its 13 provinces and territories. Although hockey, maple syrup and Mounties may come to mind when we think of Canada, dance music has always had a home north of the border. That is why these potential stars are all trying to follow in the footsteps of their fellow countrymates such as Deadmau5, Richie Hawtin, Adventure Club, A-Trak and Zeds Dead. Toss on your toque, grab your Tim Hortons and let these Canadian producers show you why their home is a dance music force to be reckoned with.
Paris & Simo 
What better way to start off our list than with a couple of guys from a city that has already pumped out one of Canada's most famous duos. Paris & Simo are looking to follow in the footsteps of Montreal's Adventure Club and are already well on their way of doing so. Although they have already had multiple releases on Hardwell's imprint, Revealed Recordings, these young guns have come no where close to reaching their full potential.
THUGLI
This Toronto duo has already played two of Canada's largest long weekend festivals in Digital Dreams and Escapade. After making a name for themselves by remixing some of hip hop's biggest names such as Jay-Z, Kanye West and Drake, Thugli is now looking to prove that their original tunes should be taken just as seriously.
Charlie Darker
After putting out tracks on such accomplished labels like Mad Decent, Dim Mak and Kindergarten, you would think it would be time to call it a career. Not for Charlie Darker though, as his is still in his early 20's and ready to take the world by storm. His versatility may be the Montreal natives greatest asset, as it it tough to scroll through his SoundCloud and find two sounds that are similar.
Swede Dreams 
These Edmonton natives may be young, but when the first three letters of your city are EDM, it is no surprise Dejan and Nick have been cranking out bangers while still in high school. Swede Dreams have already received support from big names such as Deorro and Bingo Players, so be sure to listen for their signature big room sound at every festival this summer.
Dex Arson
While deadmau5 might already be the king of Niagara Falls, Dex Arson is slowly beginning to show us why he should take over the throne one day. Like a handful of other artists in the electronic music industry, the young producer began his career in rock bands, but eventually realized that dance music was his calling. Even since then, Dex has placed second in "Canada's Next Top DJ" and released some killer dubstep and glitch hop songs, proving that he could be the next big thing out of Canada.
Regoton
Regoton may not even be 20 years old yet, but the kid knows to produce some fantastic tracks. Don't agree with us? Diplo, DVBBS and W&W seem to, as they have all supported the Montreal native. The highest praise has to come from Steve Aoki though, as Regoton's remix of "Transcend" won the official remix contest and was released on Dim Mak.
SNAILS
While we're still in Montreal, we might as well discuss one of the masterminds behind the most 'wild' songs from Ultra 2014. When Jack U dropped "Wild" on the festival's main stage, the crowd could barely contain themselves. SNAILS' combination of hip-hop and massive bass has the ability to appeal to the masses, which is why we expect them to do big things in the near future.
Sleepy Tom 
Don't let this next artist's name deceive you, as the last thing Sleepy Tom's tracks will do to you is put you to bed. The Vancouver native may reside on the on the edge of Canada, but that suits him perfectly, as he likes to push it to the limit with his unique style. With support coming from industry veterans A-Trak and Diplo, expect Sleepy Tom's career to wake up in no time.
Pomo
The award for 'most chill' artist on the list has to go to Montreal producer Pomo. Although you can currently find him living in Quebec, the producer's Vancouver roots clearly influence many of his tunes. His songs are perfect for this long weekend, as the summer vibes go hand-in-hand with a weekend at the cottage or a bonfire with friends.
Hunter Seigel
Time for things to get a little sad, as the man behind 'dark PLUR' has found his way onto the list. After releasing a song with Zeds Dead earlier in the year, the Toronto native has accomplished many feats including finding his way onto Skrillex's Mothership. We could go on about Hunter Seigel's potential, but his bio says it best: "I'm just gettin warmed up."
Black Tiger Sex Machine
As ridiculous as their name may be, this Montreal group sure knows how to put on a show. By performing a part DJ set/part live set all while in crazy costumes, Black Tiger Sex Machine creates an experience that any dance music lover need to experience. The group is not all about their live acts though, as their production abilities are some of the best in the country.
Somna 
If you happen to follow any of our SoundCloud accounts, you have have most likely seen this name before. That's because Somna has been steadily releasing quality trance tracks that are so impressive that Armin is even starting to take notice. The Vancouver producer still has a long way to go, but in an ever-growing trance scene, we expect him to hang with the big boys someday.
Kayliox
For our last name on this list, we return right back to where this list started: Quebec. That is exactly where you will find Francis Raymond and Matthieu-Charles Laprise-Lamy, better known as Kayliox. With some well-deserved support already coming from Oliver Heldens, Nari & Milani and Victor Niglio, expect to see the young bass house duo slowly climb their way up the dance music food chain.