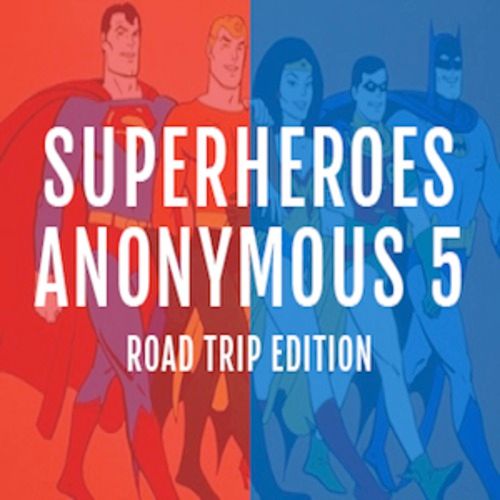 Everyone's favorite Canadian dub duo,
Adventure Club
, is back with another one. What better way to glide into the weekend than with the newest installment of Superheroes Anonymous: Road Trip Edition. For those of you not familiar, every few months, Adventure Club graces fans with a 1-2 hour mix jam packed with high energy bass tracks, consisting of a combination of dubstep, drum and bass, electro-house, and trap. This time around, Adventure Club has sprinkled in some radio favorites with Katy Perry's 'Birthday', Elephante's remix of Clean Bandit's 'Rather Be,' and Bastille's 'Pompeii', amongst an amalgamation of the latest dub hits. Hip-hop lovers were not forgotten as Jhene Aiko and Chris Brown are featured; even Lil Jon' and the Ying Yang Twins make cameo alongside Montell Jordan.
As Adventure Club prepares for a couple of performances in New York this weekend, and readies for their recently announced Safe in Sound tour, fans can only be thrilled about how the end of 2014 is shaping up. So snatch up your free copy of the newest Superheroes Anonymous, and be sure to include it in your next road trip playlist for a solid hour of vein-popping tunes.
Adventure Club- Superheroes Anonymous 5 | Download
Tracklist
Adventure Club & DallasK – The Drug (CrashAlienzzzzzzzzzz)
Wiwek – Salute
Autoerotique & Mercer – Murda Dem
Snails – ID
Skrillex – All is Fair… ft Ragga Twins (EH! De Remix)
Zomboy – WTF (Cookie Monsta Remix)
Twine – Say Something
Carnage – Bricks ft. Migos (Kayzo Remix)
Jus Now – Tun Up (Diskord Remix)
Fiction & Skream ft. Scruffizzer, P Money & Riko Dan – Kingpin (Jay Fay Remix)
Snails & Antiserum – Wild (Zeke & Zoid Remix)
Ying Yang Twins X Lil Jon – Get Low (Riot Ten Twerk Remix)
Montell Jordan – This is how we do it (Mayeda Twerk Remix)
Skrillex – Recess ft. Kill The Noise & Fatman Scoop
ASTR – Operate (KAOS Bootleg)
Gesaffelstein – Hellifornia
Robert Miles – Children (Konec ft. Jay Cosmic Remix)
Ciara – Body Party
Jhene Aiko – The Vapors ft. Vince Staples
Ryan Hemsworth – One for Me ft. Tinashe
Diskord – Release Me
Bassnectar – You and Me ft. W Darling
Fall Out Boy – Dead On Arrival
Mr. Bill & Virtual Riot – Thwek
Cashmere Cat – Wedding Bells (Lazerdisk Remix)
Ciara – Ride
Clean Bandit – Rather Be (Elephante Remix)
Katy Perry – Birthday
Sub Focus – Close ft. MNEK
Justin Timberlake – Blue Ocean Floor (Moiez remix)
Porter Robinson – Lionhearted (Arty Remix)
Galantis – Revolution
Julio Bashmore – Au Seve
DallasK – Superfuture
Charlie Darker – Vulu
Rob Lewis – Smoking Device
Nom De Strip & Wiwek – Annihilation
Zeds Dead & Hunter Siegel – LOUD
Borgore ft Victor Niglio – Booty Monsta (David A Remix)
The Chainsmokers – Selfie (Botnek Remix)
Chris Brown – Me Sexy (Juyen Sebulba Remix)
GTA – BOLA
Botnek – Through The Night
Snails & HeRobust – ID
Adventure Club – Gold ft Yuna
TJR & VINAI – Bounce Generation (Kayzo Remix)
Dead Robot – Machine
Fei Fei – All Day I Dream (Getter Remix)
Fedde Le Grand ft Di Rect – Where We Belong (Zomboy Remix)
Andru – Home
SirensCeol & Varien ft. Aloma Steele – Moonlight
Bastille – Pompei|
A Day To Remember – If It Means A Lot To You
M83 – We Own The Sky
Adventure Club – Wonder ft. The Kite String Tangle (Kosmos Remix)
Miike Snow – Silvia
Steve Angello, Dimitri Vangelis & Wyman – Payback (Havok Roth X Enzo Picardi X Party Thieves Remix)
Nervo – Revolution (Acapella / Zeela Fix)
Rihanna ft. Future – Loveeeeeee Song