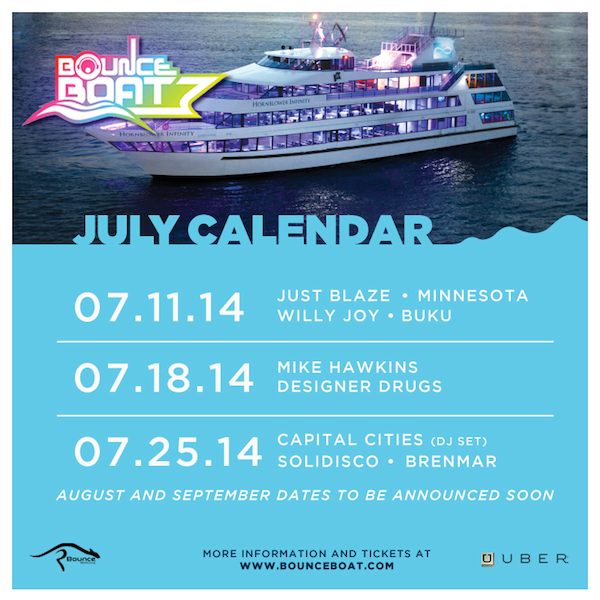 Tickets
Summer is in undoubtedly in full swing and so is the summer clubbing scene. Bounce Media Group has been making a splash this summer with their Bounce Boat party series in New York; they set off the season in April with the NYC native Chainsmokers, and followed that up at the end of May with a bass heavy party provided by none other than Rusko.
The Bounce Boat cruise has been an excellent format for combining the best of underground clubbing and raving with VIP outings and luxury partying; each installment of the series has also provided a certain genre and vibe to look forward to. But what about variety? Well this time they've got ya covered. The full lineup for the month of July has been announced and this time around they've taken extra measure to insure there's a little something there for everyone. From trap to deep house, and everything in between, they've got it covered.
Just Blaze will be head up the 11th, and is sure to to crank out a killer trap set. The Jersey born hip hop producer has done work extensive work with Jay-Z, but as a DJ he really caught fire after his  "Higher" collab with Baauer. With Willy Joy on board there should be plenty of trap beats to go around.

Mike Hawkins will be bringing his progressive and big room sounds to the Bounce Boat. With releases out on Doorn Records and Spinnin', you can bet he's going to have energy radiating through the cruise. Designer Drugs is the only other act that night, but between the two there should be more than enough to rave to.

The last party on the Bounce Boat this month is the 25th with Solidisco, Brenmar and Capital Cities are rounding it out. This is Capital Cities' NYC debut, so they'll be looking to leave a lasting first impression with their DJ set. Those looking for a little more hip hop and RnB sounds will be quickly drawn to Brenmar, another NYC home hero. The guys of Solidisco are going real strong right now. The duo out of Buffalo have crafted a number of big time remixes, Kanye's "Bound 2" and The Knocks "Comfortable" to name just two, and developed a signature sound with the perfect blend of progressive and disco (heck you could argue there's some big room jazz influence in their work).

It's going to be a big month for the Bounce Boat. Those who can't be at events like Groove Cruise or Holy Ship really need to consider hitting this up if at all possible. Whether you're looking for a VIP experience or just a simple night out with friends (and tons of dancing), the Bounce Boat is there to satisfy. Tickets are on sale now and can be purchased here.