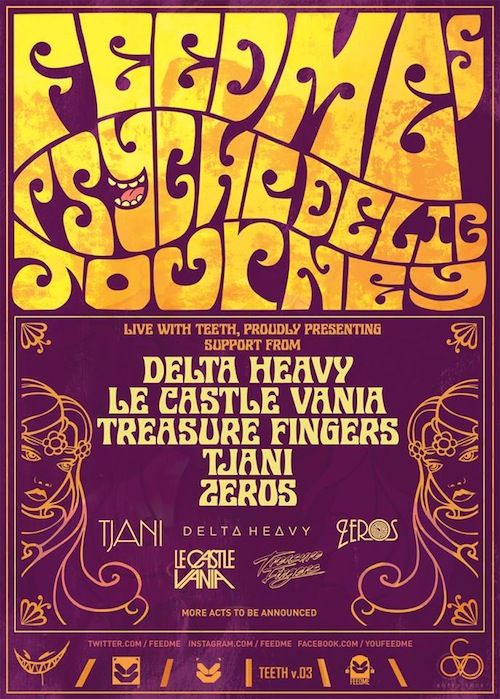 Feed Me's
new North American tour will kick off in less than a month and the hype is as real as it gets! Jon Gooch (Feed Me) has worked nonstop on every medium he has to offer our senses in preparation for this tour; every bit of new material he releases, from new songs, to 3D animated models, to pictures of the updated Teeth, makes this tour increasingly desirable. This was all well and good until the latest announcement, which made the wait even more unbearable. Not only will concert goers get to experience Feed Me's unique mischievous electro style, but a whole plethora of genres preformed by some of the best in the business.
Treasure Fingers
deep disco house style is bound to get feet moving and hips swaying.
Tijani's
soulful groove will be enough to make ones heart melt. High energy sets from
Zeros
and
Le Castle Vania
are always a guarantee, and
Delta Heavy's
 may bring the house down with his dub and drumstep beats before Feed Me even gets to step up on stage. Unfortunately not all of these artists will be playing every date of the tour, but even the opportunity to see a select few opening for the infamous little green monster makes for a sure-fire great time.
Tour dates:
Sat-Aug-02 New York NY Terminal 5 w/ Treasure Fingers and TIJANI
Sun-Aug-03 Toronto ON Veld Festival (DJ Set)
Thu-Aug-07 Atlanta GA Center Stage w/ Treasure Fingers and TIJANI
Wed-Aug-06 Nashville TN Cannery Ballroom w/ Treasure Fingers and TIJANI
Fri-Aug-08 Orlando FL Firestone w/ Treasure Fingers and TIJANI
Sat-Aug-09 Fort Lauderdale FL Revolution w/ Treasure Fingers and TIJANI
Sun-Aug-10 Tampa FL The Ritz Ybor w/ Treasure Fingers and TIJANI
Wed-Aug-13 Philadelphia PA Theatre of the Living Arts (TLA) w/ Delta Heavy and TIJANI
Thu-Aug-14 Boston MA House of Blues w/ Delta Heavy and TIJANI
Fri-Aug-15 Washington DC 9:30 Club w/ Delta Heavy and TIJANI
Wed-Aug-20 Minneapolis MN First Avenue w/ Delta Heavy and TIJANI
Thu-Aug-21 Milwaukee WI The Rave w/ Delta Heavy and TIJANI
Fri-Aug-22 Royal Oak MI Royal Oak Music Theatre w/ Delta Heavy and TIJANI
Sat-Aug-23 Chicago IL Aragon Ballroom w/ Delta Heavy and Zeros
Tue-Aug-26 Boulder CO Boulder Theater w/ Delta Heavy and Zeros
Wed-Aug-27 Denver CO Ogden Theatre w/ Delta Heavy and Zeros
Fri-Aug-29 Dallas TX House of Blues w/ Zeros
Sun-Aug-31 Houston TX House of Blues w/ Le Castle Vania and Zeros
Tue-Sep-02 Albuquerque NM El Rey Theatre w/ Le Castle Vania and Zeros
Wed-Sep-03 Tucson AZ Rialto Theatre w/ Le Castle Vania and Zeros Thu-Sep-04 San Diego CA SOMA w/ Le Castle Vania and Zeros
Fri-Sep-05 Los Angeles CA Shrine Exposition Hall w/ Le Castle Vania and Zeros
Sat-Sep-06 San Francisco CA Warfield Theater w/ Le Castle Vania and Zeros
Tue-Sep-09 Portland OR Roseland Theater w/ Zeros
Wed-Sep-10 Seattle WA Paramount Theater w/ Le Castle Vania and Zeros
Fri-Sep-12 Calgary AB Flames Central w/ Le Castle Vania and Zeros
Sat-Sep-13 Edmonton AB Encore at WEM w/ Le Castle Vania and Zeros