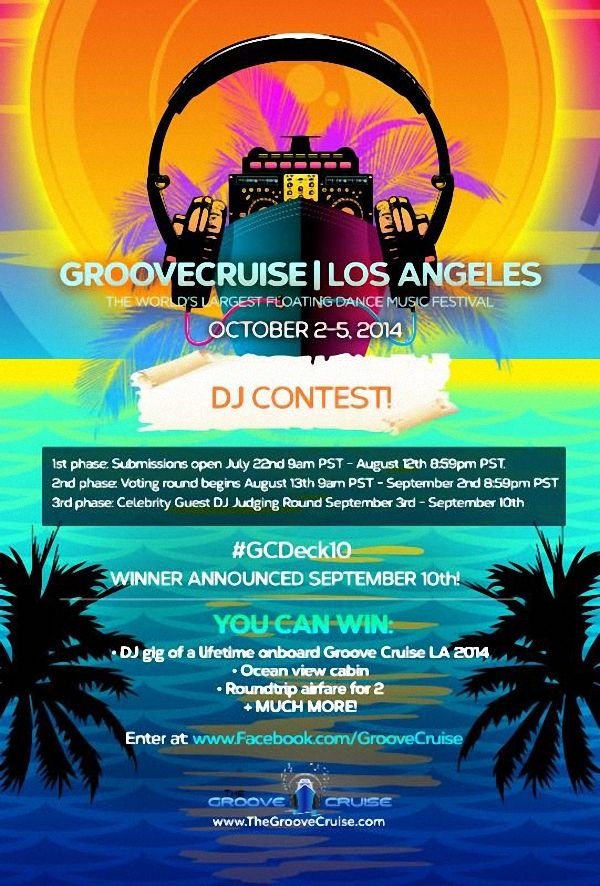 It's only a few short months until "the world's largest floating electronic music festival" hits the wide open Pacific Ocean, and
Groove Cruise Los Angeles (GCLAX)
has some more information for fellow and prospective Captains for this year's upcoming voyage. Beginning
July 22nd at 9am PST
, Groove Cruise Los Angeles is launching their annual pre-cruise DJ contest. "If you (or anyone you know) has what it takes to play alongside some of the world's top DJs onboard the Groove Cruise," you are urged to throw your name into the mix via
Groove Cruise's Facebook Page
between July 22nd and August 12th
. Voting then begins on August 13th and runs through September 2nd.
Upon conclusion of the voting round, special guest judges (TBA) will determine who they want alongside them on the GCLAX DJ Lineup! The winner will be announced on September 10th via Groove Cruise's social media accounts and website. The winning DJ will receive a DJ gig of a lifetime onboard Groove Cruise LA 2014, an ocean view cabin for 2, roundtrip airfare for 2 and much more!
GCLAX is currently at 85% capacity, so don't miss the boat this year! Be sure to grab your State Room while they are still available, and use promo code "EDMTUNES" to receive $50 off each booking made.
See you aboard, Captains!