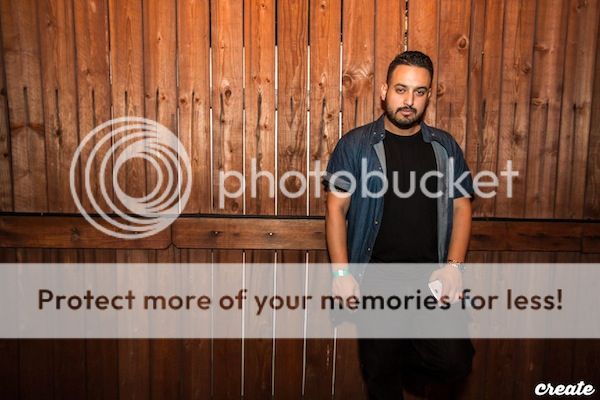 Miami native Henrix is poised to break through in a big way. With support from industry titans like Tiesto, Laidback Luke, and Steve Angello and a dynamic and ever-changing sound, Henrix has what it takes to be a prominent force in the EDM world. Pedro Henriques emerged from the Miami underground scene in 2012 and dance music fans quickly took notice. With huge melodic breaks and hard hitting drops, Henrix quickly became the "quintessential sound of Miami." This past weekend Henrix brought the 305 to Los Angeles as he threw down at Create Nightclub in Hollywood. True to form, his set was a refreshing and energetic mix of thumping drops, sing-along choruses, and classic rock and hip hop throwbacks. From Alesso's "Tear the Roof Up," to 2Pac's "California Love," to Henrix's own unreleased "Raverz," every song electrified and surprised the crowd. Before his set EDMTunes had the opportunity to sit down with Henrix, who spoke to us candidly on everything from his Las Vegas residency to the Miami Heat.
Being born in Brazil and raised in Miami, arguably the electronic music capital of the U.S., were you always in the electronic scene or was it something that you became passionate about later in life?
Henrix: Well, I've always been into dance music; the thing is I've never been stuck on one type of genre of music. I was raised, when I was young, on the Brazilian sound, and also classic rock, which is my favorite genre of music, like Pink Floyd and stuff like that , because of my dad. Then towards my high school years I got into hip hop and I always liked electronic music, which in Miami used to be party 93.5 and I used to kind of secretly listen to it on my own but I was never full blown into it. After my high school years that's when I went to a Tiesto concert in 2006 at the Hard Rock hotel. That's when everything changed, that blew my mind, that concert. And from there on out it was electronic music and that was it. I went to the underground scene in Miami and didn't look back.
You pride yourself on having a very dynamic and ever-changing sound, something that most artists cannot achieve successfully. How are you able to avoid being pigeonholed into one genre and how are you able to master so many types of sounds? And are there any other genres you foresee yourself exploring in the future.
Henrix: I don't think I've mastered any sound. I feel like there's always room to grow. I don't like settling on one thing. In the beginning of my career I did. I started doing more house. Recently in the past year or so, I haven't been happy with just one sound, you know. I feel like everything has become, what everyone is doing is sounding the same because there's more producers and more of a bubble. So I kind of, don't get me wrong, I'm not going to switch from dance, EDM, 128 BPM, but I do like to, like, dig into other sounds you know. I've been listening to M83, Nero, even classic hip-hop stuff. I've been producing different things. I'm doing a remix bootleg to Nas' and Lauryn Hill "If I Ruled the World" at like 100 BPM. Then I have one I just finished, of "In My Mind. Well, still working on it. Its not a 4×4 kick, its very M83 meets Bassnectar type of thing. I don't like sticking to one thing. I like trying different things. Because in the end if you stick to one sound you're going to put yourself in this bubble.
You're a resident at Light in Las Vegas. How do you find the crowd in Vegas compares to Miami? Is it more about the music, and not the "bottle service" crowd that you seem to shy away from?
Henrix: It's a mix of both. I like Light. The dance floor is amazing there. The people do get crazy. As far as, like, the bottle service thing, its not necessarily one club or two clubs, it depends on the night too. There's great clubs in Miami that you can go and dance to that seems like its bottle service, like Story. People say that Story is bottle service, but at the same time the dance floor is amazing. I personally like it. Light has a mix of both that's what I really like about Light. You can do bottle service but you can also do dance floor, and still get crazy. That's one reason I really like playing over there.
Las Vegas clubs are very unique in their size and production. Have you found that playing in those venues or as a resident has provided any additional challenges?
Henrix: Yes definitely. In the beginning, you know, you have to play a certain way to a certain crowd. Las Vegas sometimes you got to play a little different than at Space in Miami. I mean, I've always said that people think they come into a club…I guess if you're not a Tiesto, or Calvin Harris, or from Swedish House Mafia, you really have to read the room. Vegas is different than somewhere else, it can be different from Miami or different from Mexico, or Montréal; completely different vibe. There are challenges everywhere you go. My thing is I like to mix a little bit of everything. I like hip-hop, old school hip-hop. Even rock, which is one of my favorite genres, if not my favorite genre; old school rock. You see the diversity. The same thing goes with my music. My DJ sets can be very diverse and so can my music. So yea Vegas can be a challenge, but once you get used to it, I mean I'm already at that point.
You're one of the many artists that have had their SoundCloud taken down due to copyright issues. Do you think this is justified or do you think this is an example of record labels trying to overstep their bounds, as Kaskade has asserted?
Henrix: It's both. Mostly about the record labels thing. You know, I don't blame SoundCloud one hundred percent. What can you do, its copyright, it's the law. Does it suck? Yea it really sucks. SoundCloud was built on these small artists showcasing what they can do. That's where the small artist, the bedroom DJ or bedroom producer, could go to to show everything. Before, the music industry, it still kind of is, which you saw with what SoundCloud is doing now, is controlled by the record label. With the record labels you could have someone with a lot of talent, but the record label says, "no this is not going to be the artist that's going to blow up, were going to have this person blow up" and that's who it is and they use to pick that and SoundCloud gave an option for the small bedroom DJ to say, "hey I can do this, I don't need you, I can do it on my own." What Macklemore did. He says it, "I didn't have a big label, I built it on my own." Yea a lot of DJs did that, and everyone went to SoundCloud for it and now it seems like its kind of coming to an end.
You were deep into the after hours/underground Miami scene when you were younger. How have you seen that scene evolve along with dance music? Have you found that it has become mainstream, with clubs like Space holding after hours events for big name DJs?
Henrix: It's a tough thing because the after hours scene, the guys from the after hours scene, the underground thing they don't want to be mainstream. The bottom line is by dance music becoming mainstream its gotten people from the mainstream introduced to the underground and they have that choice. They said, "hey I like EDM but damn I really like the underground scene," and they were able to choose that through being introduced by the commercial sound. That's what they don't understand, the underground scene, is that. They don't want to be mainstream. Bottom line is its good for them. So yes, I guess if you want to say they've gotten more mainstream, but they're still in the same spot. It sucks they judge so much. How I see it is, man, music is made differently. People always say this is a good comparison: its pretty much like food. If you tell me you like apples and I say, "I like bananas because apples are not a real fruit." You get what I'm saying? Oh no its not a real fruit, its what I like. So why are you going to bash somebody for liking one thing. Everyone had their choice, let them pick and don't bash others.
You seem to have some close ties with Tiesto. You've claimed that "Adagio for Strings" got you back into dance music, and that the name Henrix stems from Tiesto mispronouncing your name. Has Tiesto inspired your approach to music, DJ'ing or your sound in any way?
Henrix: Oh yea of course man. In the beginning he was a big inspiration, he still is. Yea, he's put my tracks on his radio show, I've talked to him, and he's supported a lot of my things. He's been a great influence.
Lastly, it's pretty evident you're a huge Miami Heat fan. What's your take on LeBron James' departure from the team? Do you think it was a smart move on his behalf, and do you think Pat Riley is chilling or shitting bricks right about now?
Henrix: Oh man. That's a hard one. That's a really touchy subject for me. I don't think it was a really great decision he did that. It was hard for me to see him go but in the end I cant hate on him. He gave us two championships, four trips to the Finals. Yea, thanks for the memories. It sucks he had to leave, especially after an owner bashed him the way he did with that letter, and kept it on the website for four years, and then took it off the website a week before he made that decision. But hey, I guess some people forgive more than others. I wouldn't. Is Pat Riley shitting bricks? I don't think so. Pat is the don of the NBA. He'll figure something out. I'm sure were going to have some struggle in the next year or two, not as bad as before but we'll figure It out.