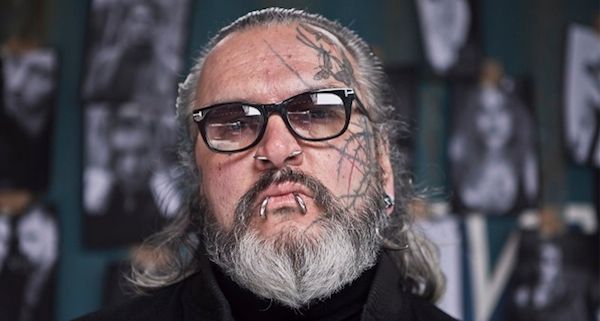 Berghain, the "the current world capital of techno" located in Berlin, Germany is celebrating it's tenth anniversary this year, and to go along with it, its long time bouncer, Sven Marquardt, has released a tell-all memoir of his life as the door man for one of the world's most infamous clubs. Known for revitalizing the Berlin underground music scene, all while becoming known as one of the most intricate, interesting, eclectic, and bizarre clubbing establishments ever built, the club is without a doubt a mecca for dance music fans around the world. Berghain is a unique club to say the least, where people openly indulge in sexual acts in the club's designated dark rooms. Not only is Berghain known for its unique experimental culture, but also for its 4 am opening hours and strict, secretive, and always seemingly random door policies. It's no wonder the club's motto is: "we decide with whom we want to party".
Berghain is credited for unifying the dispersed techno scene and many say that without Berghain, the Berlin techno wave may have long faded away. Although Berghain holds 1500 guests, 3,000 clubbers pass through the club's gates on an average night and it is the main reason why many people come to visit the city. Several of the resident DJs regularly export the "Berghain sound", which is classified as dark, industrial techno that viciously assaults your over its grimed out 4×4 beats.

Sven Marquardt's memoir reveals at least some of the secrets behind its notoriously unpredictable yet strict door policy. Throughout the years, websites and forums have been dedicated to revealing the secret of how to dress and act in order to get past the bouncer at one of the world's most famous nightclubs. The app "How to get into Berghain" was created, complete with live updates on the length of the line outside. At the launch party last week for his memoir of life as a Berlin bouncer Die Nacht ist Leben (The Night is Life), Marquardt revealed that it's all about achieving the "right mix". Marquardt explained: 
"I don't mind letting in the odd lawyer in a double-breasted suit with his Gucci-Prada wife. If they make a good impression, let them in," On the other hand, he noted that "we also take guys in masks and kilts, or Pamela Anderson blondes in run-of-the-mill high-street outfits who tag along with bearded blokes, licking the sweat off each others' armpits. That, for me, is Berghain… Don't be afraid. People who are afraid usually aren't very good at partying."
In further celebration of Berghain's 10th birthday, the retrospective art exhibition 10 will be open to all-comers with no face control at the art exhibition staged in one of the industrial halls. The exhibit is a must-see for those traveling to Berlin before August 31st.
H/T: The Guardian