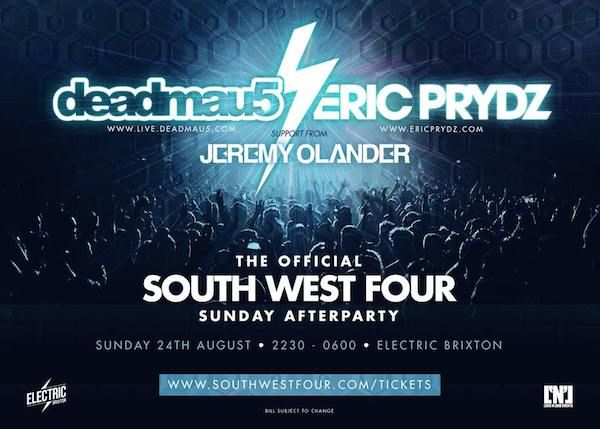 Take a look back to March 2014 and Miami Music Week, which seems like a lifetime ago, and you'll recall an epic B2B set between two pretty talented and accomplished dudes. We're talking about Deadmau5 and Eric Prydz, of course. The "mau5trap vs. Pryda" performance was a spectacle of mixed styles between two producers at the top of their game, and who aren't shy to a little experimentation.
Luckily it seems the two hit it off as they've since done a coffee run together, but more importantly two are doubling on a bill for what'll likely be the most exciting after party of the year. Following each of their respective headlining shows at the sold-out South West Four Festival in London, Mau5 and Prydz will be teaming up on August 24th  at Electric Brixton to close out the festival weekend with a bang (and maybe Pryda snare or two.)
The FOMO for those in the US is inevitable, but given their past success together, there's hope for more to come from them. Perhaps we'll end up with a track collab or even a Testpilot/Cirez D production? There's no telling right now so stayed tuned.