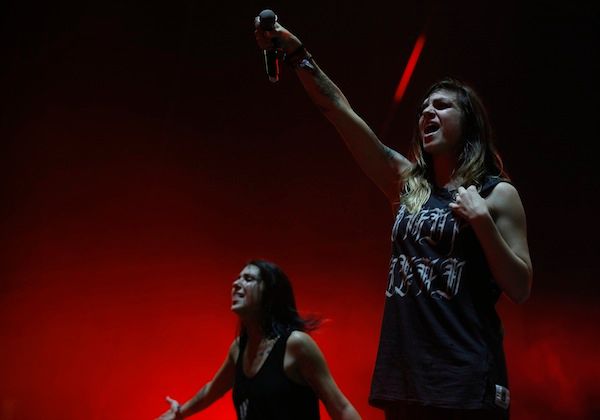 Over this past weekend, the mega-hit group,
Krewella
, made a huge homecoming performance, closing out Saturday night at Lollapalooza 2014 in Chicago's Grant Park. It was a big night for the group as they were hit with the enormity of their task and eventually nostalgia, as they realized they've come full circle.
"This is probably one of those full-circle nights for us, because I remember coming to this festival as a kid," Krewella's Yasmine Yousaf told Billboard backstage at the festival. . . "Coming to our hometown and playing a legendary festival like Lolla couldn't be any better."

But no task is too mighty for the fearless Krewella, as they dominated the closing act of a wonderful Saturday that saw the likes of Martin Garrix and Chase & Status, championing a sprawling home crowd. However, with the loss of Rain-Man's presence at live shows (read his brief explanation here), fans may think that the show will lose some fire, that was certainly not the case Saturday evening, as the girls completely lit up Perry's stage, filling each and every fan with high-octane energy, and just "getting wet."
Following the festivities, Billboard caught up with Krewella backstage at Grant Park, to discuss the big homecoming show, pre-gig rituals, and the one topic that fans are itching to hear about: the new album. Explaining that they have peppered new material into their sets this year, Krewella's path towards a sophomore album has certainly not been a cake-walk.
"We keep writing songs, and songs we loved two months ago now will never make the album," Yasmine told Billboard. "It feels like one of those processes where you're just building, building, building, and it feels like you're at 50-percent, but in a month we might be like, 'No, we're only at 35.'"
However, fans do not fret, as Krewella states they will be dedicating a good deal of time over the next few months to grind out the next album.
"We're taking 50-percent of the next four months off to really crank the second album out," Yasmine promised. "Focus on it and try to finish birthing it."
You can view the full Billboard interview below, and stay tuned as Krewella sets their sights on the completion of their second album.
via 
Billboard.com