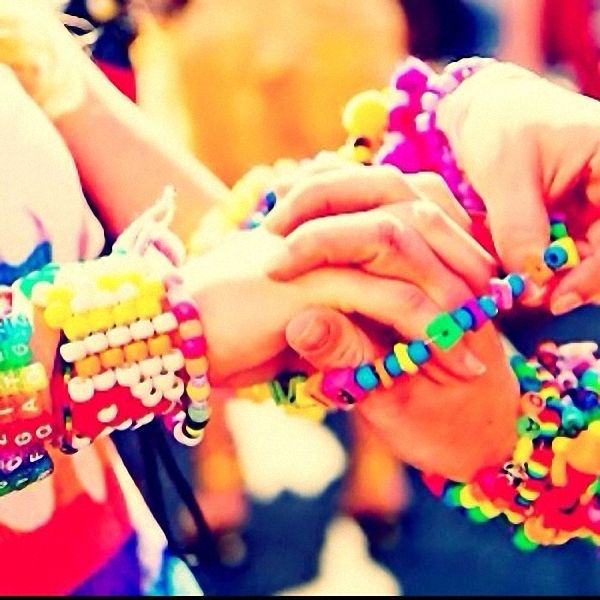 Photo Credit: Kandi Kids Tumblr
Social media feeds have been bombarded with news of
Diplo's Mad Decent Block Party
banning rave accessories
following the
tragic deaths
of two attendees and twenty hospitalizations during the Washington D.C. stop of the tour.
Kandi
, a staple in American rave culture, found itself on the newly banned list which caused such a significant backlash (including a
public statement
from Insomniac Chief,
Pasquale Rotella
) that it prompted a
personal response
from Diplo himself, where he loosely explained the reason behind the ban. Instead of quelling the flames, the response kindled new fires on both sides of the argument further thickening the line between ravers and ragers. Electronic/dance music blogs and publications have engaged in their usual circus over the past week, and now, you're probably rolling your eyes and thinking, "Not another article about the kandi ban." But, humor me for the next 7-10 minutes so we can clear through the smoke of this beaded bonanza and get a few things straight.
Let's start from the beginning. There are different versions of when and where kandi made its entrance into the rave scene, but its original intended purpose was less than innocent. The stringed colorful beads were initially utilized as a marker by drug dealers in the bygone days of underground Trance and Happy Hard Core raves to signify they were stocked with "candy" and open for business. From there, ravers started making kandi as a way of gifting and making connections with fellow ravers creating a subculture tradition that became the physical representation of the P.L.U.R. ideology and giving birth to the "kandi kid."
Photo Credit: Ibiza-Voice
However, the peace movement associated with raves and its plushy, neon clad participants became addled with the stigma of the correlated drug use in the scene. As the dance music scene began to grow legs in America during the latter half of the 1990s, raves became a public target and were painted as nothing more than a drug centric subculture, endangering the country's youth. Authorities started to shut down raves and penalize promoters citing the
Crack House Law
, and when prosecution failed in court due to First Amendment infringement, legislators took matters into their own hands. The parameters of the original Crack House Statute were extended in the form of a piggyback legislation called the
Illicit Drug Anti-Proliferation Act of 2003
also known as the
R.A.V.E. Act
(Reducing Americans' Vulnerability to Ecstasy Act) sponsored by the current Vice President, Joe Biden. The amendment was attached to the Amber Alert Bill and snuck by without debate. The law essentially allowed authorities to hold property owners and event promoters liable for drug use within their event or building; a violation punishable with jail time and a civil penalty that could bankrupt their business. "Rave related items" such as bottled water or glow sticks could be used as incriminating evidence.
With this very abridged history lesson, it's pretty clear why event producers such as Mad Decent Block Party are banning items that are linked to rave culture. Event promoters are being held hostage by an ineffective law that does more harm than good (detailed research in Terry Gotham's article here), inhibiting the implementation of harm reduction methods. Safety measures are reduced to wiping the "image" of drug use instead of acknowledging its inevitable presence and employing viable solutions. After all, it's the American way of dealing with the issue of substance abuse, and the lives that have fallen through the cracks of the political games are direct evidence that the War on Drugs is a misdirected waste of resources and energy. So, from a business standpoint, we should be more understanding of the decisions made by Diplo and his team to protect their brand that they've worked tirelessly to build. With the beginning of the Mad Decent Block Party Tour marred by drug related deaths, they have little room for error when it comes to conducting the rest of their tour.
The kandi ban probably would not have caused such an adverse response had the reasoning for the ban just alluded to these legal restrictions. Even the damage control spin of "We're cultivating a particular image for our brand" would've been more suitable. To add insult to injury, kandi was deemed as a safety issue because attendees were supposedly hiding drugs in their kandi. There's a simple solution for that problem: have security check kandi just like they would with any other piece of clothing or accessory. I'm already physically violated by security when they grab the wires of my bra cups and shake me senseless to see if anything other than my fun pillows fall out. I feel like I need to be taken out for dinner first before security gropes me within centimeters of my crouch. Having my kandi thoroughly checked prior to entry pales in comparison to what I already have to go through to attend a large scale event.
Does kandi really pose a safety issue more dire than a pair of shoes or under wear which are probably more widely used to conceal prohibited items? The suspected drug related death at Hard Summer earlier this month proved that banning kandi has nothing to do with the safety of attendees. So, please stop dressing it up as rules for our own good and call it what it is: a Band-Aid on a bullet wound. Nothing more than a cosmetic solution for a complex problem.
The only threatening aspect about kandi is its perceived image by the uninformed eye. Without any context of the current practice and its message, the image of a wildly dressed kandi kid armed to the teeth in bracelets and cuffs is unfairly labeled as a drug addict. What does this mean for the raving Rainbow Brites and shuffling Pikachus and their "party beads" during the Great EDM Boom? Simply put, it means our image is unsuitable for the multi-billion dollar industry dance music and its events have become. The dirty word of "rave" is undergoing a corporate take…makeover so that it can be engineered into a hyperpalatable shell of its original self. Substance is being compromised for flavor in order to garner mass appeal. Because our choice of individual expression is considered a legal liability and a tacky, childish fad, kandi kids don't fit into the equation of rapidly broadening markets and maximizing profit margins. Luckily, there are industry giants who understand the importance of our roots and are actively working to preserve them such as Pasquale Rotella and Kaskade, to name a few.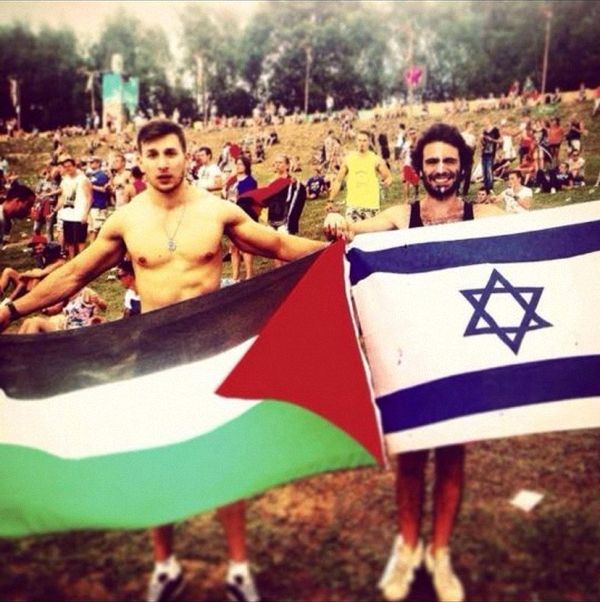 Photo Credit: Nathan Caminade and Aaron Simon
I understand that the only semblance of a rave present at a Mad Decent Block Party is a DJ spinning dance music. It's a party, not a rave. That distinction was written in stone with the new restrictions and Diplo's response. So, when someone doesn't identify with certain facets of the movement, it's easy to comprehend why they would think all this anger is silly especially when women and children are dying in other countries because of their beliefs.
To someone who doesn't understand, life codes like PLUR and the act of trading kandi lack meaning. But to kandi kids, it's about celebrating and respecting our differences and uniting under the shared love of music. It's about building bridges by gifting or trading a tangible piece of ourselves with strangers…the swapping of stories and sharing of memories. It's about providing an inclusive environment where people are free to wear their heart, their journey on their sleeves and DANCE without fear of judgment or repression. This is what raving is about and the foundation of the kandi kid lifestyle. In a world where religious and geopolitical conflicts are claiming countless lives of innocent people, the pillars of our cultural movement should be promoted, not denigrated.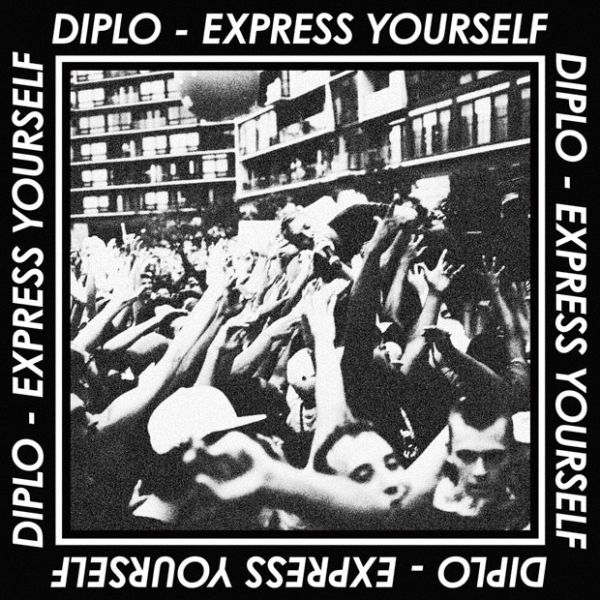 Take a note from Diplo's book and "Express Yourself". The strength of a collective voice on social media is a very powerful asset. It's been a successful tool for attendees to communicate to event promoters/producers about logistical issues and problems with certain regulations (such as
banning hydropaks
). However, let's keep the dialogue constructive and open because
throwing kandi
at a DJ during his set isn't the best way of getting your point across.
If the dialogue doesn't yield an agreeable compromise between both parties, we have the choice of spending our money elsewhere. When it comes to changing society's mindset and the government's approach toward drug use in this country, we're facing a long uphill battle. We won't be seeing an open door policy for harm reduction organizations such as Dancesafe at events anytime soon. In the meantime, we can advocate change in public policy by voicing our opinions to our local Congressman/woman. Although it may seem like a futile effort, ripples can turn into tidal waves in the future.
For those of us who choose to partake in substances, personal responsibility and common sense can mean the difference between life and death. Let's educate ourselves on what we're putting into our bodies and how it affects us, what to do to prevent dehydration and exhaustion, and the short and long term repercussions of drug use. It's important for sober ravers to be knowledgeable as well so we can quickly recognize the signs of someone needing help and know how to handle the situation. Check out sites such as Dancesafe, Pill Reports, Drug Policy Alliance, Harm Reduction Coalition, and the Electronic Music Alliance for extensive literature, research, and guidelines.
It's ultimately up to us to preserve our roots by shaking things up from the ground level. So, continue to educate by passing on your knowledge. Keep an open mind, but always ask questions. Take better care of yourself while looking out for your fellow man/woman. Help shift the focus back to what makes this scene life changing: the music and its people. One by one, we can lift the veil that mutes our colors and break free from the drug links that belittle our message.
"Whether you're from SoCal or Singapore, wear your kandi proudly and continue to spread the good vibes!" – Pasquale Rotella
Disclaimer: The views expressed in this article are those of the author and do not necessarily represent the views of, and should not be attributed to, EDMTunes.