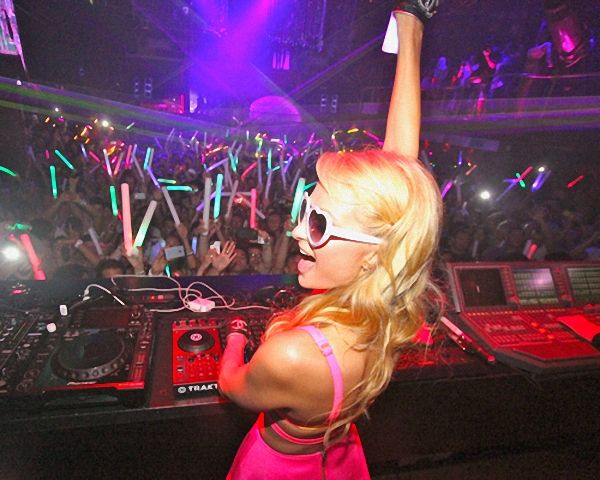 The blog-o-sphere has seen a recent shift away from becoming a Deadmau5-a-thon, in favor of a collective shock and awe level of coverage over Ibiza's newest and most highly-paid DJ: none other than Paris Hilton.  It was only a matter of time before someone got their hands on a video of the billionaire heiress behind the decks.  Well, this is exactly that.  It certainly brings up its own fair share of questions.  As you watch, we promised to let you judge for yourselves, however, for those of you looking for some prompts, here is the single best one worth considering:
What would you call that signature DJ pose?
More than a few media venues have come out actually having attended one of her parties.  Even in the face of what has to be a nearly unilateral stream of hatred towards Paris Hilton, they've said that the show she puts on was worth the price of admission.  Looking closely at her performance, there are certainly a few notable mistakes, but that in itself is clearly evidence that she's not doing "nothing."  She's attracted herself a ravenously happy crowd (especially the front row), and her song selection (whether or not you can assume she's the architect), is no different than what to expect from any festival  mainstage.  She's also fun to look at, and in an industry that has been called "male dominated," it's admittedly nice to have more women on stage.
Call it a harsh truth, but this is what we've brought upon ourselves.  Whether or not we all like it, this is the purest definition of what happens when something goes "mainstream," as evidenced by her playing to a packed house.  We can choose to hate it, or spend more time supporting posts of the artists each of us personally believe are worth the limelight.  Paris Hilton is making bank, but the real winner in this is Amnesia Ibiza, and we're left wondering if we're staring down the barrel of the future of dance music, as DJing continues to separate itself from production.