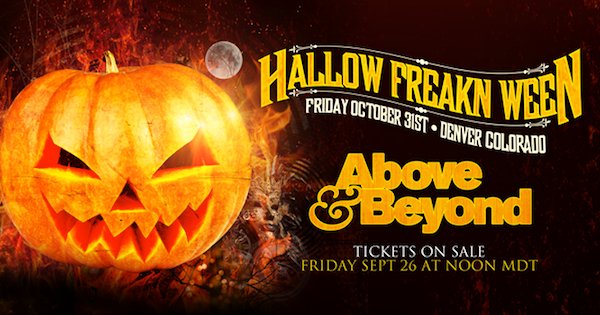 Tony, Paavo, and Jono have been confirmed to play at the Fillmore Auditorium in Denver on Friday, October 31st for 'Hallofreaknween 2014'. October is looking to be a big month for Above & Beyond as they are gearing up for their massive Madison Square Garden show on October 18th. The event page has stated that, "We've got a devilishly freaky night planned, with bone rattling-bass, spine-tingling beats, and a whole lot of wicked surprises! This is your chance to join together with thousands of dancing spirits for Colorado's Biggest Halloween Costume Party!"
Above & Beyond have been through Colorado quite often over the past 3 years, having performed at Global Dance Festival a handful of years ago, a Beta Nightclub show in Spring 2013, and a New Years Eve Show earlier this year. It is also key to take note that this is going to literally be on the heals of ABGT100, meaning brand new material will almost certainly be employed in the trio's set. We can expect to most likely hear a new Above & Beyond track played out for what will only be the 2nd time (the first one being during ABGT100), and ideally new material from the likes of Ilan Bluestone and Andrew Bayer as well.
Tickets were released through LiveNation today and are likely to sell out quickly so be sure to grab yours through the above link. More artists are soon to be announced for what seems to be an epic night in the making. In the meantime, be sure to be tuning in to Group Therapy Radio, every Friday at 2PM EST.