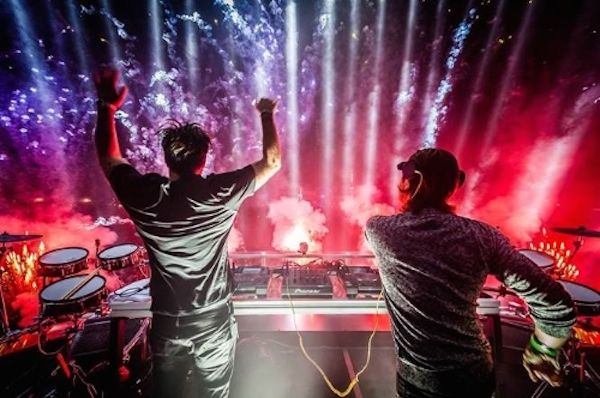 Before disbanding in the back half of 2013, Swedish House Mafia had quickly risen to one of the biggest names in dance music. Without even having an album in circulation, the fact that the trio could sell out Madison Square Gardens in a matter of minutes is a testament to not only their infamy throughout the scene, but also the sheer talent these three men collectively possessed.
And while there may have been some tears shed when they reached their parting of the ways, out of the ashes of Swedish House Mafia rose the power-house duo of Axwell /\ Ingrosso. The two emerged as a duo on Zane Lowe's influential BBC Radio show back in March of 2014, showcasing their smash hit 'We Come, We Rave, We Love'. The tune received wide support from some of the world's biggest names, and the groups notoriety quickly sky-rocketed.
Now in a huge move for not only dance music, but music as a whole, they recently announced that the group has been signed with Def Jam Recordings. The exclusive contract signed by the duo with Universal Music Group will set the dup up with new music and content releases in 2014, along with their debut album release early next year. Steve Bartels, the CEO of Def Jam Recordings, spoke openly about his excitement to welcome the two into the Def Jam family (a family that already includes names such as Iggy Azalea, Alesso, and Kanye West):
"We are proud at Def Jam to have Axwell /\ Ingrosso choose us to be their label home. Their music is forward, innovative, invigorating and boundless, . . . Def Jam has the artistry and energy of DJ culture within its pedigree, right there in our logo. This is a significant moment for all of us as at Def Jam."
Although they've only had a handful of shows under their belt, Los Angeles Times has already heralded their sets, such as their memorable headlong set at the Governor's Ball in New York City as ". . .simultaneously more challenging and more playful than anything their previous project could do. . . Axwell /\ Ingrosso's set found them working out different ideas about tension and song craft . . .One new tune, which fans have given a working title of "On My Way," felt like it had pop-hit potential with an immediately memorable chorus. But the long, well-spaced drum builds and crowd-teasing pacing felt entirely new for the duo."
How do you feel about such big names in the dance music signing to one of the biggest music labels in the industry? Do you think it will give Axwell /\ Ingrosso the freedom to bring dance music to even more ears, or will it be too 'mainstream' for the duo to thrive?