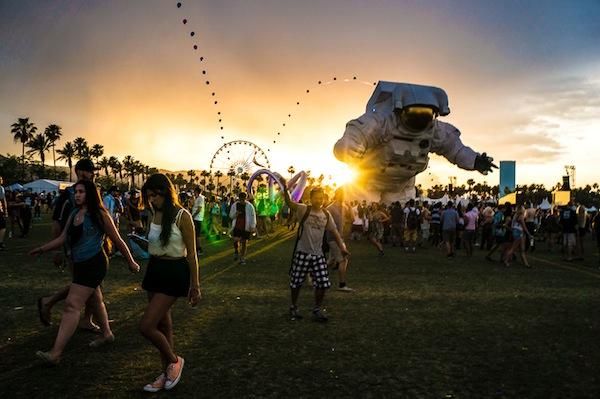 Creators of Coachella, Goldenvoice has recently entered in a joint venture with Red Frog Events to promote and produce Firefly Music Festival, one of North America's fastest-growing music festivals, located in Delaware in the Woodlands at Dover International Speedway. This partnership is a massive collaboration between two of the country's current festival powerhouses, with Firefly selling 30,000 tickets in its first year, 65,000 in 2013, and 80,000 in 2014 and Coachella, dubbed one of the biggest festivals in the world with more than $67.2 million gross and 180,000 tickets sold over two weekends in 2014.
Though details on the deal are still scarce, the partnership will likely see Goldenvoice investing in Firefly and the festival's infrastructure. Goldenvoice CEO Paul Tollett and Red Frog Events founder Joe Reynolds along with Greg Bostrom, director of Firefly, spoke to Billboard where both parties discussed the new joint venture.
"Red Frog will still operate Firefly, because that's what they're best at," Tollett explained, "and we will assist in any way we can, such as helping access talent, sponsorships, and any tricks that we've learned along the way to help a festival get to the next level." Both parties avidly dispelled concerns that Firefly would become an "East-coast Coachella." Tollett assures, "we do different types of festivals, Stagecoach, FYF and New Orleans Jazz Festival all have their own personalities, and we don't want to water anything down. Every festival has to have its unique outlook, decision-making, how it's run. Speaking for Coachella, I like to run it a certain way, and I know Firefly has their attitude on how they want to run their thing, and I would never want to change that."
Everyone involved believes that the partnership will have a positive effect on all parties involved, boosting the festival portfolio of Goldenvoice and AEG, while helping build the Firefly experience from the ground up.
Firefly has already locked down a long term lease agreement with the Dover International Speedway through 2032, just as Coachella did in at Indio's polo grounds. Tollett explained that, "when you get a long term lease, it helps [because] you're able to put in infrastructure and invest in long-term capital, it makes a festival better when you can put some things in that you don't have to tear up each year. When you're on a year-to-year basis, you can't really do anything too excellent on the site, because you never know if you're coming back." That being said, Billboard speculated that Goldenvoice's involvement may also allow Firefly to build permanent infrastructure at its site in Dover, Delaware.
2015's Firefly Music Festival is set to take place from June 18th until the 21st. Next year's festival goers should expect one amazing weekend, seeing as the 2014 installment of the festival sold upwards of 80,000 tickets with a lineup featuring Foo Fighters, OutKast, Arctic Monkeys, Weezer, Childish Gambino, and 100 other acts.
via Billboard