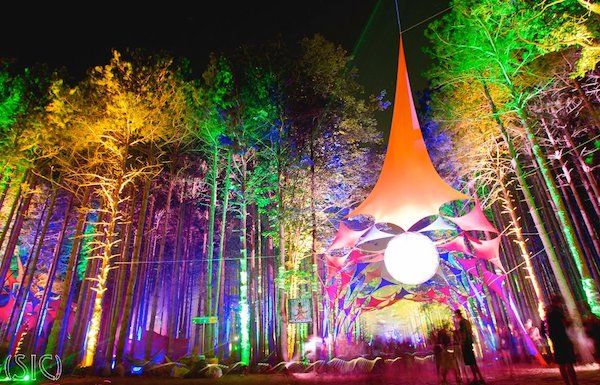 The wildly popular Electric Forest festival has finally reached a light at the end of the tunnel, regarding a slew of lengthy legal disputes involving whether or not it will be returning to its home in Rothbury, Michigan, in future years. AEG Live, the national concert promotion company that acquired one Electric Forest's organizers (Madison House Presents), and Double JJ Ranch have struck a hefty deal, locking in Electric Forest at Rothbury for the next decade. Norm Halbower, part of the Double JJ Ranch's ownership group confirmed the deal on Tuesday, Sept. 2. The agreement between the ranch and AEG Live became official when the former property owners, Progressive Resorts LLC, failed to take the necessary steps of paying a $7 million debt, which would have given them the chance to reclaim ownership of the ranch. Since Progressive Resorts LLC failed to pay their debt by the designated deadline, ownership for the property was left open, with speculations circling that Robert Sillerman's SFX was attempting to take control. Halbower assured, however, that the festival will continue as usual.
Keeping Electric Forest in Rothbury isn't only good news for E-Forest dwellers, but for the community and the ranch, too. Halbower said that hosting events such as Electric Forest are hugely important for the success of the Double JJ Ranch because it brings in funds which allow ownership to upgrade facilities. Dave Alvarez, general manager at the Double JJ Ranch, said that $2.4 million has been invested in the property since May. This includes adding new roofs, flooring, cabinets and upgrading rooms as well as adding upgrades to the water park. Halbower said the only thing that could stop the festival from happening would be a loss of support from Grant Township board, something he doesn't anticipate will happen considering the township has constantly expressed support of the festival since its creation in 2011. In addition to the money it brings in, Halbower added that the four-day festival is something he thoroughly enjoys attending every year. He stated, "I'm 72 years old and I attended the festival this year," he said. "It was such a pleasant experience. I met educated people from all walks of life, including architects and brilliant minds of stage and theater. The show the festival puts on is a sight to see."
Fortunately for Electric Forest attendees, the festival is not only here to stay for at least the next decade, but it will continue to be held in the home its had since its creation. Electric Forest is a massive festival, gaining more and more traction with each year. Last year, the Forest featured over 120 musical performers, five music venues and housed more than 35,000 people from throughout the United States and Canada this past June.