In the scorching heat of the Las Vegas desert, there is an oasis that resides within concrete walls where the lingering echoes of bass tell a story of transformative adventures. It's a dynamic paradise filled with the memories of thousands around the world which comes to life under an electric sky every year for one weekend in June. For some, it's an escape from the stressful roller coaster of life or a wild party that washes away the mundane. For others, it's a sanctuary where one can find light in darkness or peace in chaos. But, for all who have undergone the life changing madness that is
Electric Daisy Carnival
, there is an invisible bond created by the experience which connects every headliner.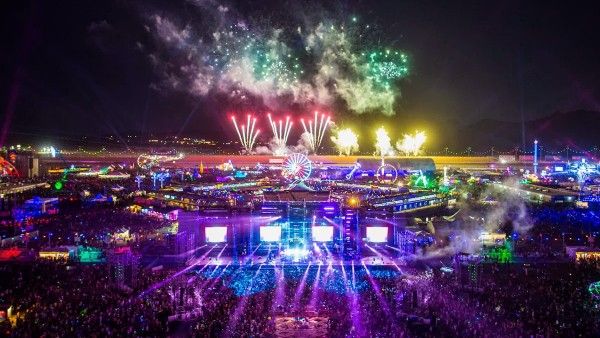 Filmed during
EDC Las Vegas
of 2013,
Under the Electric Sky
gracefully encapsulates the intimate process of that experience. Whereas the 2010 EDC Documentary directed by Kevin Kerslake focused on the creation and logistics of the event through the backstage perspective, directors
Dan Cutforth
and
Jane Lipsitz
delve further into the meaning of the event through the eyes of the attendees. Anecdotes of 90's rave culture and its current translation from
Pasquale Rotella
and his curators are insightful components in the overall story of EDC. However, it's clear that the narrative is focused on the importance of the actual experience.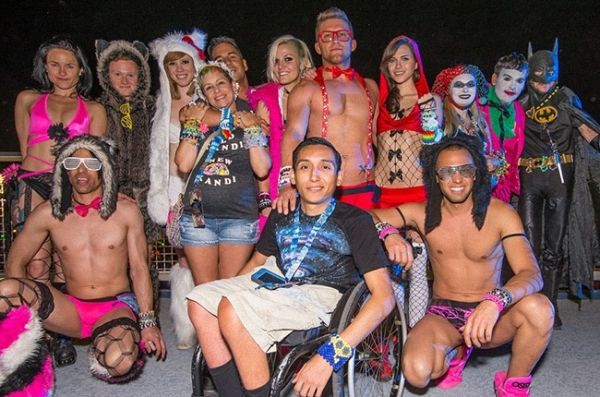 The cameras follow two groups, two couples, and two individuals chronicling their EDC journey from start to finish. The wide array of characters range from tanked out bros honoring a fallen member of their wolfpack to an old school raver couple finally tying the knot at EDC to a dance music lover battling the hardships of his physical disability. We are invited to watch a kandi kid overcome her anxiety at her first massive, a long distance relationship reunite for a weekend, and a rave family defy social norms. The unique moments in their journey resonate because they're all relatable on some level with anyone who has gone to EDC Las Vegas. So, watching
Under the Electric Sky
as an experienced headliner will make you feel like you're a fish out of water looking into its fishbowl, wanting to go back home so you can breathe again.
The documentary also serves as an open door for those who have yet to go so that they may take a glance into a world unlike any other. More importantly, it's a sincere depiction of EDC for those who don't understand what it is or have negative preconceived notions of its purpose. The controversial topic of drug use at dance music events and how it's dealt with is touched upon within the doc. But, Under the Electric Sky is a showcase of what gets unfairly lost in that conversation: the magic of music bringing people of different backgrounds together in an inclusive wonderland, and those same people taking their positive experiences back out in to a disjointed world that desperately needs more meaningful connection.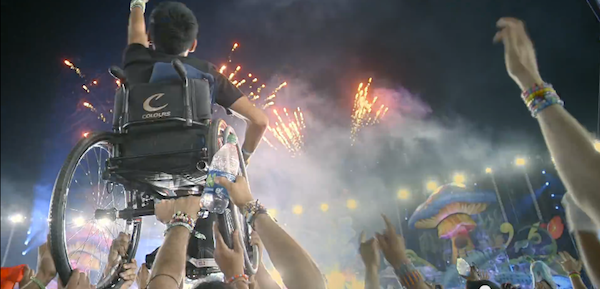 Jose Perales being lifted above the crowd by fellow headliners.
In the first EDC documentary about EDC LA 2010, the creative director of Insomniac
Bunny Eachon
said, "Everyone wants to have something to believe in, and in our generation, there's really nothing that's true. Everybody is broken into a million pieces, and everybody has their own journey. And, to get this many people together experiencing the same thing at the same time, creates a oneness. I think people want to belong. This is the future… And, that's why people come and take part in such large masses." The truth in that statement is written all over
Under the Electric Sky
as it is a visual collection of what everyone ultimately wants at the end of the day: finding peace of mind, closure, happiness, freedom, love, adventure, and yourself. It's the approach taken this time around that presents a well-rounded perspective that everyone can empathize with and perhaps, help outsiders understand why the rave culture mecca of EDC is so crucial for those in constant search of it.
If you didn't get a chance to see it in theaters or want to share it with others, you can own Under the Electric Sky now on Blu-Ray, DVD, and digital HD. You can get $3 off at Amazon.com. Text EDM to UFILMS (834567) for the discount code (message and data rates may apply). Grab it before the code expires on 10/1/14! Enjoy the phenomenal music selection by Kaskade and the endless eye candy!