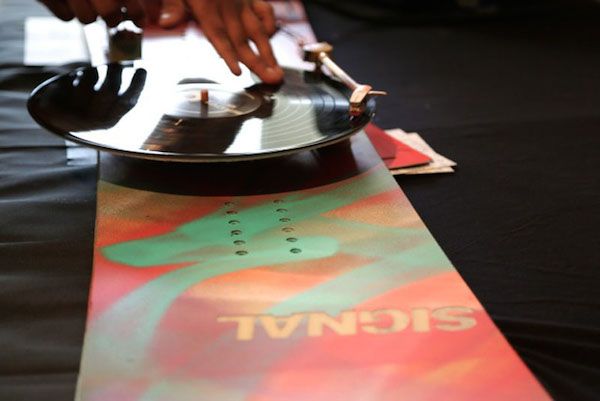 Snowboard company, Signal is considered to be the MacGyver of the snowboarding world. The company is dedicated to honing into a collective creative genius to conceived snowboards that double as things such as an iPad, a fishing rod, and xylophone. In this installment of their YouTube series "Every Third Thursday," the guys over at Signal pioneered an impressive and fully functional turntable snowboard.
In true hip hop fashion, Signal Snowboards put together the ultimate team to make this turntable snowboard dream come true by collaborating with one of the greatest DJs in history and contributing member of the Beastie Boys, Mix Master Mike, who not only provided direction on this build but also an original killer track for the episode. Signal also employed the incredibly talented MadSteez, who provided the custom board graphics. The components, including the turntable and mixer, come courtesy of leading DJ equipment manufacturer Vestax. This massive collab of some of the greatest minds in snowboarding, DJing, art and mixing equipment results in the ultimate DJ snowboard complete with a functioning turntable and mixer.
This video showcases each step it took to create this epic two in one snowboard. The DJ capabilities of the board were tested twice and ride-ability was confirmed on the slopes of Bear Mountain, California. What makes this video even more jaw dropping is that the snowboard's test run segment of the video is accompanied by a custom, all out banger track that was produced and expertly scratched by Mix Master Mike.
This video from Signal is an inspiring video, as it showcases the magic that can happen when passions from all sorts of fields fuse together and create an amazingly fun and innovative idea.
via EDM Sauce