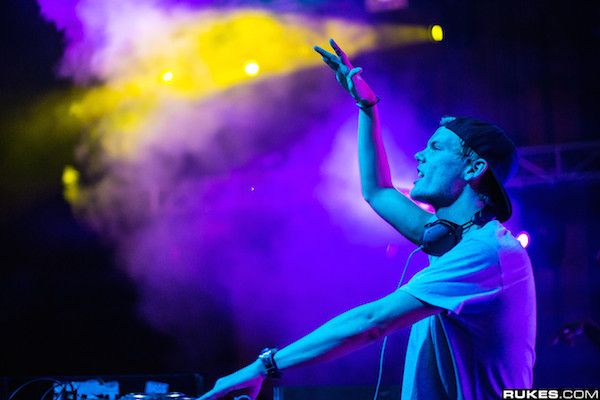 Tim Bergling, best known by his stage name Avicii, has had a helluva year. The Swedish mega-producer turns 25 today and if you count birthday to birthday, it's been one of his most eventful years to date. Avicii started off his year with the release his widely successful album, 'True', which peaked at #5 on the US Billboard 200 and #1 in numerous other countries. The album contains several #1 hits, including the anthem of the 2013 summer, "Wake Me Up."
Following up on the success of the original album, Avicii released the True Avicii by Avicii remix album. This featured all of the original tracks with a slightly different twist. Avicii continued branching out, and produced a collaboration with Coldplay titled, 'A Sky Full of Stars'. For the remainder of the year, Avicii toured the album on his monstrous international 'True Tour', which was outstanding, and only had a few hiccups along the way.
The superstar DJ is constantly reinventing himself. From his early hits, 'Rapture', 'Levels', and 'My Feelings for You' to 'Silhouettes' and 'I Could Be the One' to his most recent album, 'True'; Avicii has the ability to produce house, progressive, and his own brand of electro-folk all while keeping true to his catchy and smooth signature sound. He is one of those artists that has clearly branded his own sound; no matter which one of his tracks is playing, an avid listener could be able to tell it was produced by him right away.
Avicii's 'True' album marks the one biggest accomplishments of the Swedish star's career. Fortunately for him, he is no longer solely linked to his 2011 Mega Hit 'Levels' that played a strong role in bringing dance music to the mainstream in the US. The 'True' album hit #1 in the Dance/Electronic category on Billboard. This huge success was validating for the star after a poor live preview response at Ultra Music Festival in Miami 2013. Fans seemed to just need a little time to warm up to the new sound, as the album included numerous massive hits such as 'Wake Me Up', 'You Make Me', 'Hey Brother' and 'Addicted to You'.
The 'True Tour' featured sold out shows in Europe, Australia, and all across the United States. His stop at Tele2 Arena in Stockholm meant he got to play one his biggest shows to his home crowd, making the tour that much more memorable. The 'Lay Me Down' Music video was a recap of the Stockholm show, which further the hype for the rest of his stops.
It wasn't all smooth sailing, however, as he had some
health complications
in March that led him to have to reschedule a few of his stops and was
unable to perform
during Miami Music Week and Ultra Music Festival 2014. In addition, he received some negative attention after a show in
Toronto
and at his
TD Garden in Boston
where over 70 people total were hospitalized due to heat, alcohol, and drug related issues. Avicii moved past these problems and had a tremendously successful summer, selling out shows across the US and killing his residency in Ibiza and shows in Las Vegas.
Sure it's cliché to say this, but the sky is the limit for Avicii. In a Rolling Stone Interview this summer, he has related that he has collaborated with Bon Jovi, Wyclef Jean, Chris Martin, Serj Tankian, and more for another likely album release. Avicii is sure to once again re-invent himself with these new tracks. The diversity of the collaborations is exciting and we look forward to seeing Avicii have another huge year.
Be sure to catch Avicii's monthly 'Levels Podcasts' and check out his set from KROQ Weenie Roast in Irvine this summer and also a few track highlights of his year below.