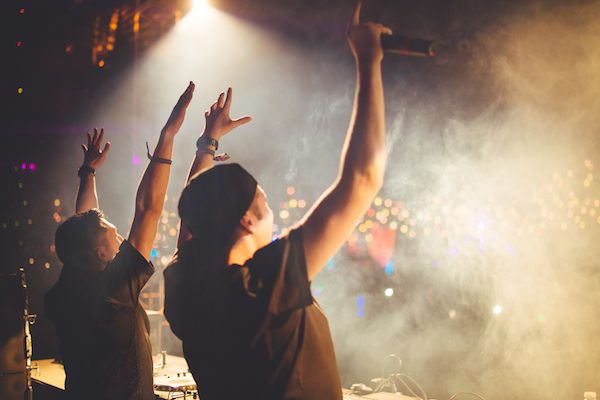 As the primary figureheads of the 'Heaven Trap' movement that has quickly risen to dominate the bass scene over the past few months, one would think that Derek Andersen and Scott Land, the faces behind the duo Slander, are prodigies. But when we sat down with the two, they couldn't disagree more. Over the course of our interview with the Southern California duo, they humbly owe their credit of their seemingly overnight success to years of tenaciously chasing their main-stage ambitions.
While Derek and Scott's present day story read through the headlines is of Vegas residencies and Insomniac Releases, this was not always the case. Instead, it started out with two UC Irvine students DJ'ing trance and house beats across the hip-hop dominated club scene of Orange County. Playing out sets typically seen throughout Vegas nightlife, they began building the Slander brand. After both graduating from UCI, it took roughly a year for the duo to come to finalize the decision of making a professional life from music. This is when Derrick was accepted to LA's finest dance music production school, Icon Collective, and when everything changed.
At this point in time, both were working full time jobs. Derrick was working for his family's office in LA, and Scott was working at a startup in the Bay Area. Pursuing their careers as musicians while still making ends meat made for long days commuting, working, attending school, and more commuting. But this is the hard and tediously long days that formed the backbone of their work ethic, which soon opened countless doors for them both. If it wasn't for the community Derrick found at Icon, he would have never met the people who would soon land Slander their first Vegas gig at Drai's nightclub.
Slander was opening, as well as closing, for Adventure Club on the night they first hit the decks of the club that they would soon hold residency at. Scott and Derrick had a lot to prove that night. While they already were confident in their own skills while playing to a Vegas crowd, all the club's management saw was a couple of unproven DJs hitting the decks of their newly opened club. But the set had hardly even kicked off, and the big whigs breathed easy as Slander had the whole club singing along to bootlegs and handfuls of the choice nostalgic tracks that these boys always weave into their sets. When they stepped off the decks, Victor Drai called them over to his personal table and kissed them on the cheek. Within days they had signed their official residency at the most beautiful club in Vegas, if not all of North America.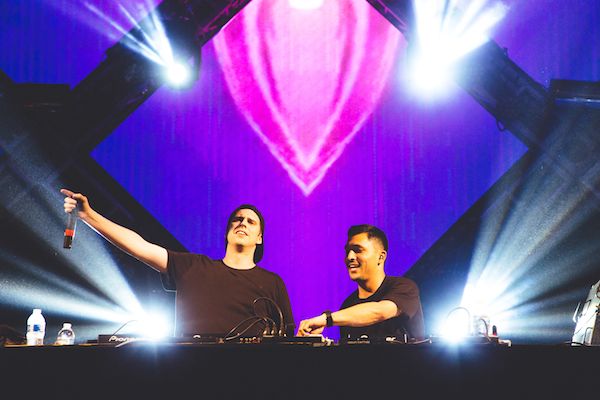 This residency was just what the boys needed to bring their iconic 'Heaven Trap' sound to the ears of the masses. Having always been fans of trance, attending many of Above & Beyond's and Armin's biggest shows, Slander understood not only the emotional pull that the genre held over its crowds, but were also impressed by the loyalty that these crowds bestowed on the artists they love. At the same time, trap music and hip-hop always resonated profoundly with Slander, and its influences on the duo were impossible to ignore. So with the intentions of bringing the emotion and influence of trance to a genre that primarily held only one emotion, turning-up, the two soon came across the Above & Beyond acoustic performance. When the tears of such an awe-inspiring performance had settled, the two knew what they had to do and they went to work.
After a series of Heaven and Festival Trap remixes, the duo's signature sound caught enough attention to where they were petitioned to remix Arty's latest release 'Up All Night', which recently released on Interscope's Insomniac Records. When they were requested to remix the track, they knew they had to rework it into their iconic Heaven Trap style, but they wanted to stress the point that they are not strictly Heaven Trap producers. While the remix has been monumental to the duo's rise to fame, as well as a large label push behind the Heaven Trap movement, they know that it will take more than that if they still want to achieve the main stage ambitions they've held from the start.
And these end goals may not be as far off as they imagine. Earlier this month, Slander was booked for a side-stage gig at Nocturnal Wonderland, a gig that was going to be the biggest booking of their career to date. They admit being nervous as they stepped onto the decks of that stage, but they delivered their flawless Slander sound and the crowd ate it up. When they stepped off the stage, an Insomniac representative approached them to inform them that Nicky Romero's plane was delayed. Scott and Derrick were asked to perform on the main stage until Nicky arrived. In the surreal haze, the boys said it hardly seemed real until they were approached again fifteen minutes later, and were asked if they actually could play out the set. At this point Scott admits that they didn't feel any nerves, as they had already gotten all their gitters out when they stepped on the decks of the side stage. They got to the main stage just as R3hab was exiting. They knew the main stage crowd had likely been listening to the same festival sound the entire day, so Scott and Derrick did what only they could do; they read the crowd and delivered a perfect thirty minutes of music that woke the masses up. As the lazers and fireworks were going full blast, they looked behind to see Nicky Romero waiting. They both agree that it was one of the best nights of their lives, and one they would never forget.
So this is the Slander story up until today. Now they are deep into the Ascension tour, and these guys do not show any signs of slowing down. Their recent remix of the TomorrowWorld anthem is launched into circulation, and their social media is alight with previews of a Jack U remix. This all has launched their exposure into the heavens, and puts them into an impeccable position. They now know that it is all on them and their work ethic to bring them to the next level in their career, and they could not be more excited.
Photo Credit: Dons Lens