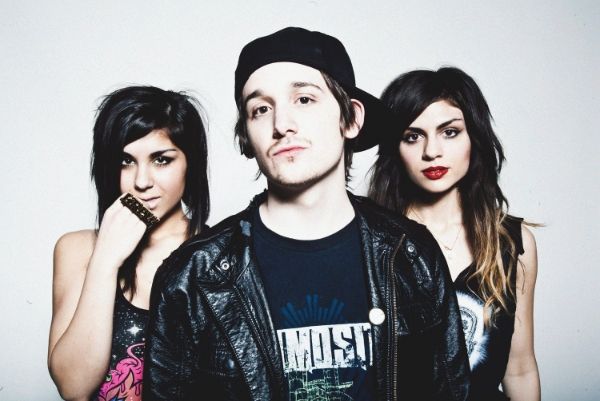 When Kris Trindl, Jahan Yousaf and Yasmine Yousaf of the monstrous Krewella had their infamous '6-8-10' tattoos inked on, they had no idea that less than five years later, one of its members would be filing a lawsuit against the other two for upwards of $5 million.
They first connected while attending Glenbrook North High School in Illinois. According to the lawsuit filed by Trindl, better known as Rain Man, him and Jahan were romantically involved. On June 8th of 2010, the group vowed to put aside all other career ambitions to pursue the Krewella brand full-time. Shortly after, the group moved into a small Chicago loft and established the main foundations for what their group would stand for.
Their adept use of social media conspired by their friend Jake Udell, documenting their rock'n'roll lifestyle, made their fan base skyrocket, and it wasn't long before they started getting major attention from the majors. When the trio released their breakout hit, 'Killin It', the rest was history as they signed with Columbia Records. For the next twelve months, they partied all over the world and crushing every venue they performed at.

The lifestyle that came along with touring led to Kris resorting to alcohol. His alcohol consumption quickly got out of hand and landed him in rehab to attend a detox program. Although he did have two relapses, he stayed strong by attending Alcoholics Anonymous meeting and making sure that his priority was to stay sober.
The lawsuit goes on to describe the Yousaf sister's discontent with the new Kris Trindl. Expecting the return of the party boy they once knew, what they received was a recovering alcoholic who was doing his best to fight the demons inside of him. The details in the lawsuit state:
"At this time, Udell, the Yousaf sisters and others conspired to remove Kris from the group altogether. Now that the band was successful, they figured they could always hire outside people to write and produce music for far less money than it would cost to continue splitting their income equally with Kris, as they have done (one-third to each member)."
This opened a floodgate of shady and mismanaged politics within the group. Attorneys pushing poorly manufactured contracts and limited liability agreements, as well as registrations of LLCs that did not consist of a signed operating agreement. This led up to Kris eventually missing a flight to Mexico City where he was going to take the decks at Electric Daisy Carnival. After this missed connections, Kris was taken into Udell's home for a meeting where he was suggested he go back to rehab:
"But it was not rehab for drinking, because Kris was staying sober. They demanded he go into rehab for 'depression'. . . It was not Kris' health or sobriety the others were thinking about, it was all about keeping him off the road so Jahan and Yasmine could establish themselves to live audiences as a duo without Kris, so they could eventually erase him completely from Krewella and reap greater financial rewards."
The full lawsuit can be read here.
UPDATE: