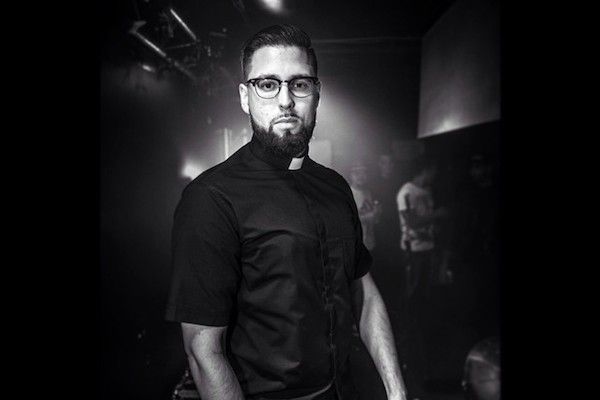 Drama seems to be following Oliver Heldens at the moment. After his tour manager prevented Marcus Schossow from headlining his own show by keeping Heldens on the decks through an opening set, he's received a public call-out from Fool's Gold's very own future-house innovator, Tchami. Helden's release of 'Gecko' catapulted him into the international spotlight, after it garnered support from a host of established names like, Hardwell, Tiësto, David Guetta, Zedd, and Pete Tong; this release marked a new beginning for the rising Dutch star, both in popularity and overall sound. This apparent change in sound is something Tchami has noted, and not taken particularly kindly too. He headed to Twitter, a forum with increasing popularity for conflict initiation and resolution, and voiced his discontent:
For the love of GOD, can you stop jacking my style @OliverHeldens #FutureHouse

— TCHAMI (@iamTchami) September 24, 2014
To which Heldens retorted with an @-tagless tweet:
Jealousy eats nothing but it's own heart. It's a rather enjoyable emotion to watch though, isn't it? — Oliver Heldens (@OliverHeldens) September 24, 2014
This is a rather snarky response, if we're being honest, and could point to a possible tension that's been on-going behind the scenes. To understand what's going on here we would have to examine the two artists' productions, to see what exactly Tchami is talking about. Tchami has become known for his iconic "future-house" sound, which has been arguably the most distinguishable sound out today. Up until this year that is. Looking back at each artists 2013 productions, you'll notice quite the difference.
Oliver Helden's had a starkly different production style, as shown by his collab with Julian Calor, 'Triumph'.  More specifically his big-room mix:
Julian Calor & Oliver Heldens – Triumph (Oliver Heldens Big Room Mix)

This track was released almost a year ago to this day. Going to a similar time frame with Tchami won't result in such a contrast in production style from what he's releasing today. His remix of Aluna George's 'You Know You Like It' was released on September 19th of 2013:
AlunaGeorge x Tchami – You Know You Like It [remix] | Download

Very different right? Both tracks maintain a unique identity from each other and boast numerous merits of well produced tracks. Fast forward to Helden's first release of 2014, 'Gecko', and it's as if he switched things up completely. Gecko was touted as a deep house track by some and future house by others. Now it's not uncommon for artists to experiment with new sounds and change things up, but typically this occurs gradually over a period of time; scrolling back through his Soundcloud will show that none of his old work is there (now we're not Soundcloud archivers, so we can't say for sure what was and wasn't there to begin with). Everything on there has been uploaded in the past 9 months, save for one track. This is by no means concrete evidence for copy-catting but is something worth pondering. Also, now that we're in a similar place with both artists and both sounds, it's worth understanding what exactly this style is: this form of future house can be more narrowly identified as "big-room deep house," as it draws from elements of traditional house and blends them with a modern, EDM-friendly, structure. It's not necessarily a sound made from thin air. An arguable reason as to why Tchami's sound is so popular is because it's an excellent modern take on an old sound.
Ed.: It's also worth noting that, technically, both artists are somewhat watering down a long and rich history of house music in order to appeal to American EDM fans. Everything from Detroit techno of the 90s, to the present day power house veterans of house such as Seth Troxler, Carl Cox, Hot Since 82, Maya Jane Coles, Drumcode, Mobilee, Defected, have all come before this new wave of "EDM friendly house." And we don't see anyone from those camps starting beef with this watered down version we are seeing now within the American scene. Because they don't care. 
Fast forward yet again to the release of 'Koala', which dropped on August 4th. It would seem Heldens has gone through a complete makeover or rebrand from 2013. This is not a bad thing, there's nothing wrong with growth, but this airs very closely to that unique future house sound that Tchami has not only mastered, but also innovated.
Oliver Heldens – Koala (Original Mix)

The BPM, key, and general sound are very Tchami-esque, and for a man who's very proud of the work he's done in developing a standout style, getting frustrated over any copying is understandable. Give the below track a listen and see if you hear the similarities:
Tchami x Janet Jackson – Go Deep (remix) | Download

Everyone hears things differently and we can't say for sure what's going on here, but we personally can't help but notice a strong similarity. Dance music is a growing industry (which is worth quite a bit by the way) and with heavy saturation in the market, standing out is paramount to an artists success. Music creation is the blood of their livelihood, so any threat to that unique identity can be a serious hinderance to their success. Tchami's shade is understandable, and it's definitely fair to protect ones style in a public forum when the assault is egregious enough. Now, that is not for us to decide, because dance music, more so than almost any other genre, is very formulaic and without a doubt repetitive. It comes with the territory of 4×4 beats catered to a dance floor, there's just no way around it. In a lot of ways it's up to you, the fans, so don't hesitate to provide your opinion in the comments below. For the record, Tchami absolutely slays live, and if you haven't seen him yet, we highly suggest you go out of your way to do so.