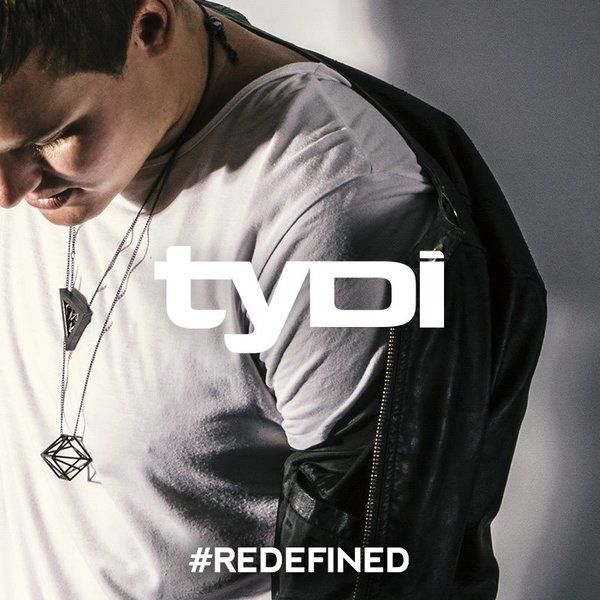 Electronic music is more popular now than ever before, but it comes at a price. Creativity. Formulaic, monotonous drops and synth progressions saturate the dance music landscape as everybody reaches for a piece of the overgrown cash cow. Artists stand at a crossroads, produce lackluster 'hits' and cash in or stay true to their sound and make art. The aforementioned tends to be more lucrative as it can be heard for hours on any festival main stage, but the other choice as an artist is more fulfilling. In the face of the current state of affairs, many electronic artists are continuing on the path less traveled fueled by creativity, while others are thinking twice and turning back onto the art road stepping away from the binding grasp of the dollar sign. Industry heavyweights such as Kaskade and Dirty South are  known for consistently creating full length artist albums that don't follow the current trends, making their music memorable for years to come. One highly underrated artist from Australia, Tyson Illingworth, better known as tyDi, falls among the ranks of artists that continue to stick to their craft and garner lifelong fans by producing creative, exciting and unique records.
Redefined stands as tyDi's fourth full length album. A powerhouse of production spanning 20 tracks, tyDi flexes his production muscle, throwing out all genres to create an honest, personal and creative portfolio that demonstrates his range as an artist. A stellar cast of vocalists were called to action, from the lead singer of tyDi's favorite band, Chris Carraba of Dashboard Confessional, to the lesser known talents showcased on the album, each vocalist poignantly conveys tyDi's messages of heartbreak, love, loss, strength, and happiness. Due to the personal nature of the album, tyDi took to his Facebook to explain the inspiration behind a few of the tracks on the album representing "the craziest three years" of his life. Redefined is gritty, different, and new, but is still uniquely tyDi with its subtle glitches, flutters, and reverberation interspersed in the masterfully orchestrated use of organic violins, cellos, piano, and guitar riffs paired with electronic synth lines.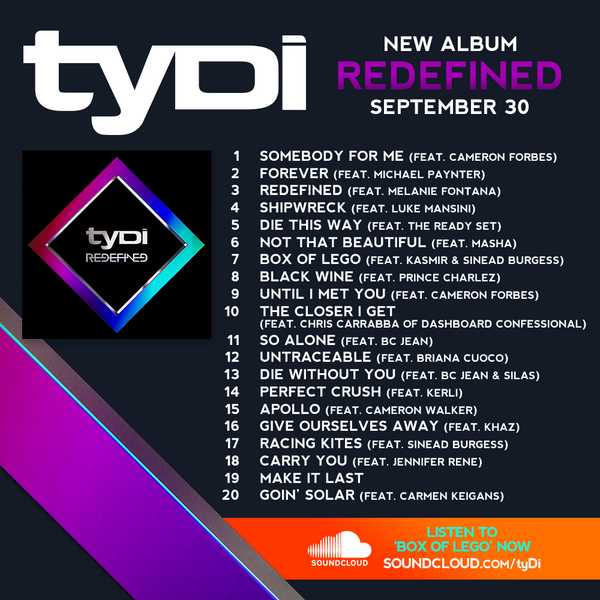 The range of sound may surprise fans, but regardless of the style, each track captures feelings that all of us can relate to. On one end, Tyson crafts minimal ballads that hold emotion, such as 'Shipwreck' featuring Luke Mansin, where the sound of crashing waves and creaking wood open the production with an eery feel of loss and sadness. And 'Not That Beautiful' featuring Masha, who tells a powerful story with earnest vocals supported by a combination of piano and violin. On the flip side, tyDi's upbeat productions, 'Racing Kites' featuring Sinead Burgess and 'Redefined' featuring Melanie Fontana, are of the sing along vein that make you want to dance around the room in your underwear belting into a makeshift microphone. A few tracks on the album, 'Untraceable' featuring Briana Cuoco, 'The Closer I Get' featuring Chris Carraba, emulate Tyson's background in the alternative rock world with power guitar riffs, driving percussion and strong angsty vocals. Each track on the album is uniquely crafted  into a smattering of progressive house, acoustic, orchestral, pop, punk, dub and electro.
'Box of Lego' featuring Kasmir & Sinead Burgess and 'Die Without You' featuring BC Jean are the standout tracks on the album. 'Box of Lego' utilizes a beautiful duet between a male and female voice to portray the complications of heartbreak in a failed relationship, creating a multi dimension to the track that is often lost with just one voice. Tyson proclaimed 'Die Without You' as his favorite track on the album and with good reason. tyDi teamed up with bass centric producer Silas and songwriter/vocalist BC Jean to create an earth shattering track. 'Die Without You' is overproduced in all the right ways with a build rooted in trance elements that unexpectedly break away into a bass driven dub progression. The track has power, variation and creativity, it is Redefined.
There is still creativity in dance music and as long as there are artists like tyDi out there pushing the genre envelop, getting personal with their art and inspiring others to do the same, the bubble will never burst. Redefined is slated to drop at midnight on September 30th, get your copy here.