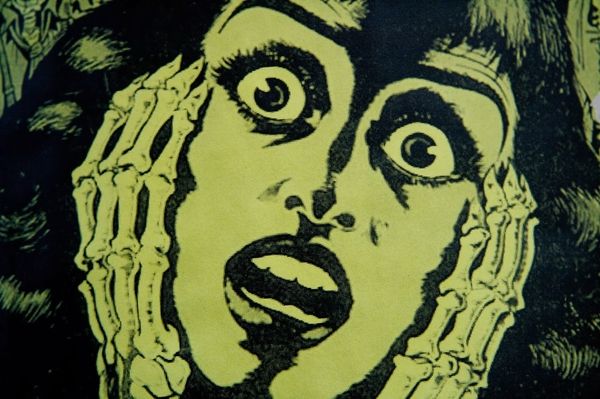 Ladies and ghouls, it's that time of year again! Halloween is a tradition unlike any other and is prominently represented in the EDM world. With acts like Knife Party, Skrillex, and Zomboy to make music that shakes, rattles, and freaks us out, there's no end to the amount of Halloween music for EDM fans. So while you get your ghoulish costumes ready or are heading to a festival festering with fans, take our advice and get in the spirit with some haunting tracks that we've picked out below. They'll be sure to chill you to the bone.
1. Botnek – Grindhouse
Botnek has emerged with a filthy track that has an almost haunting vibe to it. 'Grindhouse' begins with an eerie intro that includes deep dark voice. It then builds up and drops in to a hard dub-like bassline that will shake and rattle any Halloween party.
2. RL Grime – Core
RL Grime emanates the spirit of Halloween. Named after nightmare storyteller RL Stein, his tracks are 1 part spooky and 1 part diabolical, including one of his newest releases 'Core'. The track has a creeping melody that beings soft, but explodes in to insanity as it drops. As you're caught in the bass line, the melody is a shrill that makes you feel like a madman is chasing you. Definitely will get you feeling chills in to your core.
3. Timmy Trumpet – Nightmare
If you're looking for a bounce track, we've got the one for you. Timmy Trumpet hails from Australia, but is making his way over to the US, where you can see him touring at the moment with Will Sparks and Joel Fletcher. Following his successful track 'Freaks', 'Nightmare' comes just in time for Halloween. With it's heavy bass and chime melody, you'll be dancing and jumping around like a dead zombie.
4. Deadmau5- Ghost N Stuff
What's a list without some old school tracks. Deadmau5 brings us the mother of all Halloween tracks with one of his most celebrated songs, 'Ghost N Stuff'. The track offers haunting chords and entrancing rifts. If you're looking for the Halloween track, you've found it.
5. Knife Party – Boss Mode
It would be nice to go for an older Knife Party song off their 'Haunted House' EP, but we're going to change it up this Halloween. With their 'Abondon Ship' album release coming up, we dug and found a terrifyingly good track that fits this malevolent theme. 'Boss Mode' provides a little insanity with hard-hitting beats. With it's bewitching vocals, the track takes you for a nasty ride on it's bassline.
6. Gessafelstein – Pursuit
The terror continues with the master of doom, Gessafelstein. The Frenchman is an experienced producer in making anything dark and perilous. 'Pursuit' is a perfect example of this. With its continuous bass beat and it's tough melody. The track is perfect for your night walk down a dark alleyway.
7. Erick Morillo, Carnage, Harry Romero – Let The Freak Out (Feat. Mr. V)
If you're the tech-house fan and looking for some new frights this year, check out this new track by some of EDM's biggest names. 'Let The Freak Out' gives listeners the sense of an Halloween party gone wrong. The track has a haunting vocal samples, and takes a turn for some eerie house beats. This Halloween don't be a stranger, and let your freak out with this groovy track.
8. Zomboy – Terror Squad
The terror squad is taking over, and is bringing their wobble with them. Zomboy's 'Terror Squad' is the perfect Halloween track for any Dubstep enthusiast. The track's breakdown is more terrifying than any horror movie, and will get you bobbing so hard you'll awaken the dead.
9. Snails & Antserium – Wild
Halloween is a time to get wild, and that's what the boys of Snails and Anteserium get. Their track 'Wild', has all the wild we can take, bass included. The breakdown features a chopped and screwed melody that makes listeners feel like their shattering in to millions of pieces. Time to get wild this Halloween!
10. Skrillex – First Of The Year
What is Halloween without Skrillex. Although stocked full of Halloween-esque tracks, we decided 'First Of the Year' serves the holiday the best. The track dishes a beautiful piano ballad before the vocals 'Call 911' tear in to the track and sends you in to a barrage of nasty synths and wubs. What's more terrifying than that?