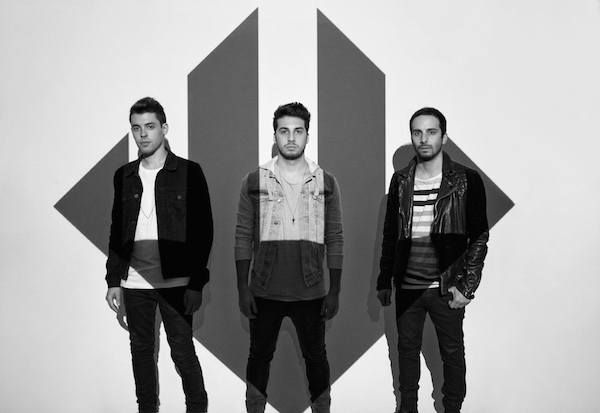 By now, you've definitely heard of Cash Cash, the trio that has taken the world by storm with their infectious brand of electro-pop dance music.  The big break that catapulted Cash Cash to the top of the electronic music scene was 2013's "Take Me Home" featuring Bebe Rehxa but the group's been around for years – brothers Alex and Jean Paul Makhlouf teamed up with Sam Frisch back in high school.  In the early years of their career, Cash Cash produced remixes for other artists such as Cobra Starship and All Time Low along with their all of their own music.  Since then, they've evolved from the punk-pop sensibility heard on their 2008 album Take It to the Floor to energetic electro, with singles like "Take Me Home," "Lightning (featuring John Rzeznik)" and, most recently, "Surrender" winning them fans, heavy rotation on the radio and performances at major festivals.  Last February, the trio scored a coveted residency at Marquee Dayclub and Nightclub in Las Vegas and New York City.  EDMTunes caught up with the guys a couple of hours before their Friday afternoon set on TomorrowWorld's mainstage in Chattahoochee Hills, Georgia, and talked about their musical influences, life on the road and collaborating with a childhood idol.
Going back a couple of years, your music has definitely evolved – some people may remember your alt rock days – can you tell me how that evolved to your current electro sound?
Well for us, we started as an electronic band and we were doing that for awhile and then we were producing at the same time. We were also producing, mixing, mastering all of our own music so it was really easy for us to grasp a hold of the whole production side of it and then we kind of just leaned toward electronic music, you know, we started doing more remixes for other artists and that kind of led us here.

Who are the artists that inspired you to get into dance music?
SAM: I guess early on it was Justice and Daft Punk were the definitely first few that we listened to.

ALEX: They bridged the gap.

SAM: And there were a lot of cool bands that were coming out that were doing indie stuff like LCD Soundsystem… It was really the energy coming out of the remix community that was brought us into it. It was really exciting to try new sounds.
There are a lot of DJ/producer duos – but not nearly as many trios. Do each of you bring a certain strength to production?
JP: I mean we all kind of shine in different ways, and there's certain things that each one of us are good at. The cool thing about being a group of three is that not all of us have to go out all the time so sometimes Sam and I will go out, most of the time actually, and Alex will stay back and work on a remix or a new song or a mix so we have something to start with when we come back. Because sometimes when all three of us are on the road for too long nothing gets done.

ALEX: It's hard to work on the road.

JP: And sometimes we change it up.
"Take Me Home" was a big turning point in your career. Can you describe how your life is different than before its release?
JP: It was really cool seeing it go from zero to sixty, I mean, we saw it kind of build in the club and that was awesome having DJs support it and hearing other people drop it in their shows, their podcasts and then it started to get on the radio and that felt really cool. It was great, we're very grateful, we've been working really hard and it's been a long time, we've been at this for 10 years and it just feels great to finally have a break.
In Dreamville it was playing at every other tent, it was awesome. So you guys have your residency at Marquee, how's that going?
JP: Really good, they're great… Vegas is always a good time. Do you like Vegas, Sam?

SAM: Yeah, it's fun. Good stuff. The show's always crazy.
Do you do New York too?
SAM: Yeah, New York's always fun.
It's cool to have a home base like that. How do you prepare for something like this, a huge festival? You're about to go on in a couple of hours.
Collectively: Wing it!

SAM: You feel the vibe, you feel the energy of the room.
Have you been thinking about your set for weeks, days, hours, minutes?
JP: A little bit, we've got a couple things up your sleeve, a couple tricks.
Anything you can disclose?
JP: I guess everyone's going to hear this afterwards anyway, we can just give them the whole set right now.

SAM: It's going to be a lot of our original stuff…

ALEX: A lot of our remixes.

JP: A lot of cool edits that we've made along the way that we kind of mashup with all our stuff and other stuff and one-shots here and there.
Tell me the backstory of your new single "Surrender" [released September 16th on Big Beat Records].
JP: "Surrender"… it's a good one, definitely one of my favorites. For me, i just really like the lyrics a lot. I think that it really just hit home because people always surrendering is a bad thing but this kind of shows a different light to it, you know just a whole different way of thinking about it. What about you?

SAM: Yeah, I mean it's awesome.

JP: He likes the kickdrum.

SAM: It's a nice kick, you know.
It sold more than "Take Me Home" right?
SAM: Yeah, in the first week it came out.  It's really amazing. The support has been awesome so far and it's really only been out for about a week and a half now so it's been amazing.

JP: We just started playing it out so the reaction's been good and been growing.
In this day and age, sales are impressive, no matter what.
SAM: It's always surprising, to be honest, to see any of our stuff sell. It's like "Wow, people wanna buy this?"

JP: Dance music doesn't sell as much, you know?
I love that you did "Lightning" with John [Rzeznik] of The Goo Goo Dolls.
Collectively: Thank you, thank you.
He is such an iconic voice, I grew up with him.
JP: He's the best.

ALEX: He's one of our idols for sure.
How did that collaboration come about?
JP: Just that pretty much says it all, we're huge fans. We grew up listening to The Goo Goo Dolls and the fact that he was down to get together with us we were like "Hell yeah!" And we hit it off really well.
Had he ever done anything in dance music before?
JP: I don't think so, I think that was his first time.
What's the next step for you guys, any new projects?
JP: We're doing some stuff with a couple of rappers and just a couple different other features… you know, going song by song and then a couple remixes we're going to be working on soon. A lot of shows, keeping busy throughout the rest of the year and wherever the wind blows us, you know? We filmed a crazy video for "Surrender" that's insane. It's gonna be nuts. That'll be out within the month.
Where did you film it?
JP: Up in upstate New York. It's just gonna be insane. Fucking insane.
What's the setting?
SAM: It's an old abandoned mansion.

ALEX: Don't give it away!

JP: You can say that, it doesn't give anything away. "It's in a mansion, it was filmed in a mansion." Basically it's a mansion and there's all these different rooms and in all the rooms there's all this crazy stuff going on.
That's it for me, do you have anything else to add?
JP: Keep us with on Twitter: Twitter.com/cashcash. "Surrender" is out, pick it up and hopefully we'll see you at a show, all of us.