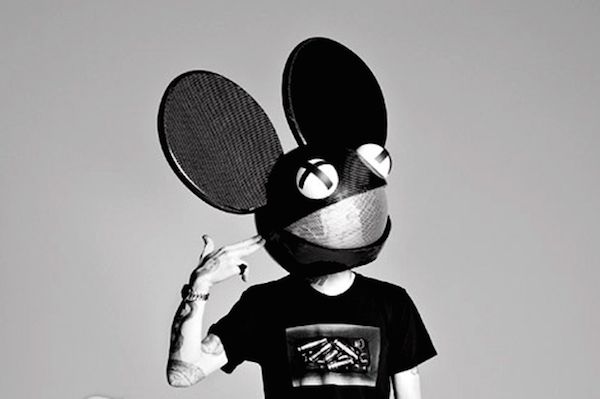 There's been a fair bit of drama in the music side of the Twitterverse lately (or as per usual, really). So much so, that both online and mainstream media coverage involved in recent twit-spats has drawn out some frustration from numerous artists. This has some outlets on their toes about posting Twitter incidents, but we can't deny the importance of social networks and the interactions or information revealed through them; sites like Twitter and Facebook offer a window into the most intimate part of the music industry: the lives of the artists that drive it and their connection to the masses. The size of that window is determined by the activity of each artist though, and one of the biggest has traditionally been from Deadmau5.
Recent Deadmau5 social-stories that have attracted the media include some visible tension between him and Afrojack, his new real-estate acquisition, and a resounding tumblr post about the trouble with people like Paris Hilton (Afrojack's ex-girlfriend, for those who don't remember). Amidst all this admitted pop culture dribble, there's been worthwhile news though. Take his letter to Marineland Canada, or the ongoing quarrel with Disney over trademark conflicts, and the charity to a fan in need. Even better, something we all get excited about: music news. His conversations with Feed Me about possible Spor releases, the '5 years of mau5' announcement, his techno packed Ibiza set, and updates on the 'entropy tour'! So much good stuff. Unfortunately though, Deadmau5 has opened up on Twitter again, and this time the news could sound rather bleak.
Yes, these are only tweets with limited information, so there's more room for speculation here than there probably is in that new home of his. Really though, that's all we can do for now. Speculate.
well… i guess its safe to say the whole "djing thing" really doesnt require much skill or talent. i think i mentioned that before.

— deadmau5 (@deadmau5) October 28, 2014
i suppose ill worry less about these "DJ gigs" then… just retire it while these naabs can #killit or whatever. i have a studio to build.

— deadmau5 (@deadmau5) October 28, 2014
jealous? nah. somewhat bitter to see the EDM world stoop to new all time lows? yeah.

— deadmau5 (@deadmau5) October 28, 2014
Perhaps it's to do with the drama behind the Paris Hilton post, and the way it makes our beloved world look like some money-centric chauvinist playpen for the 'rich-n'famous' (which we know is the not the case, but Paris' alleged bragging about earning millions does not help…at all), or perhaps this stems from mass misunderstanding of the DJ Mag Top 100's legitimacy and how people are still calling him a 'DJ'.
i think when you start blabbing about how many millions youre making "being a dj" its pretty clear you might just be in it for the money. — deadmau5 (@deadmau5) October 28, 2014
but until you change or revolutionalize anything, and stop exploiting what others have already laid out for you, you're wasting space.

— deadmau5 (@deadmau5) October 28, 2014
so on that note, i dont have to defend, justify, or explain anything further. So long "EDM", it was fun, but you're really fuckin lame now. — deadmau5 (@deadmau5) October 28, 2014
Now before everyone goes all buck-wild and takes to the streets, breath for a sec and read the words. In no way does this mean Joel is leaving music, or even really electronic music. This could more or less be a much needed detachment from the scene (not just social media like in the past) to de-stress and rewind. He's still building a studio and there's no sign of the 'entropy tour' shutting down, but who knows what the future will hold after that. There's no telling what he'll produce next, but you can bet your bottom dollar it will be something special. His passion for tech and music is more than commendable, and whatever he does next will get all of his attention.
not to say im going to stop. New house, new studio, new ideas. time to pave my own way through the bullshit much like i always have.

— deadmau5 (@deadmau5) October 28, 2014
Who knows, maybe he can finally get around to doing a film score like he's confessed to wanting to do for a while now, on both Twitter and on Billboard. Whatever it is, we'll be waiting with an open mind and very, very, open ears.
why i either want to A. score a film or B. work with an orchestra. http://t.co/Ec2ZiGKyA0 2 of my life goals… still on the list. — deadmau5 (@deadmau5) December 31, 2013
more info here: recommended you watch the doc: https://t.co/zPgvoUwCj8

— deadmau5 (@deadmau5) October 28, 2014