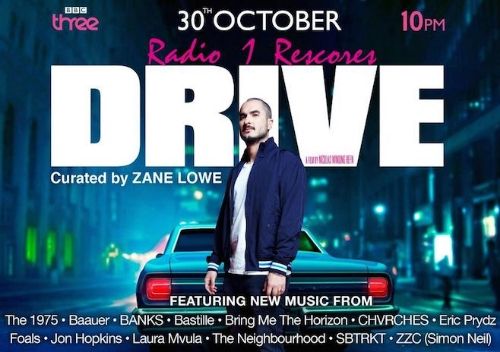 2011 saw the release of the classic movie 'Drive' which left the audience questioning if Ryan Gosling's sweet jacket or the films perfectly picked soundtrack really stole the show. The film's original score featured tracks by the likes of Cliff Martinez and the Chromatics (just to name a few), and they flew off the shelves faster than the recent Frozen Soundtrack.
Now, flash-forward three years to where the film's final pieces are falling into place. These final pieces will see a new rendition of the films soundtrack, a project titled 'Radio 1 Rescores: Drive – Curated by Zane Lowe'. Names such as Baauer, Eric Prydz, and SBTRKT have all been hand picked by BBC Radio 1 personality Zane Lowe to create original tracks for the new-age rendition of the film.
Lowe calls the project "the most ambitious, awesome thing we've ever done," and took to Twitter to defend the projects intentions of creating "a parallel experience" to the films original release. Check out the tunes trailer below, and stay tuned for the films rerelease on the 30th of October on BBC Radio Three.
This experiment comes from a place of respect. We have not steam rolled in. NWR and the Film Company have been into it since the start.

— Zane Lowe (@zanelowe) October 21, 2014
Its just an idea. But understand that we are not trying to replace or improve the original…just be inspired. — Zane Lowe (@zanelowe) October 21, 2014
Via Pitchfork