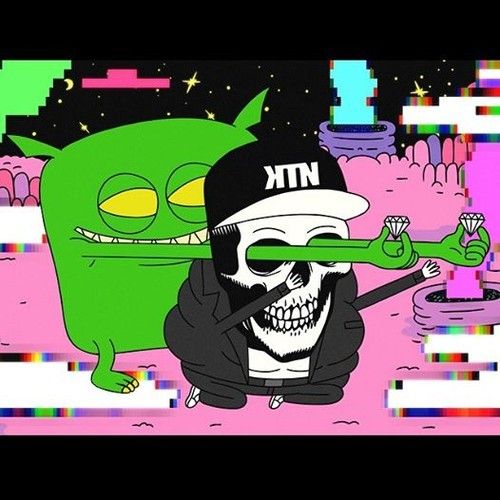 After months of rumors the long awaited Feed Me / Kill The Noise collaboration "Far Away" is here and let's just say the wait was worth it. When we sat down with Feed Me before his Teeth Tour he spoke adamantly about the track, saying:
"We're doing a cartoon which basically features a whole school of children. We went to the school and recorded children singing the lyrics and then we got them to draw the music video and we have professionals reanimating it for the music video. We're trying to have it be a collaborative story because the track itself is a story and the more we talked about it the more we developed the idea and just took it as far as we could."
For the media attention, that's an understatement: Feed Me has been hinting at the tune for weeks, and announced earlier this week that the video will premiere Saturday, October 25th on Cartoon Network's Adult Swim. As for the tune itself, it opens up with children singing, painting the picture of a happy environment immersed in sunshine. Slowly the signature Feed Me synth starts to creep in before taking command of the song. When the song drops it keeps that synth but adds a low, thumping bassline that is a hit on dance floors. From the feeling we got in our interview this is the first of many new songs set to release in the somewhat near future; and if Feed Me's twitter is to be believed, there will be new Spor as well. You can buy the tune now on iTunes and be sure to watch Adult Swim Saturday to catch the music video for it.