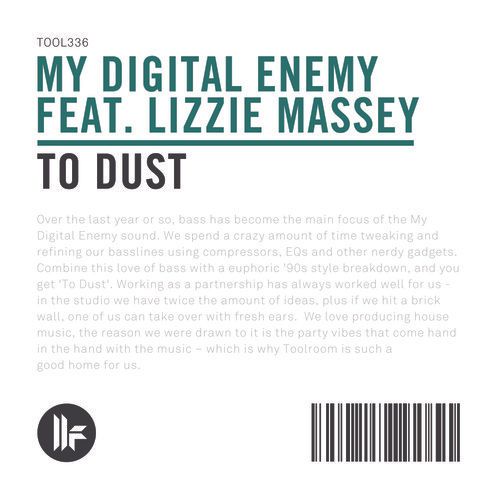 My Digital Enemy Feat. Lizzie Massey – To Dust (Original Mix)
My Digital Enemy is releasing music left and right these days (check out an interview our buddies over at InDeep did with them a few weeks ago here), and now they've raised their 2014 game another level with an official release on Toolroom Records. Original mix To Dust is vintage MDE, featuring a powerful drum rack and aggressive low end bass play, while a howling top line -courtesy of Lizzie Massey- adds a noticeably deep twist. The growling bubbles of the bass line lend themselves perfectly to peak time novelty, and 'To Dust' is clearly produced for just one purpose: setting fire underneath a dance floor.
In essence, 'To Dust' -and My Digital Enemy's primary style in general- is undoubtedly real house music's answer to EDM's big room fanaticism of 2014, and boy is it a good one. Blissfully and elegantly utilizing elements of traditional house music and transforming them to be just a little bit bigger, My Digital Enemy's brand of house is something the U.S WILL fall in love with. Check out the full mix down of 'To Dust' below, courtesy of EDMTunes and Toolroom Records, and don't sleep on My Digital Enemy.  Be sure to also purchase the single on Beatport.