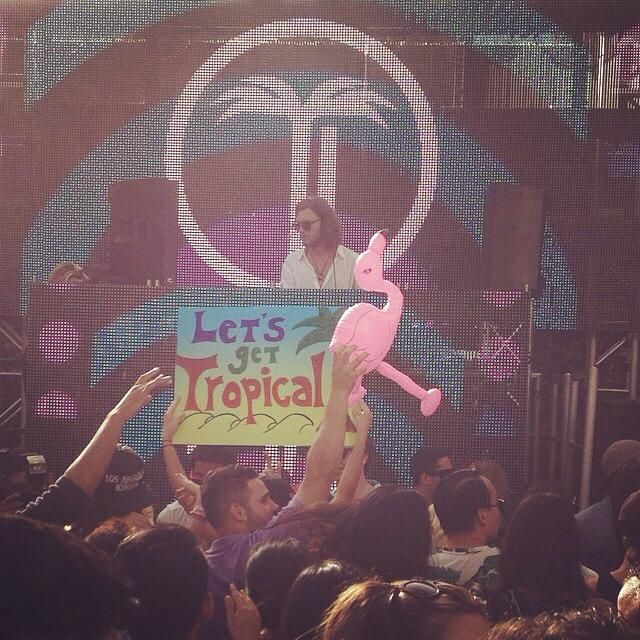 Unless you've been under a dance music-free rock in 2014, you are undoubtedly aware, on some level, of what tropical house is. Summer vibes, breezy saxophone interpretations, and slow and dragging top lines have combined together with subtle "EDM" influences to bring house music up to the fore front of the American mainstream, especially with strong summer outings from its  state-side main players, Thomas Jack and Kygo.
Tropical house is an interesting phenomenon in the always-changing world of dance music. 2014 was pegged to be the year of the underground house revival, and while it certainly was, and genres such as tech house, whatever-people-are-touting-as-deep-house-these-days house, and UK garage all made massive leaves within the heralded U.S market (most of the 'European Kings' such as Seth Troxler, Mark Knight, Hot Since 82, MJC, Disclosure, saw greatly accelerated fan growth within American EDM circles), with future house taking the charge over all of them with acts like Tchami, Oliver Heldens, and Bender perfectly tailoring aspects of traditional house with approachable EDM elements.
What most people didn't see, however, was the outright domination of tropical house. A younger brother of the fairly recent and somewhat contained German house movement(think guys like Bakermat, Watermat, Klingande, basically anyone appearing on a Bloes Brothers mixtape), it was seemingly out of nowhere that a niche part of a very Euro-only sub-genre exploded in the U.S over a period of just a few months. And while this article isn't the place to closely dissect why that was, it is a place to shout out the main reason: talent. Tropical house is breathing hot fire in the U.S because Thomas Jack is a taste-making beast. In fact, his skills in forwarding this sub-genre have landed the young star a very lauded radio show on a certain British radio channel. Yes, indeed, tropical house is going places.
The U.S has an obvious obsession with everything summer. Perhaps because of our affinity for summer breaks, pools, bbq's, 'Murica, tropical house has found a home, and it is currently beginning and ending with Thomas Jack and close mate, Kygo. Saxophones, ocean waves, and a general ode to the long days and hot nights of a lustful American Summer, all of course mixed in with temptation-filled 4×4 beats and classic house vibes, tropical house is here to stay, as is Thomas Jack. He releases a brand new remix this fine fall afternoon, taking all of us back to that oh so wonderful American Summer. His remix of Mynga's Back Home is a classic trop house re-work, featuring a mellow top line, melodic guitar play, and melancholy saxophone. It's one of Thomas' best efforts yet, and one that will send all of us not living in Southern California into a bashful daydream of those now long-gone days of summer. Thomas Jack wants you to be wearing a Hawaiian shirt in the dead of winter, and if his mixes and remixes are any notion of his ability to make it happen, I'm betting the American mainstream will be rocking one by Thanksgiving.