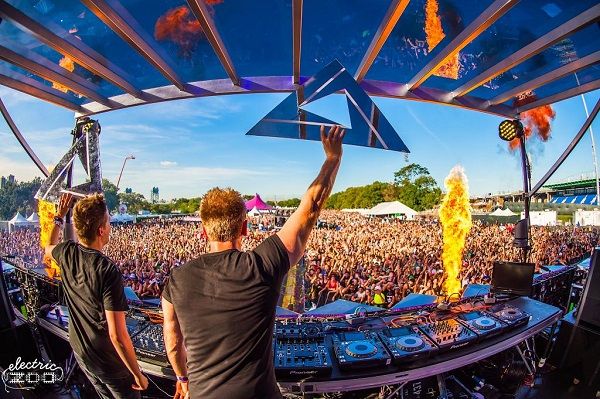 The number three is one of, if not the most powerful number in existence in terms of spirituality, mathematically and philosophically; The Holy Triad, Pi, you name it the number three is there. So it's no mystery that when you first get introduced to Tritonal, three is a huge factor in what defines them; their symbol, their name, their music, it all circulates around the number three. After seeing them at Mysteryland and at Electric Zoo this year, I can say that their live performance is only a tease of the full Tritonal experience. Tritonal is a group that focuses on the intimacy of the music, creating a special bond between each and every listener, a connection that gets lost in the shuffle and bustle of festival season. To get a true feeling for Tritonal one should only listen to their Metamorphic series. The series mirrors the groups growth from unknown trance DJs trying to break into the Texas scene to discovering a unique sound that has them playing at the world's most prominent festivals.
Nine tunes, 44 minutes run time, and a powerful lesson expressed through the language of music. With this series we witness the change from beautiful, dark and uplifting trance into an atmospheric progressive powerhouse, to then culminate in a refined, power driven progressive punch that curtails into an ethereal trance tune. The Metamorphic series is a journey in finding oneself, battling obstacles and finding love. While it may sound cliché, every note and every lyric is tailored to play a symphony with your heart strings and take you through life's most difficult tasks. Metamorphic I is the beginning of the journey with a reevaluation of a life that feels lackluster. The energy is there, but there is no emotion; a dark world with no color. As the EP progresses we hear strikingly beautiful chords that create an atmosphere that envelops the listener like a caterpillar entering its cocoon.
Metamorphic II opens and immediately introduces a spark of intense energy into the listener. Its lyrics offer guidance for the difficult road before them; one that is highlighted by a new break beat sound and intense synthesizers. This is the true meaning of the Metamorphic series: guidance. Each song is structured to a certain emotional state that each of us may be in, and helps ease us on to the next step. Here the next step is the crux of the series, the ultimate climax and crème de la crème of Tritonal's music, "Now Or Never". This individual song needs to be highlighted because of its position in the series, its message, and its powerful sound that has come to define everything that Tritonal is. The energy that started in "Follow Me Home" comes to a powerful crescendo as the synth reaches higher and higher. We don't know why but like planets in the dark and like magnets torn apart, you don't know why you doubt yourself but in the end you'd rather have one night than nothing forever. This is the moment, the single moment where you do away with your past and break through to the other side, kick down the door of what you knew and emerge from the other side fresh and reborn. Your chrysalis stage is in full bloom but there is something about you, an indescribable energy, an electric glow that separates you from what you once were. Fittingly "Electric Glow" is the balancing song, picking up at the same point that "Now Or Never" left off at and channeling that energy into a concentrated being with a clear directive in front of it. You ride the waves up into the stars, knowing that nothing can restrict you from your dream now.
Just like "Now Or Never" and "Electric Glow" are two songs from the same cloth, "Anchor" and "Satellite" are that for Metamorphic III. "Anchor" and "Satellite" are twin songs with the same message portrayed in different lyrics. No matter where you are, no matter what happens, someone will be there to guide you home, just like music guides you in the moments you feel lost. These two are a synthesis of the sound that was forged in Metamorphic II and channeled into two different molds; one accentuated by lyrics and one accentuated by a thumping beat. While both are products of the evolution of Tritonal's signature sound, "Seraphic" on the other hand is a tune that is out of this world. Tritonal pays homage to its roots with this euphoric tune that elevates past the realm established with the previous songs and transcends into the skies beyond with its dark trance sound, showing that no matter how far you've come you can never forget where you've been.