It's almost that time of the year, captains! As the cold winter doldrums descends on the majority of the continential United States, The Groove Cruise is here to warm all of our hearts and minds with the official artist line-up and announcement for the 2015 leg, set to depart from Miami to a 2-day private island beach party in the Bahamas setting sail from port on January 28, 2015.
The 4-day party extraordinaire is slated for entertainment and performances from many industry heavyweights from a variety of electronic music subgenres, including the likes of Erick Morillo, Oliver Heldens, Sharam, Nww World Punx, Michael Woods, Cocodrills, ATB, Aly & Fila, Darude, Funkagenda, Thomas Gold, Feenixpawl, Arty, Will Sparks, Chus & Ceballos…and many, many more.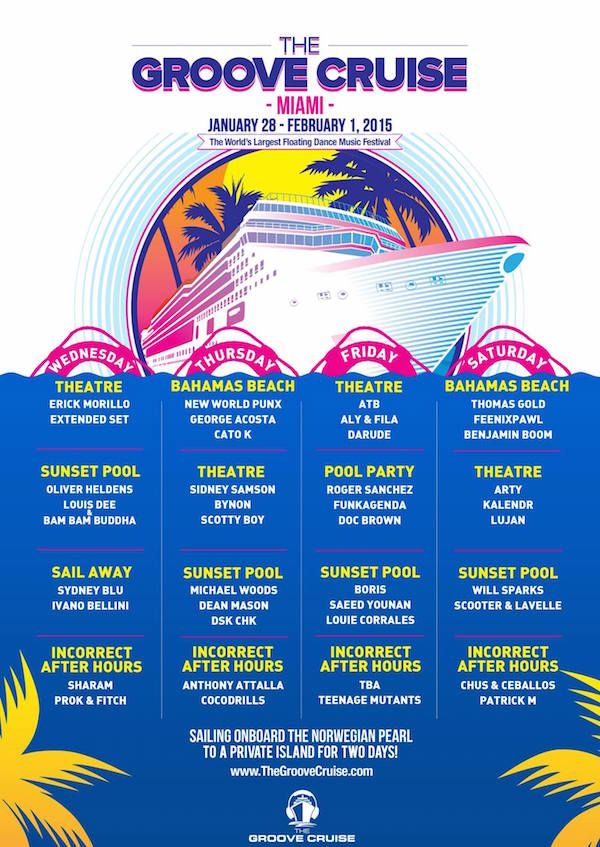 The team at WHET Travel prides themselves in booking talent that their clientele, the Groove Cruise family, wants to see at their events. This feat is accomplished by taking a survey of each voyage's attendees on which artists and DJ's they would like to see on future Groove Cruise's. This method insures a high quality of entertainment and an unparallelled level of fan engagement in event planning for the "world's largest floating dance music festival."
If you are interested, be sure to book your tickets soon! Cabins are currently 75% booked, and if you book your cabin between now and November 19th with promo code EDMTUNES you will save $100 per person…up to $400 per cabin!
Hope to see you all aboard this year!