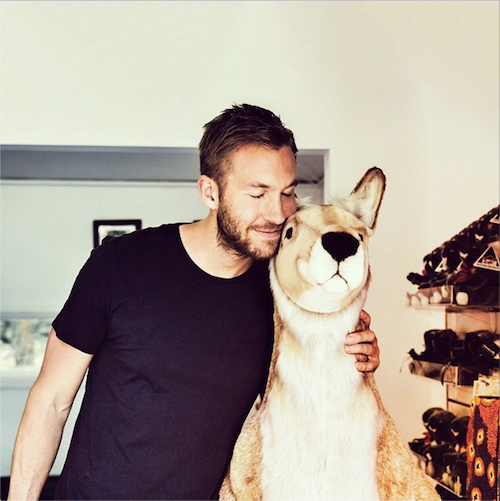 It has become very obvious that DJ's this day in age get paid outlandish amounts of money to perform at some of the hottest spots around the country. Whether it be a private event, a Las Vegas megaclub, and or one of the countless amounts of festivals worldwide, DJ's seem to be absolutely killing it right now. But with monetary figures out coming every year courtesy of Forbes Magazine, this years highest paid artist list features just one electronic dance music artists amidst a list of legendary acts.
Cracking the top ten, Calvin Harris, sits atop names such as Taylor Swift, Jay-z, and even the worlds softest musician, Drake. With numerous #1 singles this past year, and residencies at some of the world's biggest clubs, it comes as no surprise to see the $66,000,000 figure sitting next to Calvin Harris's name.
The entire list can be found below, and it comes as no surprise as who sits at #1 and #2. Oh yeah, David Guetta got an honorable mention just missing out on this list.
1. Dr. Dre ($620 million)
2. Beyoncé ($115 million)
3. The Eagles ($100 million)
4. Bon Jovi ($82 million)
5. Bruce Springsteen ($81 million)
6. Justin Bieber ($80 million)
7. One Direction ($75 million)
8. Paul McCartney ($71 million)
9. Calvin Harris ($66 million)
10. Toby Keith ($65 million)
11. Taylor Swift ($64 million)
12. Jay Z ($60 million)(tie)
12. Diddy ($60 million)(tie)
12. Bruno Mars ($60 million)(tie)
15. Justin Timberlake ($57 million)
16. Pink ($52 million)
17. Michael Bublé ($51 million)
18. Rihanna ($48 million)
19. Rolling Stones ($47 million)
20. Roger Waters ($46 million)
21. Elton John ($45 million)
22. Kenny Chesney ($44 million)
23. Katy Perry ($40 million)
24. Jason Aldean ($37 million)(tie)
24. Jennifer Lopez ($37 million)(tie)
26. Miley Cyrus ($36 million)(tie)
26. Celine Dion ($36 million)(tie)
28. Muse ($34 million)(tie)
28. Luke Bryan ($34 million)(tie)
30. Lady Gaga ($33 million)(tie)
30. Drake ($33 million)(tie)
Via: Billboard.com