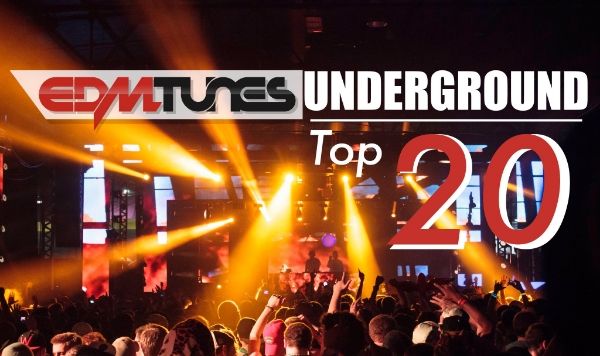 It's December and December means one thing and one thing only at dance music blogs: Lists, lists, and more lists. But it's okay, cuz everyone loves lists (seriously, lists are great). And what better list is there than a list of the BEST music of the year, served up to you in one, super accessible, let-it-ride playlist? Not much, man. Not much. That's what we're all about here at EDMTunes. Simplicity.
It was a fantastic year in underground house music, with guys like Ten Walls, Josh Butler, Marcapasos, Oliver $, and Shiba San, making a lot of newcomer-noise to join the ranks of veterans like Noir, Tale Of Us, Sonny Fodera, and Maceo Plex. For the first year within the realm of American EDM, underground house finally saw a powerful resurgence in popularity. This can be attributed to several coinciding attributes: the maturation of the average EDM listener within a space that offers tens upon tens of varying sub genres, and the strong marketing push of EDM-catered "deep/ future house" from top labels and promotions companies within the American sphere. Now, while that may have been a bit of an earful for most of you, one thing should be clear: house music is not a new fad, and the talent expelled from within its core has never been better than it was in 2014. Without further delay, let's get right to the list: no frills, no future house, no tropical house, just good, traditional, club-killing, body-jacking grooves. You'll find a playlist below, followed up with some information on why we chose the way we did. As always, thanks to the chaps at InDeep for helping make these selections:
The Top 20
20. Joris Voorn – Ringo
19. Caribou – Can't Do Without You (Tale of Us & Mano Le Tough Remix)
18. Noir & Hayze – Angel (Ripperton Remix)
17. Hot Natured – Benediction (Nic Fanciulli Remix)
16. Detroit Swindle – 64 Ways feat. Mayer Hawthorne
15. Josh Butler & Bontan feat. Josh Barry – We Found A Place
14. Adrian Lux feat. Kaelyn Behr – Sooner or Later (Nora En Pure Remix)
13. Sonny Fodera & Cervendos – Let's Go
12. Gotsome – Bassline (Amtrac Remix)
11. The Avener – Fade Out Lines (Marcapasos Remix)
10. Hercules & Love Affair  – I Try To Talk To You
Andy Butler and Co have multiple massive tracks every year, and it is fitting that the group start off our top 10. One of the most important criteria of any top list for traditional house music is how often was the track played out in sets.  "I Try To Talk To You", in some form or other, was a staple all over the dark dance floors of Europe, whether in the form of the original or the Seth Troxler re-cut. It's a gorgeous blend of entrancing vocals, inspired piano, and it's all wrapped up in a dance-ready bow.
09. Duke Dumont feat Jax Jones  – I Got You (MK Remix)
Duke Dumont was one of the few normally "underground" acts that blew up within the EDM sphere this year, and it was mostly on the back of "I Got You".  This Mark Kinchen remix took the already huge hit and put the vintage MK touch on it: Reverb-heavy, sliced up vocal samples sitting pretty amidst a powerful drum rack, driving the track to be one of the year's heavier presences in peak time circles.
08. Randomer – Stupid Things I Do
Big bass, classic, dark spins, and a clap-heavy drum rack make 'Stupid Things I Do' the quintessential clubbing track this year and if you stepped anywhere near Ministry of Sound, Fabric, or anywhere near Bristol or Ibiza in the past 12 months, you were undoubtedly dancing your face off to this heavy hitter. Randomer is one of the least known names on this list, but he certaintly deserves all the recognition you can give him, and will be a name to watch in 2015.
07.  Oliver $ & Jimi Jules – Pushing On
This list would be terrible if it didn't have 'Pushing On' somewhere in the top 10. The opening strums and vocal croon is one of the most familiar in house this year, and the Defected Records machine / Ministry of Sound support propelled this track into the stratosphere this year. The essence of deep house is strong in 'Pushing On' and it's one of the few tracks in any year that so perfectly blends real deep house with new age appeal and technique. The soul, the funk, the melody, it all fits together for a 2014 revival of the genre. Remixed to death, spun all over the world, the fact that 'Pushing On' is only #7 here shows the quality of music coming from the underground house sector this year.
06. The Magician feat. Years & Years – Sunlight
Similar to Duke Dumont, The Magician has also made some waves in the EDM-dominated American market, mostly on the shoulders of HARD plays and a cult following in the house mixtape game. 'Sunlight' is perhaps the least "underground" track on this list, combining catchy vocals hooks with a much more future house/ progressive release, however, it's popularity and reach cannot be denied. The track is currently sitting pretty at over 2 million plays, making it one of the most played tracks on this list.
05. Tube & Berger & Juliet Sikora – Come On Now (Set It Off)
German House veterans and owners of one of the most respected labels in the game today, Kittball Records, Tube & Berger and Juliet Sikora will always generally find themselves in lists such as these. Tube & Berger releases can be in the conversation for #1 track of the year in any year, with past hits such as 'Lovebreak', 'Imprint of Pleasure', and remixes of 'Jubel' , 'Big TV' and 'Time To Get Physical' all charting literally everywhere in the past two years. 'Set It Off' is no different. It's a real treat to see this duo get linked up with Tiesto earlier this year to presented their Deeper Sessions to a wider audience. Big things in 2015, undoubtedly.
04. Claptone feat. Clap Your Hands Say Yeah – Ghost
Claptone didn't make the RA Top 100 list, and that's a little upsetting. The mysterious producer duo, constantly playing behind a literal mask and veiled information have been on a tear in the production department the past two years. 'No Eyes', 'Control', 'Long Days Hot Night', 'Love is a Bourgeois Construct', 'Sundream', 'There Is No Other Time'….I could probably have just filled all 20 slots of this list with Claptone songs. The standout track, however, has to be 'Ghost'. The mesmerizing vocal journey provided by Clap Your Hands Say Yeah could be the strongest in house music this year, and if it weren't for the relatively relaxed, slow jammy approach to the breakdown, this could have gone all the way to #1. Either way, it's one of our favorites this year.
03. Maceo Plex – Conjure Balearia
Entrenched RA Top Ten Member Maceo Plex busted out one of the biggest tunes of his career this year in 'Conjury Balearia'. The blistering pace of the admittedly techno-hued track bubbles over from the BBC Radio vocal sample into a hard, gritty bass line that simply floors you if you've had the chance to hear it on some proper F1 setups. It's a hit from one of American house music's champions, and for that, it has earned a top 3 finish for 2014.
02. Shiba San – Okay
dirtybird, making its way all the way to #2. There were so many good dirtybird tracks that got left off this list, and it's upsetting. Quick shoutout to Claude Von Stroke's 'Sugar and Cinnamon' and Justin Martin's remix of 'Stay', both stellar tunes, and both deserve to be mentioned. However, if we're going with one track from the dirtybird crew, it has to be Shiba San's 'Okay'.  The bass is undeniably mesmerizing, and lends itself to being the premiere peak time track of this entire list. You want to get the crowd going, you drop 'Okay', plain and simple.
01. Ten Walls – Walking With Elephants
It was tough to pick between 'Okay' and 'Walking With Elephants for the number 1 spot, and we had to go with 'Walking With Elephants' simply due to Ten Walls' huge introduction onto Life & Death, along with the song's incredible uptime in Ibiza this summer. Ten Walls' Essential Mix is on the shortlist for Essential Mix of the Year, and he has a good a chance as anyone else to win it. With that in mind, it was tough to place any other song here. Everyone knows it, everyone plays it, and it's such an intricate yet simple beat that any remix just doesn't do it justice, at all (has anyone actually even heard a remix of this track that was comparable).