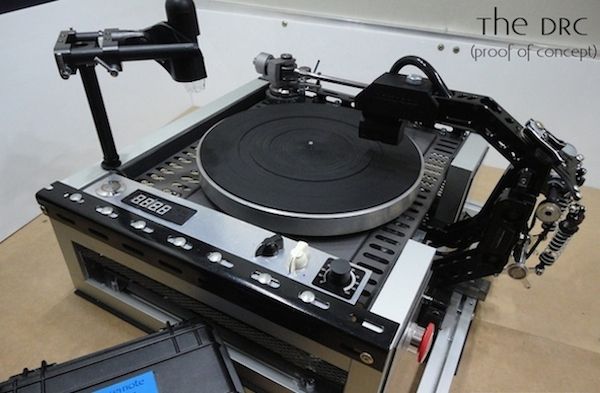 The Desktop Record Cutter, or DRC, is a new remarkably innovative Kickstarter project that allows purchasers to cut their own vinyls onto wax in a matter of minutes, all within the comfort of their own homes. By using what the company, Machina Pro, calls 'turn-key' stereo cutting technology, users will not only be able to cut the cost of outsourcing a vinyl cutter, but the increased efficiency will also allow musicians to produce a track and cut a vinyl for it all in the same day.
Australian inventor Paul Butler Tayar and his Machina Pro team are trying to raise $10,000 AUS in order to: expand the infrastructure of the project, create more machines and drive the price down from it's current price-tag of $6,500 AUS per unit. Tayar remarked, "the goal amount reached will dictate pricing"…"This is the most exciting part to us, if we all get involved, we can make the DRC more attainable for everybody."
With a resurfaced interest for vinyls in today's market and $30,000 AUS already raised for the project, the DRC is shaping up to be quite the successful and useful endeavor. The DRC is a dream come true for old school vinyl DJs because it allows them to create and cut a track in the matter of one day…perfect for rounding out a last minute record collection for a gig. Don't be fooled though, the DRC isn't just for vinyl DJs, but any record enthusiast. The DRC is proving to be yet another amazing way to obtain and interact with music in today's fast-paced technological world.