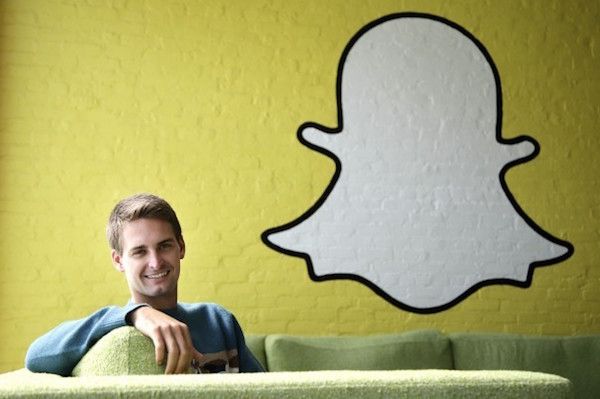 Sony's
security breach
has left the company embarrassingly exposed to the public. As they stand stripped naked on stage and the masses meticulously examine the naughty bits that are confidential emails (among many other things), they've been the topic of quite a lot of gossip. The most well known series of email exchanges reveals a seriously malicious discussion about
Angelina Jolie
and an argument to shut down her Cleopatra project. While this breach may be interesting, it hasn't really been relevant to the music scene…or has it?
A recent comb over of the emails has revealed an email exchange that hints at Snapchat's CEO, Evan Spiegel, considering a dive into the music industry. A June 5th meeting between Spiegel and Dennis Cooker (Sony President of Global Digital Business) is detailed in an email from Cooker to Michael Lynton (Sony Entertainment's CEO); it should be noted that Lynton is a Snapchat board member and major investor.

There's no real telling where this is going now, or if it's going at all. Spiegel admittedly has to do a bit more research to understand "important nuances around the business about what rights a record label does and does not have."
It would seem he doesn't wish to initially start a music service (i.e. iTunes, Spotify, Soundcloud) but does want start a label where artists can benefit from promotion on the Snap platform. With the current expansion of themed "story" snaps (like around major sporting events or holidays) that source from user created contest, there's a lot of potential for live promotional campaigns from festivals and concerts with incredible reach (likely more so than the current reach artists are getting on Facebook). Only time will tell. So now all we can do is sit and wait.
You can read into the full email below:
"Michael,

I was only able to see Evan for about 30 minutes yesterday but that was enough time for him to express his thoughts and leave us with some things to think about if there is going to a music play within Snapchat. He didn't end up showing some of the developments in the platform that may benefit music but referenced them in the discussion. First, he thinks every music service in the market is shit and he wants to be a curator. He doesn't want to build a music service but he would like to have a record label so he could focus on the artists that he wants to use the platform to promote. He also wants to participate in the upside that he will create by promoting them on the platform. He later backed off a bit from being a record label to maybe testing the concept first. Obviously he doesn't understand some of the important nuances around the business about what rights a record label does and does not have.

I appreciate the introduction. I am going to go back to my team with some of these concepts and see if we can get creative in how we could get something to work here that is in the direction of Evan's vision and get him more exposed to what we can bring to Snapchat. We have a lot of ideas of our own but I don't think Evan will engage in our ideas until we try to move something forward that he wants to accomplish.

Please let me know if you want to disc"
[H/T]
edmsauce
,
Buzzfeed