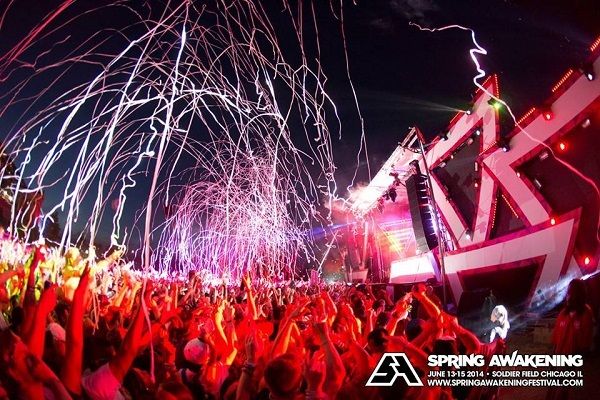 Moving with the current tide of U.S. festivals, Chicago's Spring Awakening Music Festival is abandoning its former policy of all ages in favor of an 18+ policy that will take effect in 2015.  Citing concern about unsafe behavior by underage attendees, the event made an official statement alongside its announcement of 2015 dates and ticket sales:
In 2015 and moving forward, only those who are 18 years and older will be permitted into Spring Awakening Music Festival. Our number one priority is the safety of our fans, the artists, and staff. It is with this in mind that Spring Awakening Music Festival introduces SAMF Safe & Sound. In 2014, the festival launched Safe & Sound on the festival grounds, encouraging fans to take care of one another by contacting security or staff members if they saw someone in need, and introducing the SAMF Wellness Team, a dedicated group of peers available on site with water, answers to any questions, and a direct line to security. Banners were and will be placed around the festival grounds with contact information for fans to text security with any potential needs they may have. In 2015, SAMF Safe & Sound will continue to grow to ensure the safety of everyone in attendance.


SAMF truly appreciates the support from our younger fans, but we believe the festival is an experience for adults. This difficult decision was made to promote safety amongst our fans and ensure the best experience for our attendees and future attendees. We encourage everyone to attend the festival when they reach the appropriate age.
The new age restrictions may be a result of an incident this fall at Chicago's Navy Pier.  Spring Awakening is thrown by SFX-owned React Events, the same promoter that put on a 16+ Skrillex show last October during which 16 people were hospitalized.  With the adults-only policy in place, the 4th annual Spring Awakening will be held on June 14th, 15th and 16th at Chicago's Soldier Field. Tickets for SAMF 2015 are available through Ticketmaster.