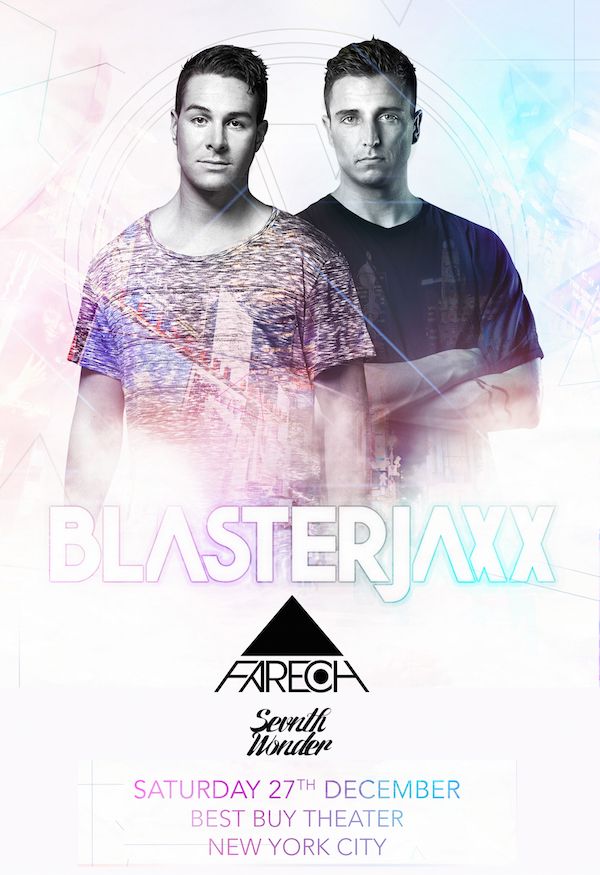 Tired of sauntering into the new year, watching the ball drop from your TV that's too small from your couch that's too old? Well if you are, it's time to get up off that couch and get ready to blast into 2015 with the Dutch duo, 
Blasterjaxx
, who will be performing at the
Best Buy Theater
in Manhattan,
NYC
. Alongside future beats pioneer
SevnthWonder
and popular up-and-comer
Fareoh
, Thom and Idir will be in good company as they look to put on a one in a lifetime show, while ringing in the new year.
With the Best Buy Theater being one of the more intimate venues in Midtown Manhattan, it has never been easier to get up close and personal with the performers, whilst enjoying unobstructed views and flawless acoustics from almost anywhere inside the theater. And obviously the tunes will be choice as Blasterjaxx is primed to melt faces with a set that will be stuffed to the brim with classic big room anthems along with brand new music as well. The combination of seasoned veterans and budding talents taking the stage on this extraordinary evening should prove to be one for the ages. So if you are trying to avoid the masses, on what will be a New Years Eve jam-packed with events in the Big Apple, do not think twice when making this decision, as Blasterjaxx and co. will definitely be a bang-for-your-buck experience! Click HERE to secure an audience with Blasterjaxx, SevnthWonder, and Fareoh!