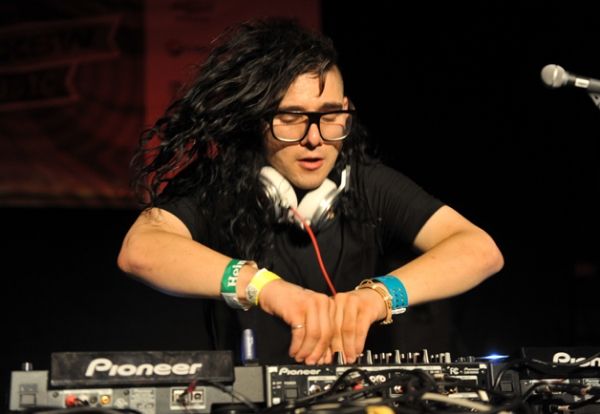 Always a proponent of the positivity that is found within the electronic dance music culture, fan-favorite Skrillex, took few minutes out of his set this weekend to deliver an inspiring speech regarding the current state of dance music, and how love and acceptance trumps all. With brawls breaking out the previous night at the Solaris Music Festival in Toronto, Canada, Sonny's address to the crowd could not have been more apropos, as he openly shared his optimism for dance music in 2015, and urged fans to lend that helping hand, to perpetuate a culture of acceptance. With a big performance alongside JACK Ü mate, Diplo, on the docket for New Year's Eve, don't be surprised if Skrillex lays more wisdom before onto the crowd.
Although the audio from the video may be hard to make out, you can follow along with the full transcript below!
You all are beautiful! Give a round of applause for yourselves! All you, you too! I feel your energy, I can see an ocean of faces all sweaty, all crazy … Now we are going into the new year! This is crazy, the last few years. In electronic music in North America, Canada, everywhere over this area, it's crazy. Because all this, you guys out here, doing this for years! Going, listening, this is our generation right now! And looking at the audience, I [see] so many different types of people! I see black kids, white kids, Chinese kids, Asian kids, Russian kids, Puerto Rican kids, Mexican kids — all you guys are here now! That's amazing, man.

There is some special s–t going on in our generation right now. Let's not take that for granted. We need, into the new year, let's go in together. Let's take this positivity over into 2015, because we need more positive s–t on this planet. I feel like this is what it's about, man, we got 6,000 people here, no one is fighting and everyone is having a good time. I'm so impressed on this stage looking at you, I really am, I really appreciate your energy. So in 2015 let's carry over this positivity, let's spread it and make it bigger and better, and more soulful and more real than it ever has been before. But it's not just up to me — it's up to you guys! Really. I'm just one person, it's all about all of you people, it's amazing energy in this room.

This music is for everybody — it's for the outcasts, it's for the cool people, it's for the fat kids, it's for the skinny kids, it's for the gay kids, the straight kids. The aliens! The yellow people, the purple people, the black people, the white people, No matter who you are, this is for you. If you see someone at your school, or at your work and they look left out man, all you gotta do, our New Year's resolution is hand a hand out, in 2015 and say, "Hey, it's all right. I know how it is." Make some noise for love in 2015.