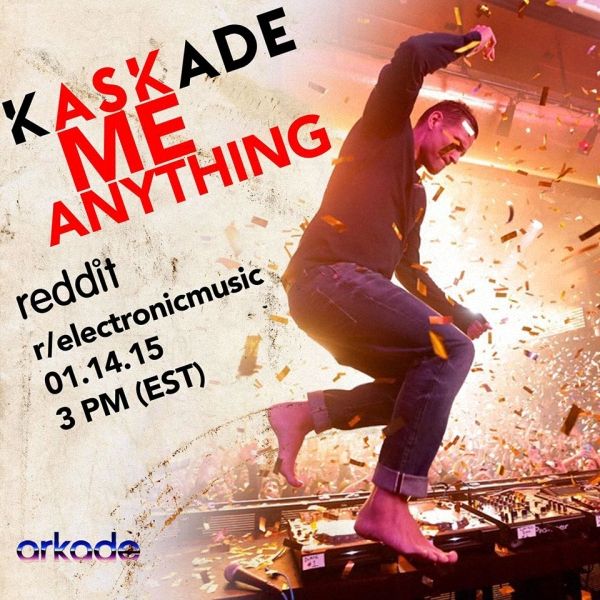 Hot off inking a two-album deal with Warner Brothers and announcing the return of his Summer Lovin' concert series to Wynn Las Vegas, Kaskade treated his fans to a Reddit AMA today. While the discussion may have contained a lot serious topics such as possible collaborations and the future of dance music, the legendary producer also touched upon some lighter issues such as his favorite cereal and his preferred footwear while performing.  Scroll down to see what else Ryan Raddon shared with his many fans.
1. He relates to aspiring producers that start out sounding like crap:
"really it was like 3 or 4 years before I got a handle on how to make things sound the way I wanted them to"
2. Redux won't be gracing the Coachella stage or festival mainstages
"Not on the big stage but maybe I post up in the parking lot and work it out."
3. On Future/Deep House
"it's cool. Electronic music continues to change and flourish, it doesnt matter what you call it"

4. Diplo is the Man
"Diplo is the man. I have a lot of respect for this guy for what he has been able to achieve and how he has been able to bring his sound to so many people. Pretty incredible. Not only that, he is cool and makes cool music. I think we respect each other so much because we were both here in this country slugging it out every week until people starting paying attention."
5. Be on the lookout for more Ryan Raddon vocals 
"Yes I plan on singing more, why not. it seemed to work out ok the 1st time might as well do it some more."
6. Kaskade plays a major role in writing lyrics for his tracks
"I am VERY involved in the song writing on my albums. Typically I write or co – write a song then go and find someone to sing it. This is why my albums sound so different from what is out there in the EDM world. Albums are my stories and each song represents a chapter. But I have worked with some brilliant song writers over the years. Skylar Grey for example, she wrote the lyrics for Room For Happiness after we hung out in the studio and talked about a possible collab."
7. On set improvisation
"I carry an SD card on it with about 2000 songs so I can go wherever I would like to go. But for BIG shows …. I have the first few tracks sorted out in my mind. I will pull from a playlist that has about 30 tracks in it that I think will work that night and just go with it."
8. A future deadmau5 collab may happen someday but it's not in the works right now
"I mean… I love Joel. We are boys. We respect each other a lot. I am sure there will be a day where we make music together again."
9. On the future of EDM and respect for Porter Robinson
"The Future of EDM…. hmmmmm. I think we will stop calling it EDM and it will continue to grow. Grow so much that we will not recognize it when it has fully matured. Not sure if that is a good thing or bad thing – guess it depends where you are standing. As for Porter – he is a great producer that is pushing some boundaries that has a great sense of melody. I am excited to see what he does down the line."
10. He prefers to DJ in sandals or barefoot
I started doing this for longer sets years ago… like why should I wear shoes when I am just standing up here bouncing around. It's not like I am walking through a forrest or something. So I started to pack sandals in my gig bag to my shows and took my shoes off and replaced them with sandals while performing. Then clubs saw this and started to put down carpet for me when I played… even better. Nothing better than doing what you love and having nothing on your feet. Freedom.
11. On starting his own label, Arkade and signing a deal with Warner Brothers
I started a label cause I am in a position to help people out. I love music and I like to help people get GOOD music out there. The next Late Night Alumni album will be coming out this spring – I worked on it and it is something pretty amazing (sorry I am biased). I am very excited that it will be the 1st long player on the label.

I made Arkade to bring attention to young/new talent. To help give artists that I love an outlet to put music out. The deal that I made with Warner does not affect how I will go about running Arkade. If anything it gives my label more impact.
12. On which producers and artists he would most like to work with
"I have hit Sade up a few times – her line was busy."
13. On the criticism about the evolving style of his live sets and inclusion of mash-ups
"Typically the song is considered to be the lyrics + melody. so when I do these mash ups so much of the song stays in tact. The production elements or the music bed has changed but the message and melody ARE there. To play songs that I wrote/produced 10 or 15 years ago to me sound stale. So I started mashing things up – taking something that I wrote and make it new again. Same thing as a remix but a quick easy way to get it done. this way my sets remained fun and unpredictable but at the core ME. But I understand that not everyone feels this way. Some people really cling to a certain production style or a specific sound that goes along with that sound. This is why i started redux…. but even then i mash stuff up. sorry. but the idea there was to be able to play sets with older music in it and not have to apologize. You have to remember that electronic music moves super fast – once you like something then it's gone. I love this part of the scene let's not take that away."
14. And finally, on his favorite cereal
"hardest question on here yet, Fruity Pebbles"
Source: Reddit